Multi-hyphenate Carly Black is based in Auckland where, by day, she works as an Account Manager for Coffee Supreme looking after around 70 cafes in the Coromandel, Northland and Auckland. She also spends "every spare minute" doing freelance illustration or graphic design work — mostly for independent, owner-operated hospitality businesses or winemakers. You probably recognise her charming illustrations from the signage of K' Rd pasta favourite Pici, or maybe you've seen her cheerful, keep-cup-toting sandwich on the Ol' Mate food truck.
Here, Black gives us an insight into her tastes, including her favourite places to eat, some great podcast recommendations and more.
What I do for a job described in one sentence: Account manager for Coffee Supreme by day, freelance graphic designer and illustrator by night.
My personal style can be defined by: Someone recently described my style as normcore. Generally I aspire to look like a piece of moss. Lots of greens, and mustards, browns and textured pieces. I also can't seem to walk past a piece of corduroy without buying it.
The last thing I bought and loved was: A set of Temuka salt and pepper shakers from David N White Gallery in Wellington.
An unforgettable place I visited was: I did a camping road trip around the East Cape this summer with the dog. I loved it. I saw Te Waha o Rerekohu in Te Araroa — the oldest Pohutukawa in New Zealand — she's six hundred years old.
The next place I'd like to go to: I'd love to do a South Island trip this winter. Maybe the Inland Pack Track on the West Coast. I think Kaiser [Black's two-year-old whippet] would appreciate being left at home under the heat pump for that one.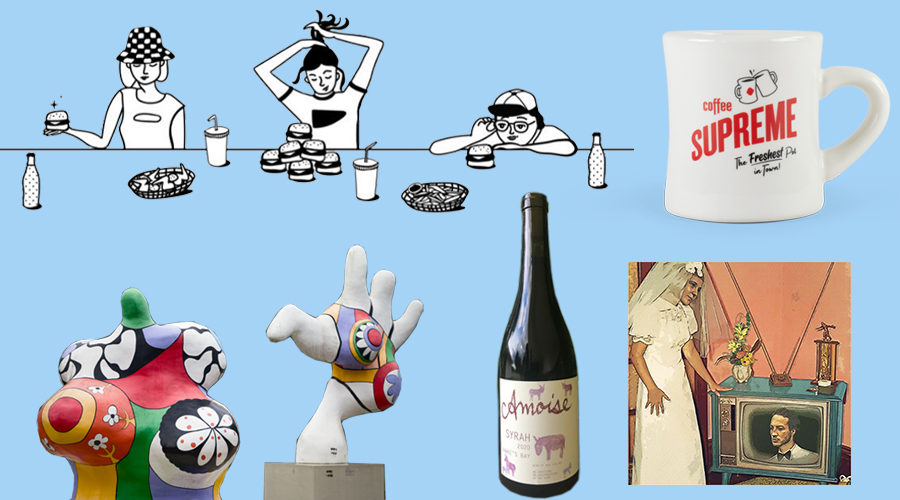 The design (building, person, item) that inspires me is: My first reference is and always will be Niki de Saint Phalle. She was introduced to me by my German mother — three of her sculptures are in my home town of Hanover, in Northwestern Germany. I love naïve art in general. It's nostalgic and joyous. Most of my illustrations look like someone's doodled on the page in math class, and I love that quality of it.
My favourite app is: I've gotten into cryptocurrency quite recently, the last six months, so I do find myself glued to my wallet app, Exodus.
My guilty pleasure is: A really great bottle of natural wine paired with something deep fried.
My secret talent is: Looking like an extrovert when I'm the biggest introvert you'll ever meet.
My morning routine is: Wake up, feed my dog Kaiser, share a cup of Coffee Supreme™ with my neighbour Hazel, who is also conveniently the owner of Fur & Forest, a dog pack-walking company. Very quickly get ready for work and then head to one of the cafes I look after for a catch up and another cuppa.
In my fridge you'll always find: Jars and jars of pickled things, brined things, chutneys, anything to reduce my food waste.
My favourite room in my house is: My living room is south-west facing, so I get the dreamiest golden hour and sunsets. Ponsonby always gets the best sunsets.
The last meal out I had that truly impressed me was: This is such a difficult question. Like Gogo Music Cafe on Dominion Road is it for me. Spicy chili and cumin covered meat skewers, and giant wheat noodles with chicken curry never ceases to impress me. Close runners up are Pici and Ockhee.
The podcasts I listen to are: Oh man I always get embarrassed by my podcast choices. This American Life, Philosophize This!, CBC's Missing & Murdered is a really good introspective podcast series on indigenous women who've gone missing.
The last music I downloaded was: 'Plastic Bouquet' by Marlon Williams with Kacy & Clayton.
If I wasn't doing what I am, I would be: Off grid on some self-sustainable land somewhere south.
I have a collection of: Coffee mugs. So so many coffee mugs.
My favourite way to unwind is: Heading off into Riverhead Forest with Kaiser for a couple hours. There's no reception or internet coverage, bonus.