A sweet, petite caravan out West is serving up tasty bites and excellent coffee to Avondale locals, and it's proving humble set-ups can be deceiving (and delicious). Named Ol' Mate, this unconventional cafe-on-wheels offers both sweet and savoury baked goods, sandwiches and salads that have already drummed up a host of loyal regulars since it opened in November last year.
Co-owned by pastry chef Claudia Long and barista Bree Bauer, with Long's partner Ryan Pearce (also a chef) helping out as needed, Ol' Mate can be permanently found at 1855 Great North Road, Tuesday through Saturday. Long and Pearce previously owned another Avondale cafe, Te Whau, where Bauer worked for them as their barista, and the three enjoyed working together so much that collaborating for this project seemed like a no-brainer.
They all have a lot on their plates — Long also has Sweet Cheeks NZ, another small baking business she runs on Instagram, and Pearce is the full-time chef at The Mercury Plaza Refreshment Room, where Ol' Mate's food is also prepped by Long. "It's all a very unique situation outside our comfort zone," says Long. "But, if anything was learnt from 2020 in our industry it's getting creative with whatever opportunities come your way!"
The idea behind Ol' Mate's offering is "simple done well, with a few boundaries pushed here and there as we go along." Long's cheese scones often sell out by 10am (she'll usually come across town with another batch), and she says both her ginger crunch and burnt white chocolate and tahini blondie have ardent fans. A new take on a Welsh cake has also proved popular, sandwiched with cream cheese and roasted apricots.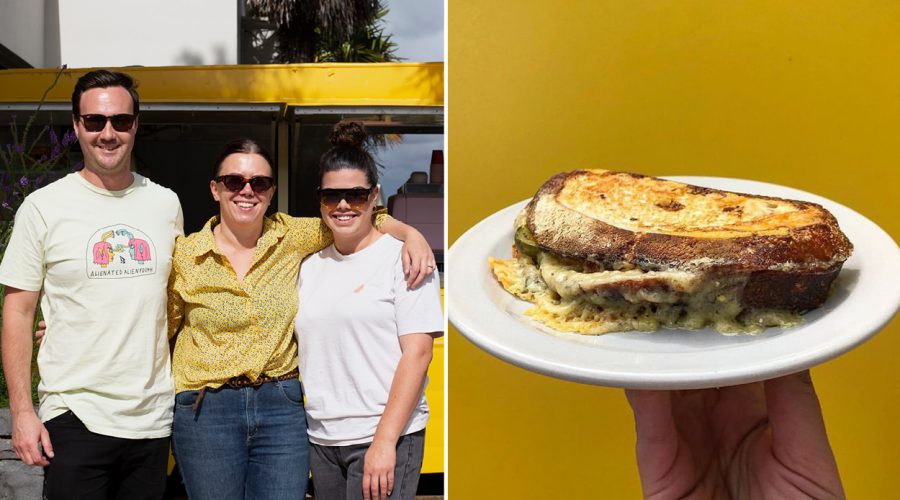 From a perfectly juicy chicken and mayo sandwich to a cheese and pickle toastie, wholesome yet filling salads and bacon and egg pies, customers have all manner of delicious morsels enticing them from inside the cabinet. Washed down with Bauer's excellent coffee, we can't think of much else we'd rather eat for breakfast or lunch.
The Ol' Mate team aims to link with local community food initiatives like Kai Avondale whenever possible, donating leftover food and baking for events when time allows, and this is something Long says they'd like to grow. Avondale is home for the trio, who have enjoyed being able to reconnect with diners who were fans of Te Whau. "It's been really nice to welcome back all our old customers who used to come to the last spot," says Long. "It's like we never left!"
Opening hours:
Tuesday to Friday: 6.30am – 2:30pm
Saturday: 7.30am – 1pm
Closed Sunday & Monday
Ol' Mate
1855 Great North Road
Avondale
Auckland 1026