The expectations restaurant-goers have for dishes that are sustainable and story-rich is at an all-time high, and it's putting provenance in the spotlight. Encouraging all of us to change our habits, and care more about where our food is coming from, these are our picks of some of the best sustainable dishes being served.
Whole-baked Flounder from Orphans Kitchen
In the world of fishing, 'the bigger the better' seems to be a recurring theme, judging by the various competitions that give first place to the largest fish (which is not a sustainable practice). This idea can translate to chronic over-fishing too, which often leaves fish populations depleted and ecosystems suffering. It's an issue Tom Hishon, co-owner and head chef at Orphans Kitchen is keenly aware of and is why he puts such a strong emphasis on sourcing only the most sustainable fish for his restaurant. As such, it is the Flounder that Hishon turns to, prized for the way it reproduces in large quantities and its rapid pace of growth. Calling it one of the most sustainable fish to serve, Hishon explains that he sources his Yellowbelly Flounder from John at Awatoru Wild Food, an artisanal fishing and wild food supplier based on the Kapiti Coast. John has been commercially fishing Flounder out of the Kaipara Harbour from his humble boat since the 1960s and chefs around New Zealand, including Hishon, say his catch is second to none. (Pictured above)
Pressed Pig Face from Culprit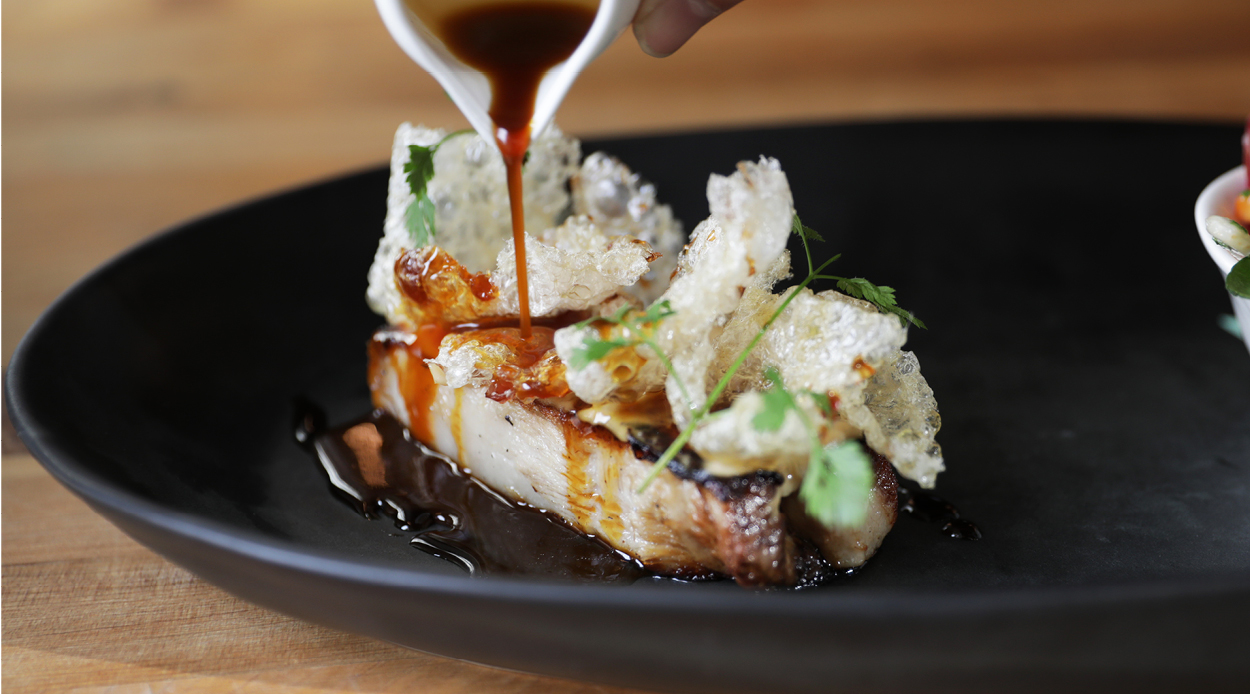 Staying true to their signature, innovative style, Kyle Street and Jordan MacDonald of Culprit have taken the idea of a classic pork belly and reimagined it as a game-changing dish with sustainability at its core. Sourcing pig faces from Freedom Farms (where the pigs are all traceable and raised under strict free-range conditions) the chefs are shining a light on some of the "less-loved cuts of the animal," in a refined, delicious way. Compressing the meat, jowl and cheeks of the pig's head into a clean, rectangular shape, the different layers and types of meat used lend an intriguing spectrum of textures to the plate. Served with a creamy roast shallot purée, chard, radicchio leaves, fresh persimmon and apple jus that elevates the pork with its refreshing tanginess, this dish exemplifies the magic that can be made from ingredients that might otherwise have gone to waste.
Flower Pot from Miann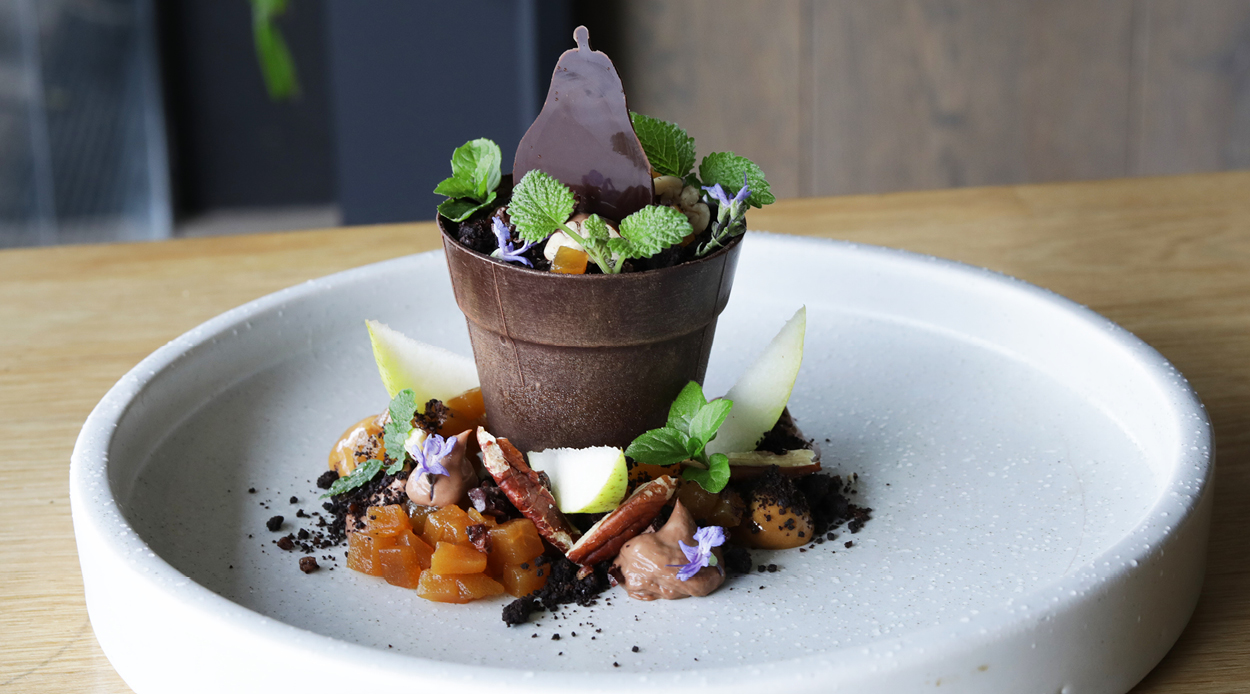 Chocolate is a mouth-watering treat that has long been the ultimate indulgence. But the cacao that it's made from is often cultivated via processes that perpetuate unjust working conditions and child slave labour. Ensuring that the so-called 'universally loved' chocolate is truly enjoyable for everyone, including the makers, Miann sources its cacao beans from transparent traders such as Uncommon and Meridian Cacao, and makes all of its own delectable chocolate in-house. Miann's Flower Pot dessert comprises an edible chocolate pot filled with roasted pears, herbs grown from their own gardens and a rich chocolate brownie sorbet made from organic beans from the Maya Mountains. Information of its origins, including how much the farmer is getting paid and how many women are working in the farms, is investigated by Miann before any ingredient is used, as they believe that no amount of salted caramel can cover up the unpleasant taste of supporting unfair practices.
The Moroccan from Wise Boys Burgers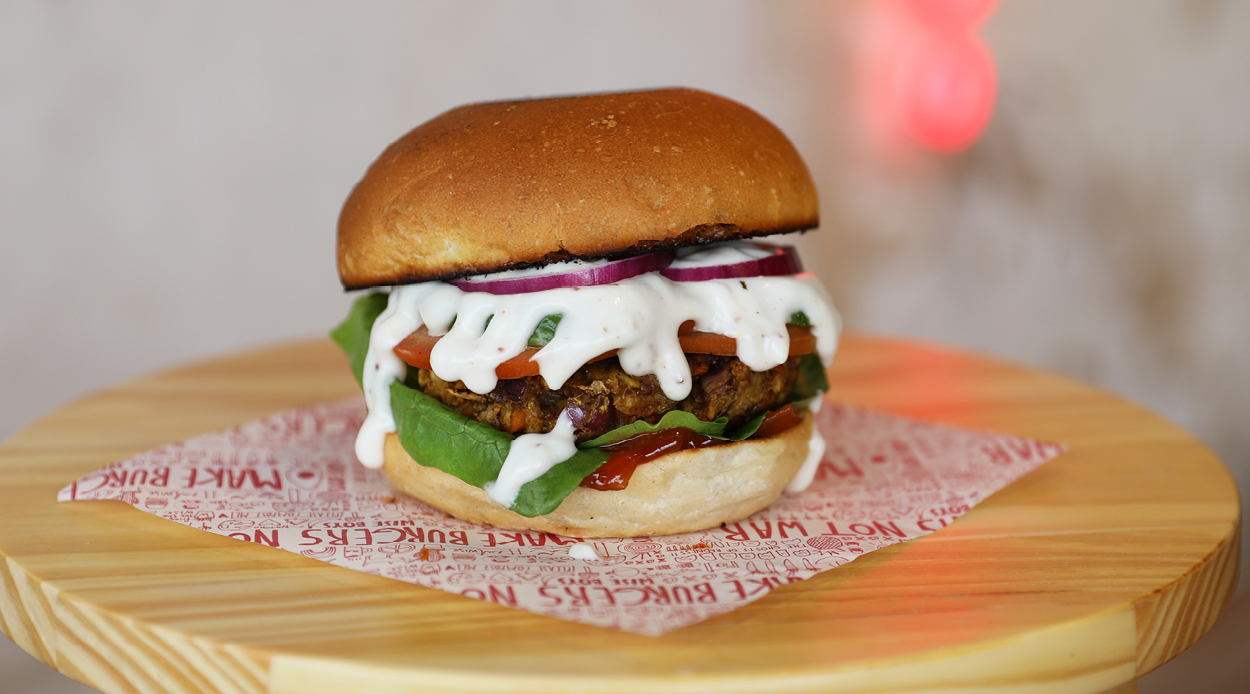 It is undeniable that a classic, medium-rare burger is delicious. Almost as undeniable as the excessive resources needed to raise the cattle to create it. Reportedly, the environmental impact of one traditional burger patty is the equivalent output of driving 2.5 kilometres in an efficient car. In light of such, and in a bid to shift our collective penchant for producing and eating meat, Wise Boys Burgers has created a vegan alternative that not only makes less of an impact but is also unbelievably, finger-lickingly good. Comprising pillowy-soft buns made by none other than The Dusty Apron (also behind the bread at establishments like Ostro and Saint Alice) The Moroccan soaks up every last drop of Wise Boys' vegan garlic aioli (made from locally sourced ingredients). In place of succulent meat, the burger harnesses the power of nature with its flavourful spiced kumara patty that sits perfectly alongside the classic combo of tomato, red onion and lettuce.
Big Glory Bay Salmon Pastrami on Rye from Euro Bar & Restaurant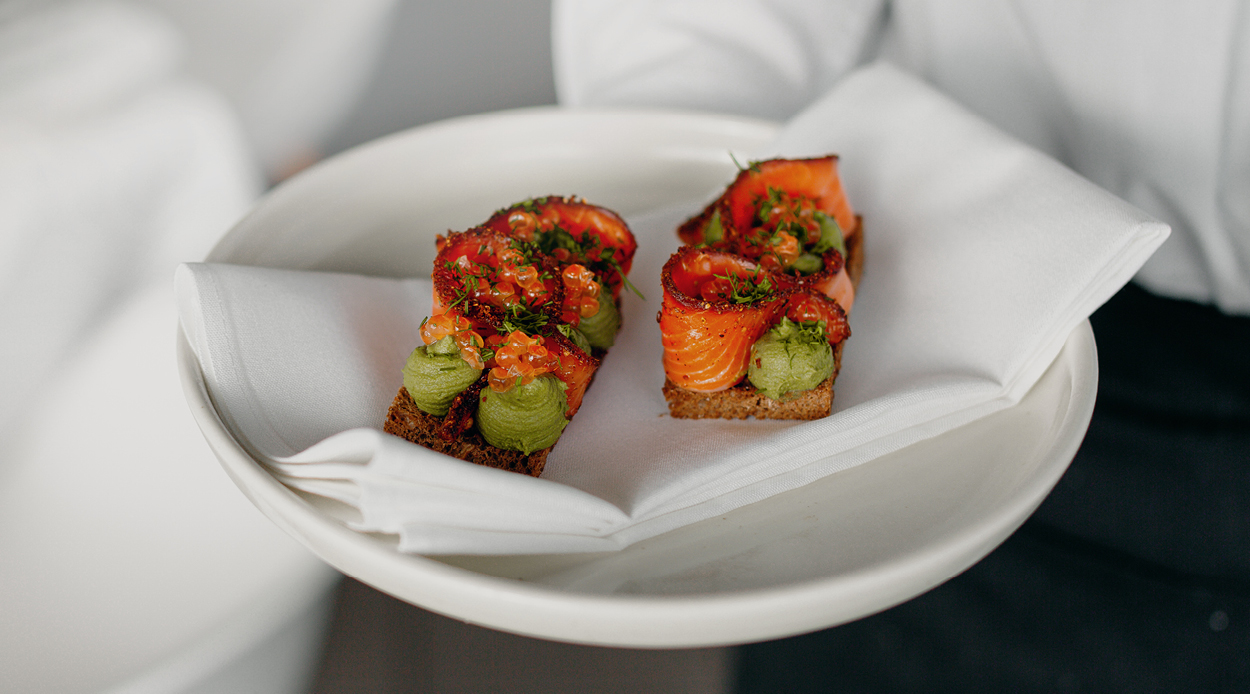 Named the Most Sustainable Farmed Salmon in the World by Monterey Bay in 2017, Big Glory Bay's salmon are grown and farmed under strict rules that focus on the wellbeing of the fish and protecting their natural environment. It is Best Aquaculture Practices certified and its processes result in healthier fish that boast an undeniably superior flavour from their mass-farmed cousins. As such, it was a no-brainer for Head Chef of Euro Bar & Restaurant, Adam Rickett, to showcase this salmon in all its glory for his Salmon Pastrami dish. Highlighting its succulence by simply curing the fish while keeping all the natural vibrancy and melt-in-your-mouth quality intact, Rickett serves the salmon on crisp rye toast, adorns it with herbed cream to elevate the richness and finishes it off with speckles of salmon caviar cured by the chef, lending beguiling bursts of umami.
Maewoontang from Han Restaurant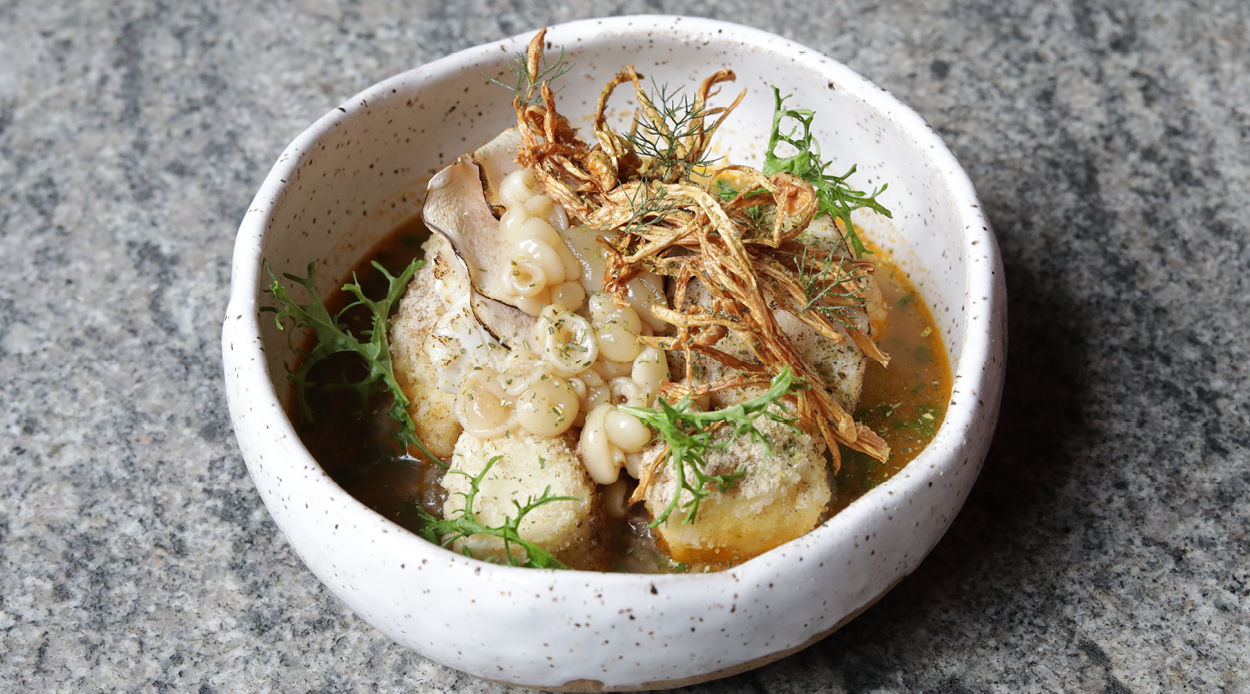 The maewoontang is a traditional Korean fish soup that sees fish bones, heads and tails boiled down into a flavourful broth. It is an ideal way of making use of parts of the fish that would usually be cast aside and is as nutritious as it is delicious. Inspired by the way the maewoontang reduces waste, Head Chef and Owner of modern Korean restaurant Han, Min Baek, decided to pay tribute to the dish he had enjoyed throughout his childhood growing up in Busan — the seafood capital of South Korea — and put his own maewoontang on Han's menu. To create the dish, he collects all the bones, heads and tails of the fish that come into his kitchen (all of which are line-caught instead of net-caught by Leigh Fisheries), and over time, collects enough to make a fish stock for the base of the soup, achieving a deep umami flavour similar to an intensified dashi.
Venison Heart from Cazador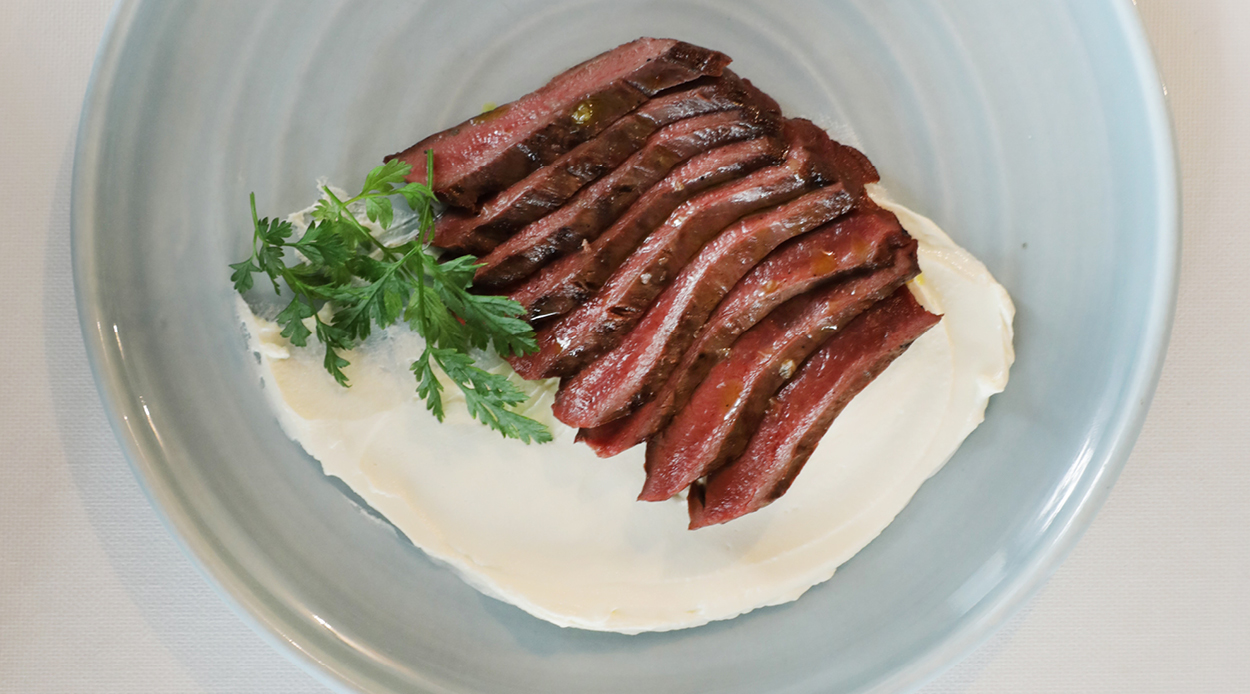 Eating sustainably doesn't have to involve giving up meat, as Dariush Lolaiy showcases at his renowned Auckland restaurant, Cazador. The wild meats on his menu are sourced directly from New Zealand hunters — ensuring that the animal's heart has stopped beating before it hits the ground. So concerned is Lolaiy with the provenance of the meat he serves, that he frequently gets his dad to go hunting for him, just to be sure that his sustainable standards are thoroughly adhered to. Beyond his thoughtful sourcing practices, Lolaiy makes sure to use every part of the hunted animal — nose to tail — in his dishes, mitigating the wasteful practices of only consuming a few specific parts and making one animal go a lot further. It also makes the diners at Cazador open their minds to dishes that they would have likely never tried before.