Meet Redeem, the soda brand created by the team behind The Collective, the premium dairy company renowned for the unique yoghurts it creates by collaborating with chefs like Al Brown. Redeem is redefining soda with its new range of kefir soda that comes in four different flavours — Natural Ginger, Charcola, Mandarin Yuzu and Raspberry Hibiscus.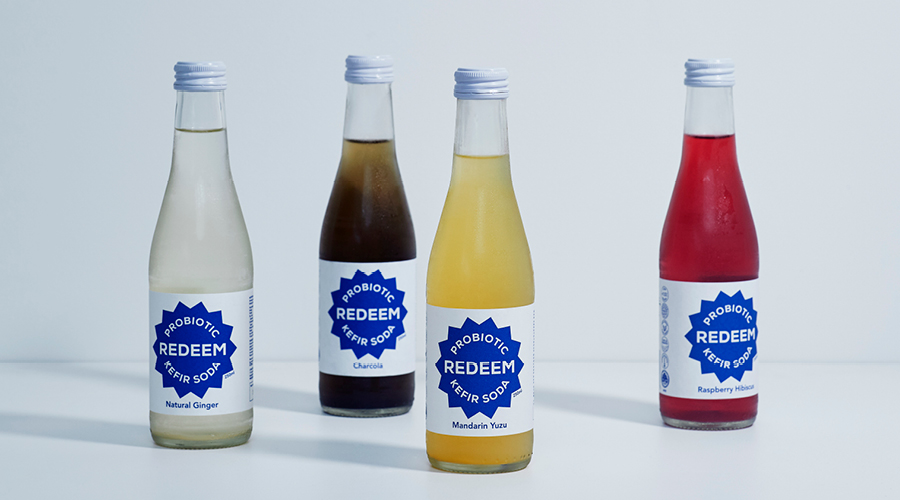 For those of you unfamiliar with what kefir soda is, listen up, as it's about to become the hottest beverage around. Each bottle of Redeem's Kefir Soda contains less than a teaspoon of sugar and has been created through a process of fermentation that means it is rich in probiotics. Redeem ferments and brews kefir cultures (a particular SCOBY comprising over 30 different probiotic culture strains) with natural, certified organic ingredients such as aromatic ginger, sweet raisins and zesty lemon, to create its delicious flavours. It may sound similar to kombucha, but Redeem's Kefir Soda is rising above the other fermented drinks on the market for its particularly low sugar content and inclusion of a more diverse range of probiotic strains.

And while this drink is undeniably good for the body, it's also working to benefit the world. Redeem has gone beyond just employing sustainable packing and has opted to take part in the One Percent for the Planet initiative. This sees one percent of all sales made by the company donated to 'Trees that Count' in order to support the planting of native trees in New Zealand. More trees means increased biodiversity, cleaner waterways and improved air quality, and at a time when climate and the environment could not be more important, it's a worthy cause indeed.

Redeem Kefir Soda is available in selected stores and cafes. For more information, click here.