Fans of risotto understand that the best exercise comes from standing at the stove stirring this Italian staple. The rich aromas and flavours are all the reward you need for building your biceps in the kitchen and this mushroom and truffle risotto recipe from Italian food haven Non Solo Pizza delivers on all sensory fronts.
This simple recipe is elevated to restaurant quality by the addition of truffle but feel free to tap into your inner Nonna by adding some of your favourite greens, such as chopped kale or baby spinach.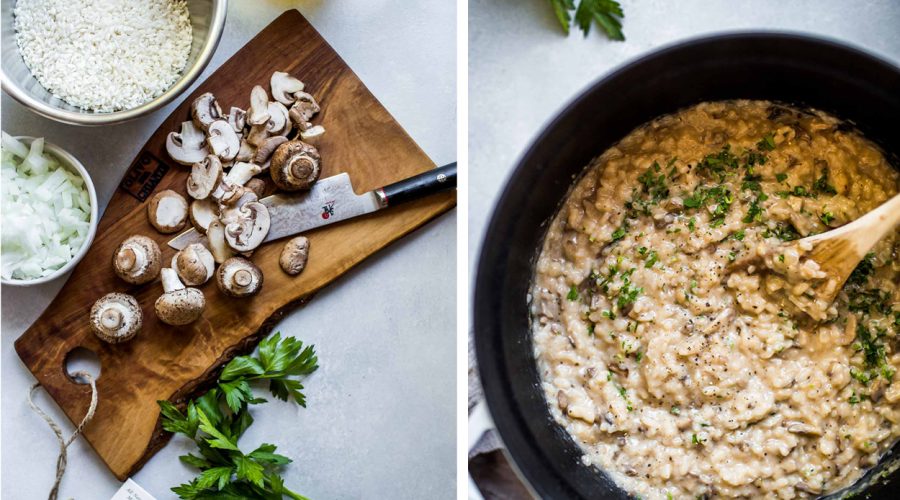 NSP's Mushroom and Truffle Risotto Recipe
Serves 4
Ingredients
100g butter, unsalted
250g of assorted fresh mushrooms, roughly cut in similar-sized pieces
1 shallot, chopped
1 garlic clove, chopped
250g arborio risotto rice
100ml white wine
750ml of vegetable stock, plus more if needed
20g dry mushrooms, soaked in water
1 Tbsp truffle paste
Sea salt & cracked pepper
Olive oil
To serve
50g parmesan cheese
Truffle oil
Method
1. To begin the risotto, use 50g of the butter to fry the fresh mushrooms in a saucepan until light brown in colour.
2. Add the shallot and garlic and cook until soft for a further 30 seconds.
3. Stir in the rice and cook until transparent.
4. Pour in the wine and stir in well.
5. Add stock a little at a time, stirring constantly until all is absorbed and creamy and the rice is cooked.
6. Add more stock if the rice is still slightly undercooked.
7. Drain the soaked mushrooms and stir them into the rice, along with the truffle paste.
8. Season with sea salt and freshly milled pepper and a little olive oil and the remaining 50g butter.
9. Stir in the parmesan cheese and truffle oil and serve.
Image credit: Recipe from Savor Goods