A day trip over to Waiheke Island never goes amiss, and a new off-the-beaten-track destination will have gin lovers flocking to the island's east side. Named Waiheke Distilling Co., this artisan gin producer is the brainchild of Liz Scott and Glen Cadwallader who had a vision to champion the local botanicals that grow in abundance in the area while also allowing visitors to enjoy the beauty of the surroundings.
Located relatively close to Man O' War on the ridge above Cowes Bay, with a spectacular view out onto Pakatoa Island and over to the Coromandel, Waiheke Distilling Co. is not only the birthplace of three brand new gins, but home to a stunning garden bar as well.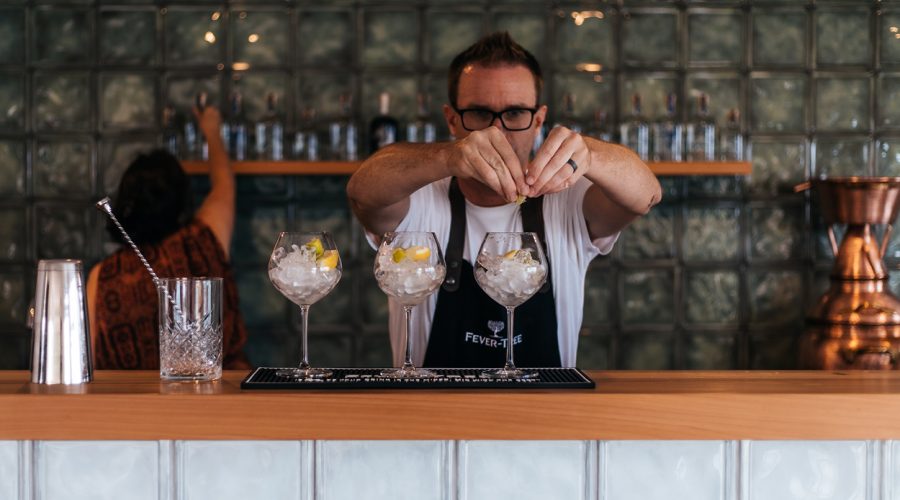 With both the gins and the bar having launched on 23rd January, the distillery's garden bar summer series is open Thursday to Monday throughout the warmer months — and given the extremely enthusiastic response, online booking is crucial to avoid disappointment.
The journey to the distillery is an adventure in itself, consisting of a 40 minute drive from the ferry terminal on the western side of the island. Once you're out there, you can expect a casual setting with picnic tables and deck chairs in prime position to take in the breathtaking surroundings, and of course some delicious gin cocktails.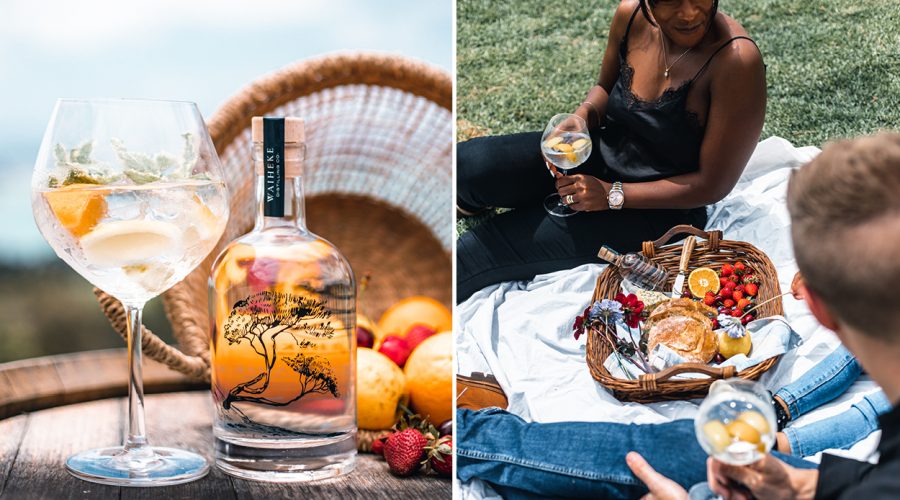 Waiheke Distilling Co.'s signature gin is the Spirit of Waiheke, and is unique in that it is infused with giant kelp which gives the otherwise citrus-forward spirit a slightly salty twist. The London Dry sees the company's take on a classic spiced up with cardamom and red pepper, and the Red Ruby is an attractively deep rouge shade, thanks to an infusion of fresh cherries.
For the summer series, the distillery has collaborated with Auckland bar Clipper to create a range of moreish frozen gin cocktails, each blended with a rosé from a different Waiheke vineyard. There are also gin and Fever Tree tonic cocktails available, as well as non-alcoholic options, and should you be peckish a selection of antipasti, cheese and fruit platters are on offer, showcasing delicious local products like Waiheke scotch eggs, fresh bread from Man O' War and Te Matuku oysters, as well as Island Gelato ice cream.
While we all love a long lunch at one of Waiheke's unquestionably excellent wineries, if you're looking for an extra stop to add to your day — or if you're after something a little different — we think Waiheke Distilling Co. might be the destination for you.
Opening hours:
Thursday to Monday — 10:00am – 6:00pm
Bookings essential
Waiheke Distilling Co.
258 Cowes Bay Road
Waiheke Island