As you may have noticed, we have our ear firmly attached to the ground when it comes to whispers of new openings, new collaborations and events we think that you, dear reader, might like to know about. So, when we heard one of our favourite cheap and cheerful Indian spots in Auckland was branching out into fusion pizzas, needless to say we were intrigued.
Paradise Indian Restaurant has ruled the Sandringham strip for over a decade, with both the dine-in and takeaway arms of the business heaving with diners who can't get enough of Paradise's richly flavourful curries, biryanis and other delicious Indian dishes.
Its new Paradise Fusion Pizza Restaurant has recently appeared at 586 Sandringham Road, and the offering is just what it sounds like: pizzas topped with Indian-style toppings like Butter Chicken, Paneer and more.
If this unseemly mash-up of Italian and Indian cuisine has you feeling a tad trepidatious, we understand — however, if we'd try an Indian-style pizza from anyone, it'd be Paradise.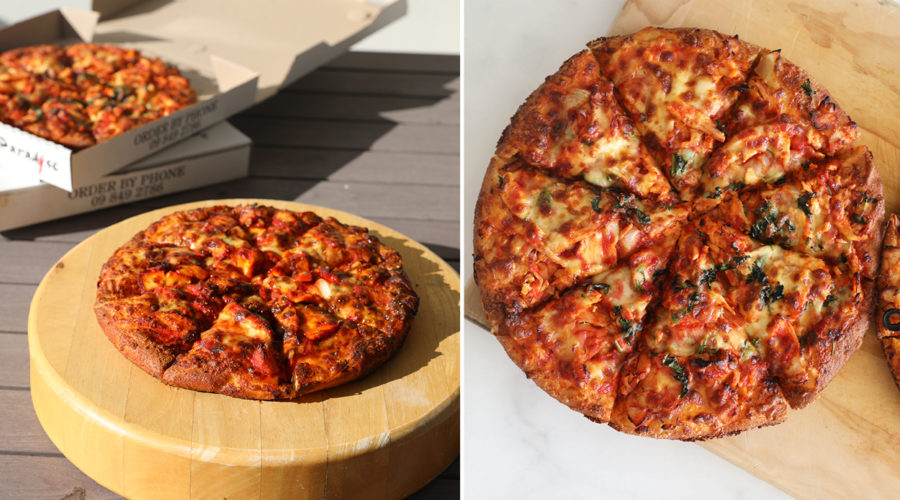 We ordered three flavours, all in the name of research of course: Butter Chicken, Dragon Chicken, and Tandoori Paneer. There are several flavours, some of which we're not 100 percent sure about like the (Middle Eastern-inspired?) Lamb Shawarma, and Charcoal Chicken which comprises BBQ chicken, vegetables and pineapple, so we decided to play it safe with slightly more familiar-sounding flavours.
While wholesome sourdough may be the base du jour for more upmarket eateries that have pizza on their menus, don't expect the same at Paradise. These bready, doughy bases are more akin to classic fast food pizza joints (we don't think it's necessary to name them) and while sourdough might be trendy, sometimes a humble, doughy pizza hits the spot.
The Butter Chicken was less creamy than we were expecting, more like a tomato and chicken pizza with cheese and onion, plus some mild spices. The Dragon Chicken pizza promised to bring the heat, however, we found it was more of a slight lingering kick — this did add a nice dimension to the topping which, with its slices of round black olives, was slightly reminiscent of nostalgic childhood pizza bites. The Tandoori Paneer pizza had the most recognisably Indian flavour profile, a delightfully greedy vegetarian takeaway option.
All-in-all, we can say Paradise Fusion Pizza Restaurant is destined to fill the gap for those craving a decadent and unconventional takeaway option — Paradise, if you're reading this, our next request is for a Naan-based pizza.
Paradise Fusion Pizza Restaurant
Pick-up only at 586 Sandringham Road