Rolling into Britomart and bringing its signature, deliciously fresh offering, Oji Sushi has just opened a new store and it's set to be an instant hit with the lunchtime crowd. Having set up shop in the space formerly occupied by Fukuko bar, the team are delighted to be bringing Oji's high-quality sushi, salads and bowls to even more people with the third iteration of the store (the other two are located in Commercial Bay).
Once again, it was Izzard Design that took care of an interior refresh, with branding and design studio Seachange creating the visuals; the studio even won gold at the 2020 Best Awards for Oji's brand identity. Particularly striking details are the front door, with an eye-catching orange, spherical tint on the glass, and the tonal tiling. While Oji Britomart is ideal for 'grab and go', it also has seating to enjoy a meal onsite.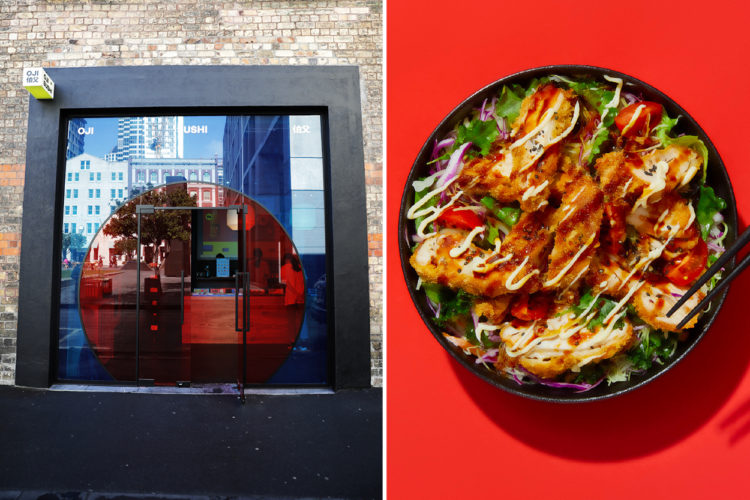 While there's no shortage of sushi stores in Auckland, where Oji sets itself apart is its emphasis on locality, sustainability, less waste and more taste — and its Britomart store is no different. "We keep it simple," says Savor Group founder Lucien Law. "We just make everything we do, everyone we work with and every ingredient we use the best possible."
From sustainable South Island salmon from Glory Bay to hand caught tuna, free-range chicken and locally-grown greens, Oji's offering is a far cry from stodgy sushi that hides a smidgen of filling in a rice-overwhelmed roll.
The sushi is hand-rolled fresh, daily, onsite and can be made fresh to order. Exclusive to Oji Britomart is a delicious selection of rice paper rolls, available filled with tofu satay, poached shrimp, roast Peking duck or char siu pork, with various dipping sauces that include hoisin, peanut and sesame; herb lime and soy, and vegan almond butter. Another Britomart store special is the 'Ebisu Premium Roll', a collaboration with sister venue Ebisu just next door.
For those who prefer a bowl-based meal to eat in or takeaway, there is a selection of hot ramen and donburi, as well as colourful salads that come packed with vegetables and protein. There will be regular meal deals throughout the week, and $1 cups of miso with every order.
Drinks-wise, you simply must try the store's premium in-house juice brand Oji Jusu, made in Kumeu from cold-pressed, organic fruit. Or, if a crisp cold beer is more your vibe, Oji is licenced with boutique Japanese beer on tap.
So, should you be struck with a sushi craving, we suggest you make your way to Oji's sleek new Britomart outpost, for a goodness-packed bite on the go.
Is there a new opening you believe should be on our radar? Let us know at [email protected]
Opening hours:
Tuesday to Sunday: 10AM — 4PM
Closed on Monday.
Oji Sushi
43 Tyler Street,
Britomart