Few classics come as close to authentic New Zealand cuisine as our beloved fish and chips. An iconic summertime or Friday-night staple, fish and chips are about as 'Kiwiana' as rugby or Tip Top or jandals. In fact, you'd be hard-pressed to find a New Zealander for whom this dish doesn't serve up some serious childhood nostalgia. And while we do like to indulge in a newspaper-wrapped classic from time to time, our tastebuds have refined somewhat since childhood, and now, we seek a version of fish and chips that feels more elevated.
Enter Nate's Plaice: Grey Lynn's newest fish and chippery taking the core elements of the chip shop experience and lifting them to delicious new heights. The brainchild of chef Nathan Ward, Nate's Plaice takes everything we love about contemporary cuisine and marries it with a classic chip shop — which is proving to be a successful combination.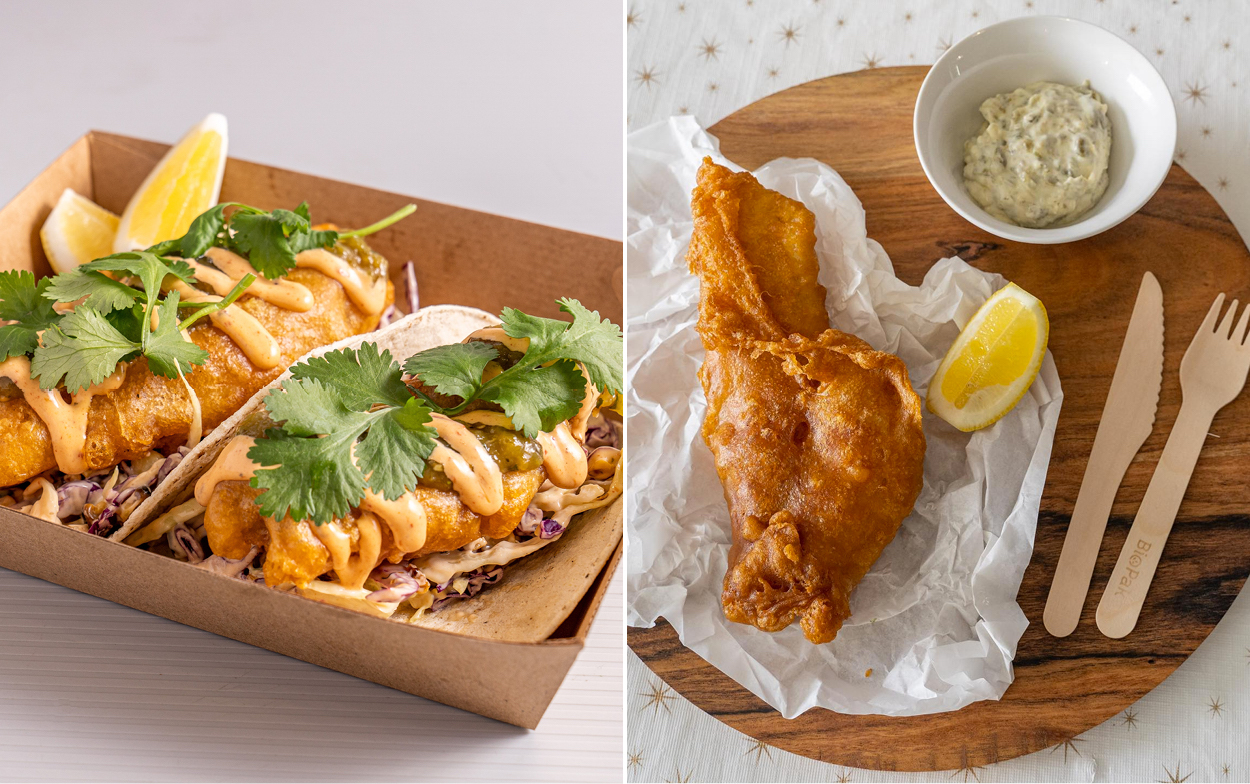 Ocean to plate is the approach, with a curated sustainable seafood menu courtesy of Kiwifish — a supplier that specializes in catches from fresh, local fishermen. The offering is simple but delicious, with fish boxes including the holy trio of ​​fish, chips and coleslaw, and re-imagined chip-shop burgers with 100% NZ prime beef patties or freshly caught seafood or even a vegan option for anyone that way inclined. The menu boasts sides, salads and simple sweets (the national hero pineapple fritter makes an appearance here), and gluten-free options are also available.
And although Nates Plaice is new, Ward has been honing his skills in the kitchen for years. The chef has worked in Melbourne, London and on superyachts all over the globe. In fact, Nates Plaice arrives on the back of One Fish Two Fish, another new spot Ward recently opened in New Windsor. He is also the founder of From The Pass, a not-for-profit that aims to support workers' mental health in the hospitality industry.
With a vision to create a healthy but authentic fish and chip shop that used fresh local produce and fish from independent fishermen, Ward is reimagining the classic takeaway for a more discerning customer. With Nates Plaice, he has created the perfect spot to reignite the Friday night traditions of our childhoods and indulge in some deliciously easy and guilt-free fish and chips.
Nate's Plaice
411 Richmond Road,
Grey Lynn, Auckland