They say fortune favours the bold, and at Lucky 8 a bold approach to social dining has created Ponsonby's new lucky charm. Its sign is a large black cat perched above an enigmatic black door, which leads upstairs to the new-guard opening.
Another Fortune Cat, known as Maneki Neko in Japanese (and now Chinese) culture, also looks over diners as they enter the loft-like space with exposed brick, large street-facing windows and what appears to be 800 other small black cats watching on from the walls.
The latest from the team behind the ever-popular Mr Hao — Paul Wong, Julian Diprose, and now Lucas Boucly — Lucky 8 is as audacious as it is auspicious.
Taking the Lucky 8 theme and really running with it, each and every delicious dish here is $8. From a masterful mouthful of abalone and squid with soy sauce (served in its shell) to a slow-cooked black pepper beef cheek, which melts off the bone, everything is priced, and revered, the same.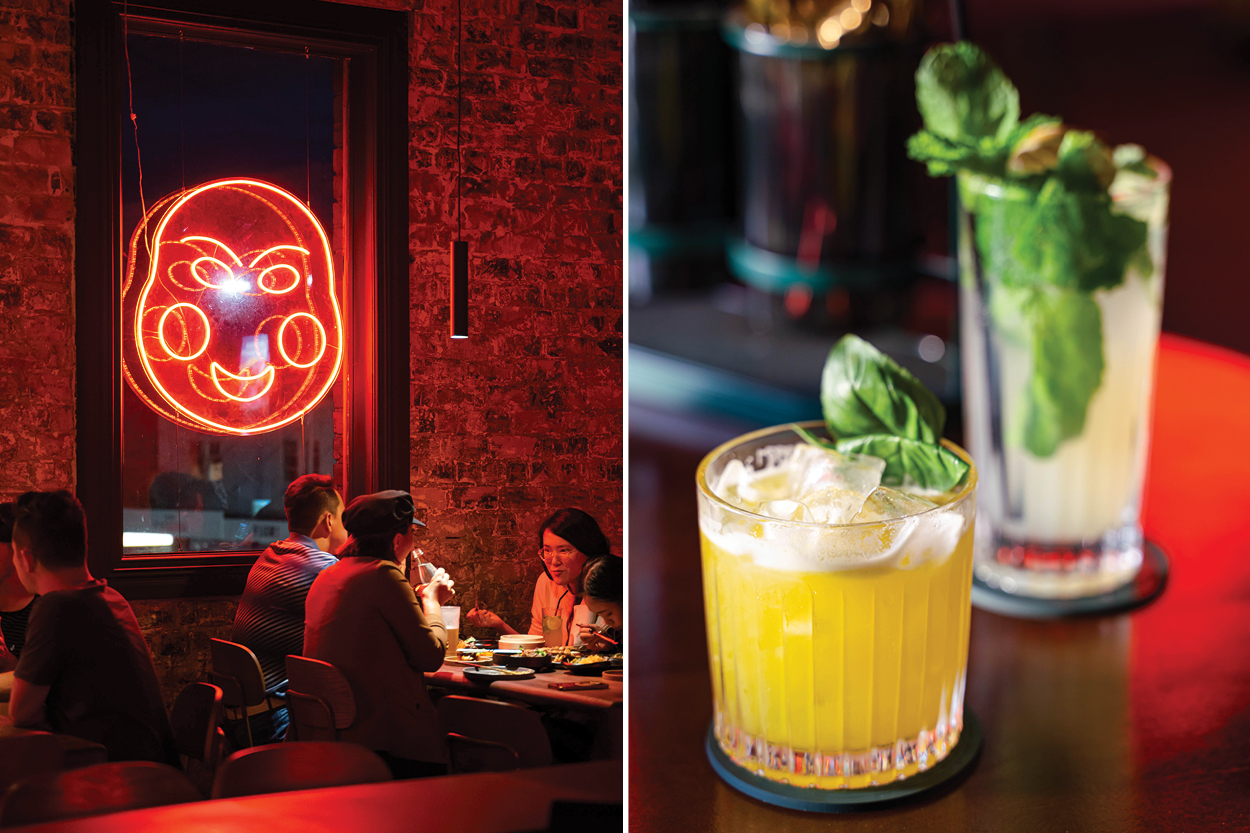 The Head Chef from Mr Hao was quick to up sticks to the Lucky 8 kitchen, and one of his favourite plates, Hao's Chilli Chicken, is served here — as a more petite size piled up like popcorn chicken, while keeping all the bite.
Another favourite is the Golden Crusted Shrimp, which comes with a deliciously crunchy coating and a squiggle of moreish mayo. The Lion's Heads pork meatballs are styled off those you'd find at China's renowned street food stalls, but covered in sweet and sour sauce that pools on the plate for a contemporary take.
Of course, the Cantonese-inspired sharing plates are delectable, from the pork and shrimp dumplings to the chicken wing and teriyaki salmon skewers, but the vegetarian options are a surprising star of the menu. Scrolls of fresh cucumber in a spicy and sour sauce, and the neatly swirled vermicelli and shredded turnip salad, work well with the richer, stickier courses. Meanwhile the Mushroom Fries are as dangerous to snack on as its starch namesake.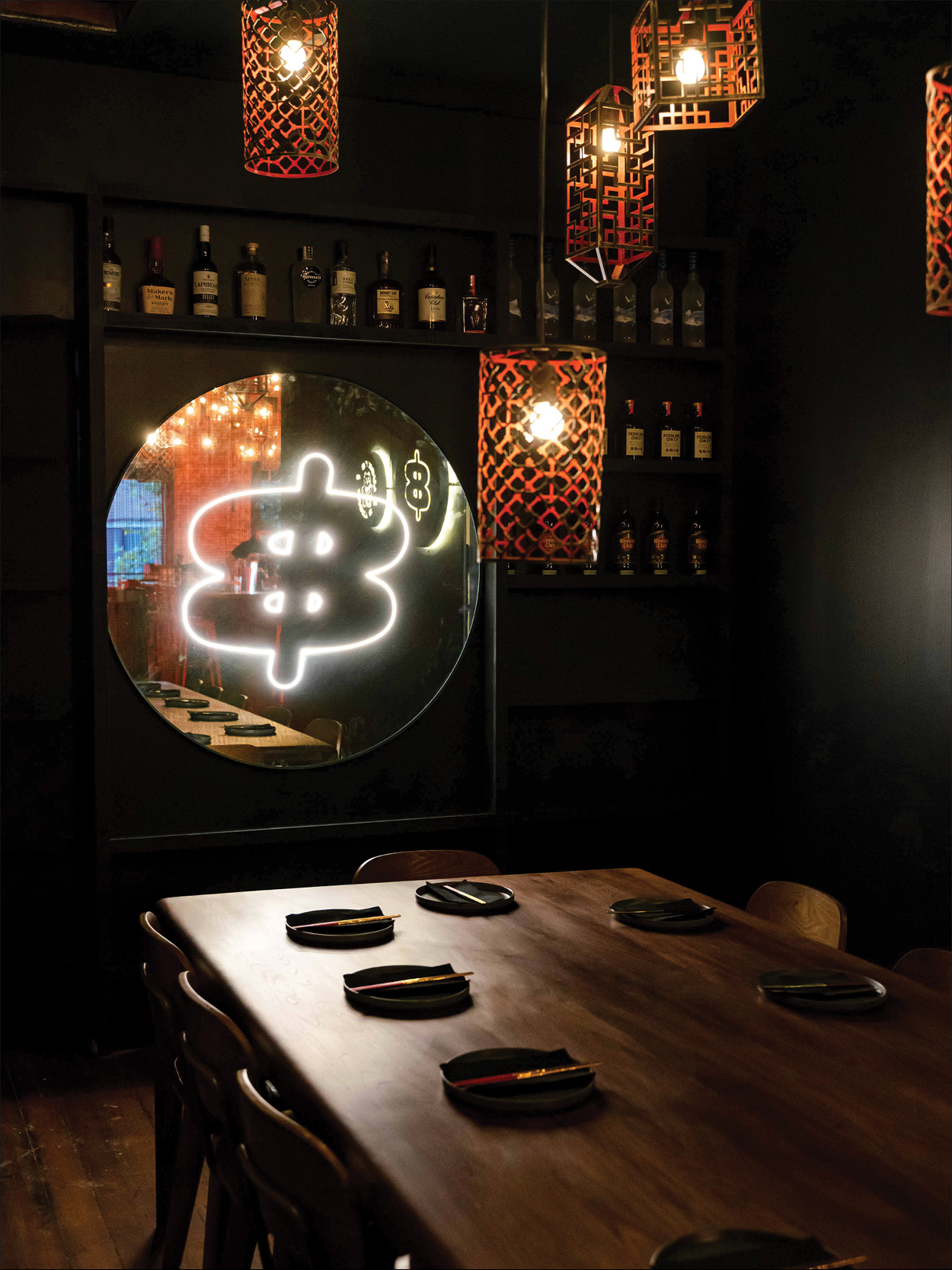 As well as its own Lucky brand lager, hazy pale ale and pilsner, there are also eight unique cocktails on tap — ensuring a round of refreshments come to your table as quickly as they need to. While we would usually be careful of cocktails that come at the pull of a lever, the ones at Lucky 8 are so popular they are constantly being made fresh for your preferred method of libation.
All as revitalising as the next, you can sip a Wuling dragon, with Yuzu sake, mandarin liqueur, chrysanthemum, lime and basil, and a Luckys Spritz, with prosecco and mango liqueur and a flame-torch toasted meringue on top. Each $8 cocktail comes with its own symbol, reflected in the neon lights around the room — all your need to do is spin around and pick one.
In fitting with the social scene that has been set here, you won't find any tables for two at Lucky 8. Instead, there is a central bar island, with seating all around. Elsewhere there are high or low tables, with approximately eight seats ushered around each for gatherings of friends, or for new chance meetings.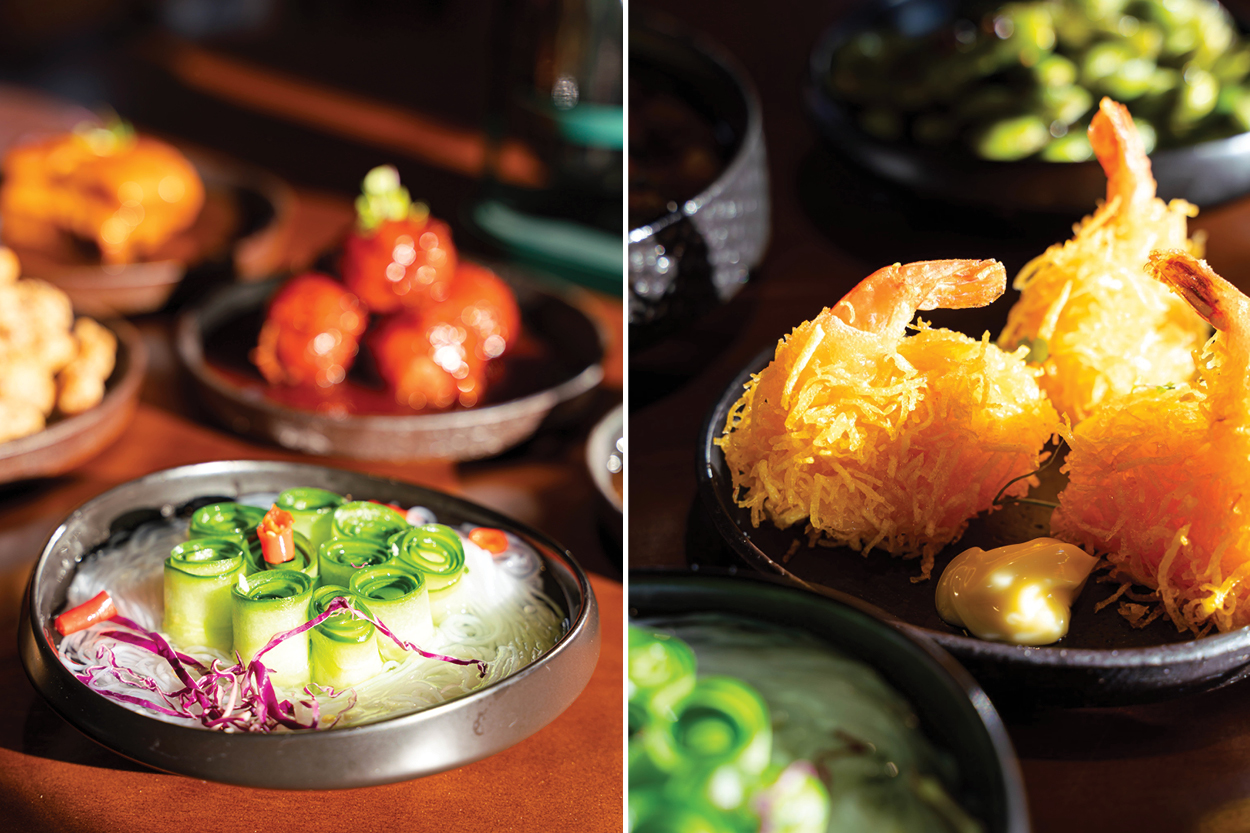 For those who are 'Extra Lucky' (or celebrating something extra special) there is a private room with one large table found behind a beaded kind of curtain — not completely closed off from the action in the main dining room.
With a vibrant atmosphere, this is certainly the place for a good time — but it's here for a long time too. Lucky 8 is open every day except for Monday, and open until midnight. Whether you find yourself in need of a feed when most restaurants are turning the lights off in their kitchens, or if you want to settle in early and stay, you will always be satiated. With talk of opening for lunch not too far off, it would also be a lively location for long Friday lunch 'meetings' with your favourites from the office.
While the team has a come one, come all approach, the concept bar's instant favour means its red leather seats are filling up fast. Be sure to be one of the fortunate ones, and get in quick to enjoy Lucky 8 this week.
Opening hours:
Tuesday to Sunday: 5pm — Midnight
Closed Mondays
Lucky 8
161 Ponsonby Road
Ponsonby, Auckland