Fans of Behemoth Brewing Company's prolific New Zealand-made craft beers will be pleased to know the brewing company has a new home in Mount Eden, and it also serves excellent food.
Named Churly's Brew Pub & Eatery, in homage to the company's cute little mascot, the venue is located on the corner of Charles Street and Dominion Road, and is bound to become a popular neighbourhood favourite.
Owners Andrew Childs and Hannah Miller Childs each bring a great deal of passion and experience to the venture — Childs founded Behemoth Brewing seven years ago, and now has hundreds of stockists countrywide, while Miller Childs is a trained chef and the brains behind A Lady Butcher, offering ethically, sustainably and locally produced New Zealand charcuterie, bespoke curing and butchery classes. Both businesses are to operate out of Churly's, with a huge beer brewing room currently under construction out the back and impressive temperature-controlled drying rooms for A Lady Butcher's meat.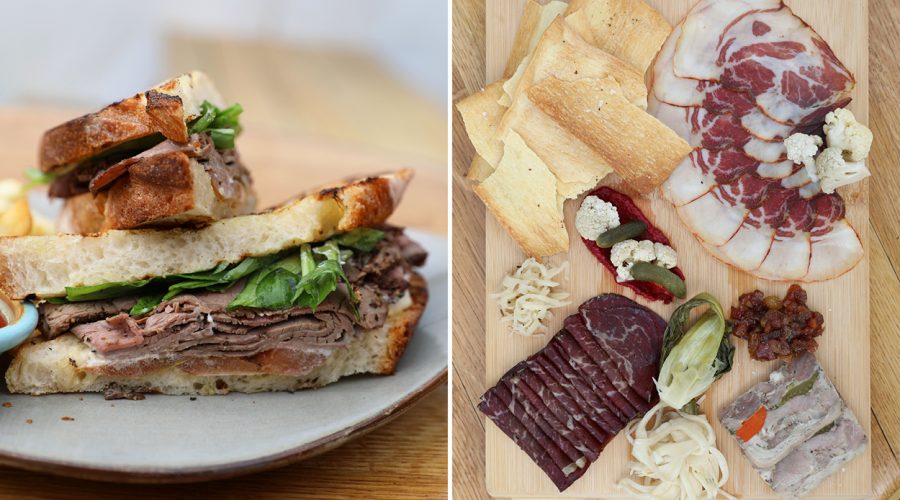 Setting itself apart from other pubs in the city is the team's philosophy of making nearly everything themselves, in terms of the components of each of the food menu's dishes. While the menu is meat-focused, thanks to Miller Childs' principled approach to butchery Churly's works directly with the farms to source everything in the best way possible, butchering it all by hand onsite with no machinery.
"I'm about knowing where our food comes from — the whole story," explains Miller Childs. "I feel that if you're going to eat meat, you should meet the farmers, and also eat the whole animal." We're all far too used to only eating prime cuts like steaks, she says, but her team are all about being low-waste and using the whole animal.
The overall vibe skews American-style, with head chef Dan Sedlack bringing his expertise from the USA and Miller Childs hailing from Portland, Oregon. The menu comprises both sharing dishes and mains like burgers, sandwiches, schnitzel and mushroom tacos for vegetarian diners.
Churly's' signature roast beef sandwich is among the best we've tried, with pepper-crusted sheaths of roast beef that were expertly sliced by hand using a butchery technique called seam-cutting, getting rid of sinew to avoid any chewiness. Served in Il Forno sourdough with horseradish and pickled garlic scape (stem) aioli, whipped goat's cheese, rocket and tomato, it's heaven between two slices of bread.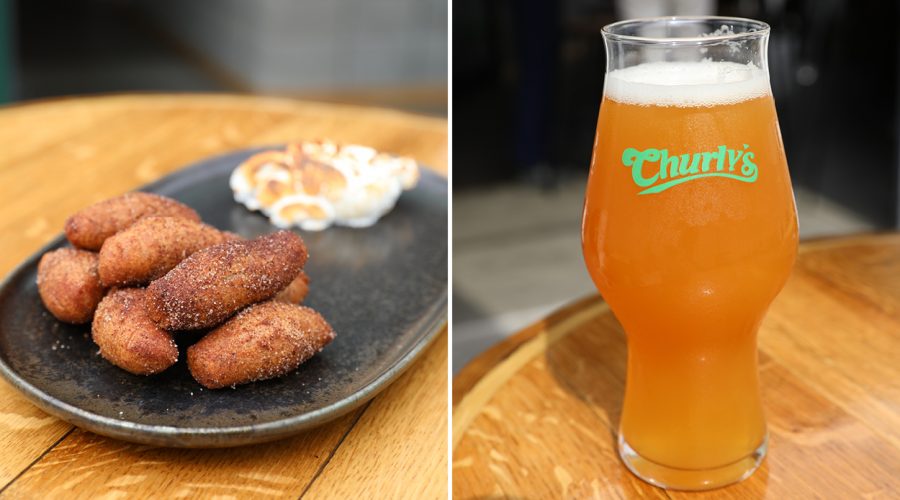 The charcuterie board is, as expected, topnotch, with free range pork hock terrine, wagyu bresola, free range pork coppa cured with oak-smashed paprika out of Dunedin, and all the crackers and pickles also made in house. Washed down with a pint of one of the many craft beers on offer, it's sure to be a summer sharing staple.
Dessert is tweaked regularly but we can safely say no one would be unhappy with the blueberry cinnamon donuts we tried, served with toasted meringue for decadent dipping.
Wednesday night at Churly's is Prime Cut night, where a board is drawn up with the best of the best cuts of meat, sold by the 100 grams. While the focus is obviously all things carnivorous, Miller Childs explains they always accommodate vegetarian and vegan eaters, so everyone comes away from Churly's satisfied and happy.
A good-sized outdoor area is currently sheltered by a marquee but will be a fully-fledged garden bar by December — however, we recommend getting yourself down to this brew pub much sooner than that.
Opening Hours:
Open 7 days
Sunday – Thursday: 11am – 10pm
Friday & Saturday: 11am – Midnight
Churly's Brew Pub & Eatery
1A Charles Street
Mount Eden