This is one we've been wanting to tell you about for a while. From the exceptional experimental eatery that is Pasture, Alpha is an innovative test kitchen, bakery and bistro that is now serving dedicated, dine-in breakfast and lunch.
Since September, Alpha has won over the hearts of locals with an eclectic collection of epicurean breads, pastries and pizza slices to take away from its 'neo-bakery'. From the salty, sour and sweet Kanelbullars (a Swedish cinnamon roll filled with flavours including black currant, fennel flowers and cacao nibs) to Wagyu or salmon on rye and pork fat pretzels — this first stage offered a taste of something new for Parnell Road.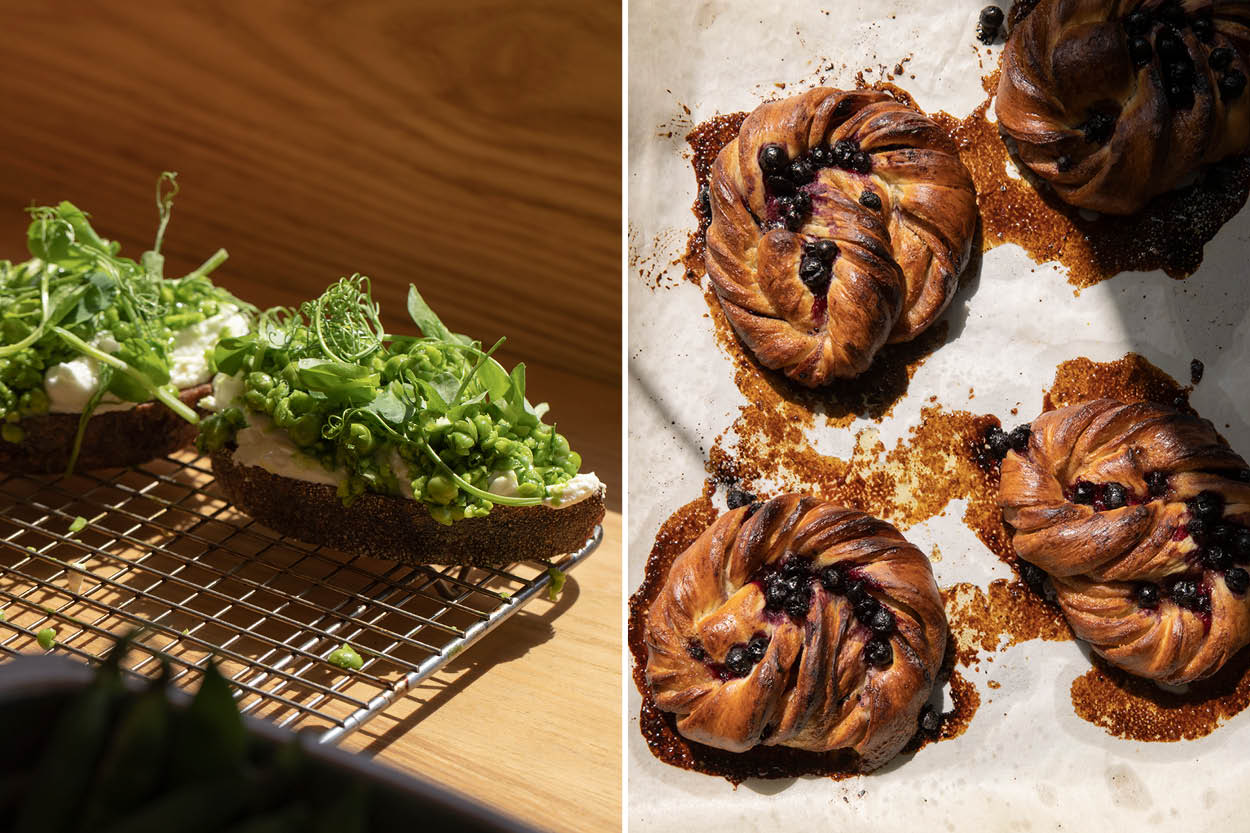 Now, the team has decided it is high time to add their dine-in breakfast and lunch menu, which will feed the soul into the afternoon. The first pop-up menu includes rustic and elegant classics, much like what the chefs would create for their partners when at home. Because it's their kind of love letter, they've called it Sonnet.
We've set eyes on the hot-smoked salmon eggs benedict royale on a housemade English muffin (which comes with or without caviar) as well as the duck egg en cocotte with summer truffle, garlic cream and Gruyère with shokupan (milk bread) soldiers and pig liver parfait.
This next stage for Alpha is styled as a 'neo-bistro', and as such it also includes whole scampi, oysters with elderflower mignonette and a crudites and taramasalata dish made with yesterday's leftover bread. For dessert, the half grapefruit crème brulée sees the top of a grapefruit bruléed with sugar and a blowtorch, then covered in finger lime, fresh herbs and flowers for a taste that is truly fresh.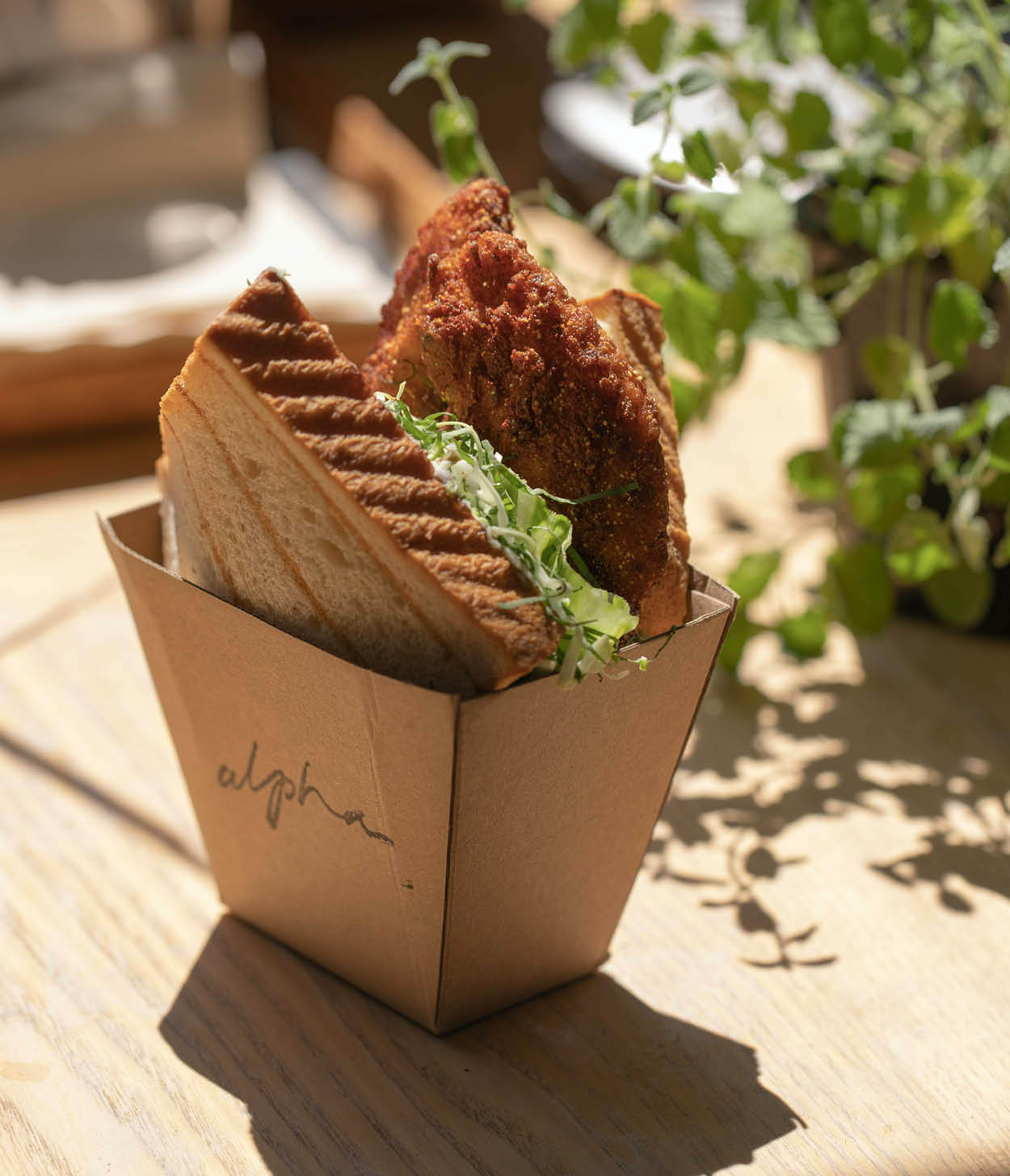 Already a favourite for the Alpha at Pasture set, the Nashville-style hot fish sando has found a permanent place on the new menu. We recommend getting your hands on this supremely light and fluffy sandwich, made with the housemade Japanese-style milk bread that is called shokupan.
And now for an insider tip — Pasture's famed sourdough with aged butter can be spotted on the menu. With the butter aged for one whole year, and the plate usually saved for Pasture's tasting menu, you can't pass it up.
For the other brunch essential, Alpha has partnered with Kōkako on its batch-brew filter coffee, which pairs excellently with the aforementioned black currant kanellbular or a sorrel cream doughnut. Plus, we hear there is also a special Alpha blend on the morning horizon.
Alpha is a concept Pasture chef and owner Ed Verner has been planning since opening his original, six-seater restaurant in 2016. A central aspect was to provide better working hours for chefs who usually work at night for menus with fine-dining flourishes. Having a café to bring the same level of finesse during the day helps balance the scales.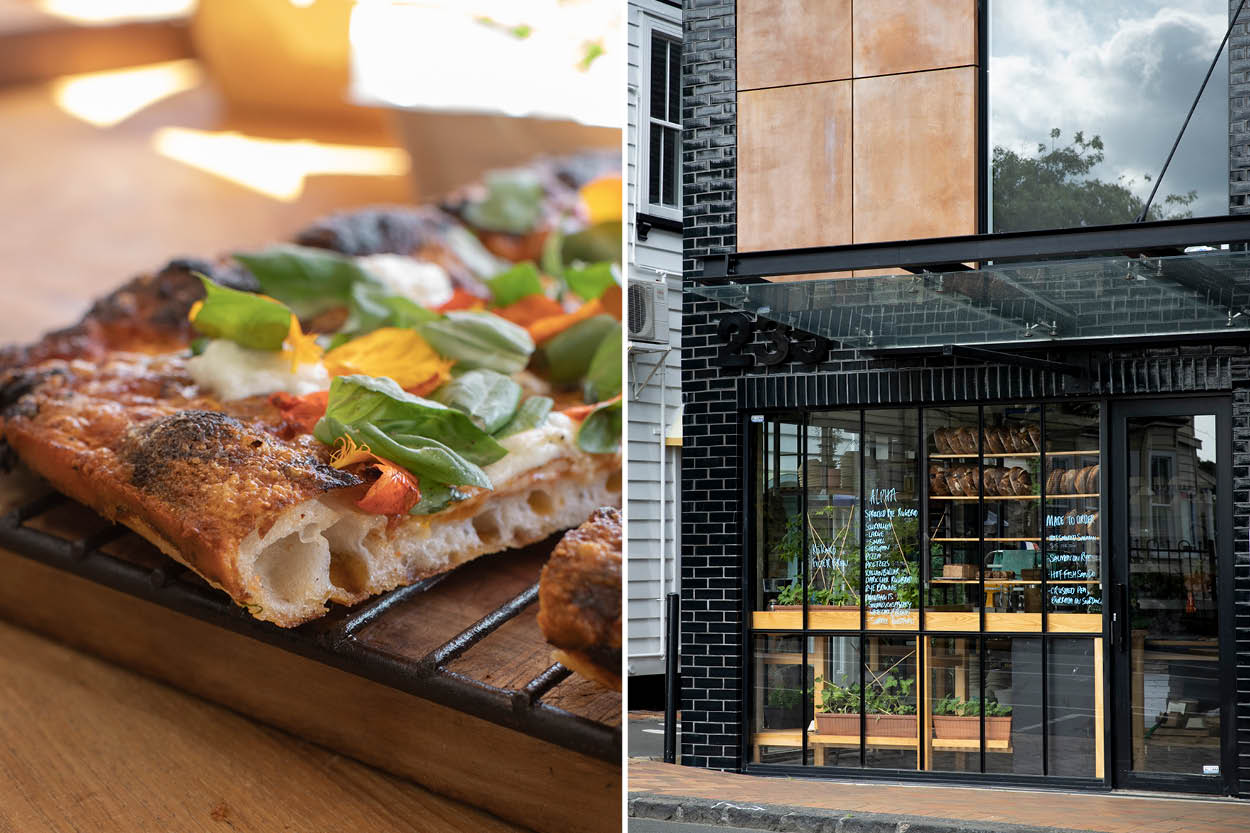 The makers are quite literally front and centre at Alpha, rolling out bread right in front of the diners. The rest of the space is like an inner-city greenhouse with its various plants and produce displayed. With no bookings needed, and space to both dine-in and stop by to pick something up, Alpha is the most approachable offering at the site, while staying true to the same exacting standards of the ground-breaking restaurant that is Pasture, and the modern cocktail bar experience Boxer that meets them in the middle.
At night, Alpha closes to the public and its patrons to become a shrine of creativity and experimentation if Pasture's talented chefs feel so inspired. The test kitchen is also open to functioning as a community space for classes and lectures, as well as a host of rolling pop-ups and dinner series by up-and-coming chefs. Being such a new concept, no idea is off the table.
To celebrate this innovate new dining experience at Alpha at Pasture, we are giving away brunch for four, including both food and drink and valued at $250.
This competition is now closed.
Opening hours:
Thursday to Sunday: 9.30am — 2.30pm
Alpha
235 Parnell Road
Parnell, Auckland