There's nothing quite like starting a long feast with slices of artisanal bread smothered in soft, homemade butter. The kind of butter you could never find on the shelves of a grocery store. The concept of pre-meal bread and butter is more than just an appetite stimulant. It keeps our hands occupied to avoid the awkward fidgeting and fiddling of a first date. It prevents us from getting hangry and it makes the wait for our first course slightly more bearable. Unfortunately, the presence of bread and butter is slowly dwindling in Auckland's restaurant scene. People have started to stigmatise the welcoming gesture of hospitality as an unnecessary filler — something that results in less room for mains and banishes the possibility of dessert. But we think that when it's done right, it has the potential to be one of the highlights of the dining experience. So, we've decided to pay tribute to this humble yet quintessential starter by divulging the restaurants that offer the best butter in town.
Seaweed butter from Ostro
Renowned for its refined selection of seafood, Ostro pays equal attention to its butter by infusing it with a touch of the menu's prevailing marine flavours. The butter is infused with seaweed and whipped in order to allow it to be spread effortlessly on the bread. The oceanic aroma combined with the light yet decadent qualities of the butter creates an umami flavour that is hard to find anywhere else, making the seaweed butter a mandatory start to your Ostro experience.

Marrow butter from Saint Alice
Bone marrow is a delicacy that has gone completely mainstream thanks to restaurants like Depot, Culprit and Saint Alice. But Head Chef of Saint Alice, Maia Atvars has taken bone marrow to new heights by combining it with a house butter to create a spread that boasts a nuttier flavour and more velvety texture. Served with the meat platter that comes with Grey Lynn pork salami, pork coppa and blistered baguette, this butter is seriously special.

Smoked kahawai butter from Giraffe
Using equal parts butter and smoked kahawai fish, Simon Gault's signature butter has become iconic to his restaurant in Viaduct Harbour — Giraffe. The smokiness from the fish lingers on the palate as the richness of the butter coats the lips. Gault noticed that bread and butter were often being overeaten by guests which made entrées, mains and desserts less enjoyable. Instead of taking the starter off the menu entirely, he elevated the experience by adding activated charcoal sourdough and focusing on maximising the flavour in the butter, transforming the typical starter into a stand-out dish.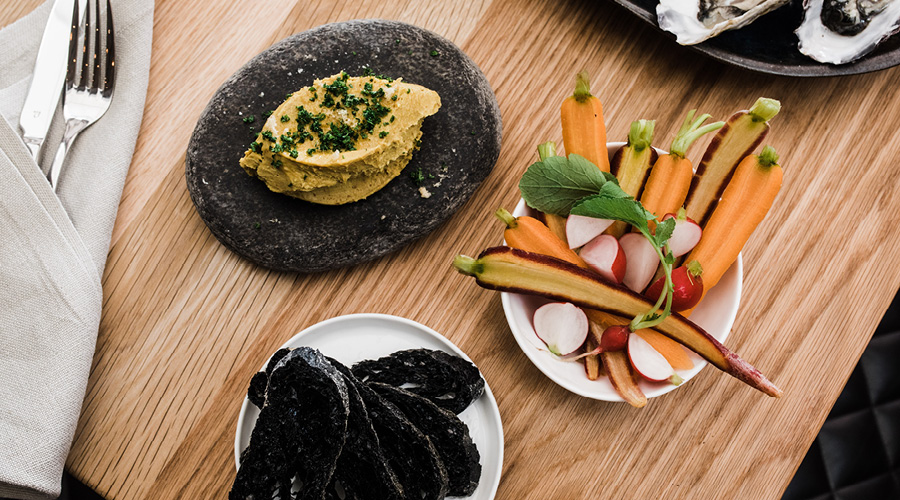 Marmite and cheese butter from The Sugar Club
As an ode to the Kiwi classic, Executive Chef — Josh Barlow has created pure dairy magic by lacing marmite through his whipped butter and topping it with a sprinkle of cheese. The butter reaches a point of softness where it basically spreads itself on the thick slices of dark rye bread, which is also made in-house by Barlow, served warm for the butter and cheese to melt together and create a unique yet nostalgic flavour of Kiwiana.

Burnt butter with rock salt ash from Orphans Kitchen
An experience at Orphans Kitchen is not the same without the wooden board of sliced sourdough and a generous dollop of burnt butter. The butter is caramelised and whipped to a light, creamy consistency before a sprinkle of rock salt ash is added to season the rich flavours and enhance the butter's smokiness. A butter this amazing needs bread that measures up to the high quality and you can rest assured that Orphans has its sourdough game down pat.
Aged butter from Pasture
Pasture gives its diners a course of bread and butter during their three-hour dining experience and it's said to be many people's highlight. The aged butter is exactly what it sounds like, and has been sitting for a long period of time, leading to a more pungent flavour and distinctive taste. So loved is this iteration of bread and butter that at the end of the dinner, a whole loaf of sourdough and block of cultured butter is given to guests to take home which means you can extend your Pasture dining experience to the next morning.