A getaway doesn't always have to include jetting off to exotic locations or staying in lavish accommodation. All you need to do, is simply escape your regular surroundings and take a breather. One of our favourite places to go for a day of R&R is up North and the re-opening of McLeod's Pizza Barn and Brewery is giving us all the more reason to go. The scenic drive takes just under two hours and is the perfect distance for a quick road trip.

The renowned McLeod's Brewery has earned a number of awards, including three gold medals at the 2018 Brewers' Guild of New Zealand Awards and its signature craft beer can be found both on tap and bottled at its Pizza Barn in Waipu. After a month-long break, the barn is back in full swing with an impressive line up of small-batch brews. With 11 beers on tap, covering from pale ale to stout and a further four varieties offering something a little different, including a Barley Wine and a limited-edition Black Sour, this barn is the place to be for the lovers of a brewski.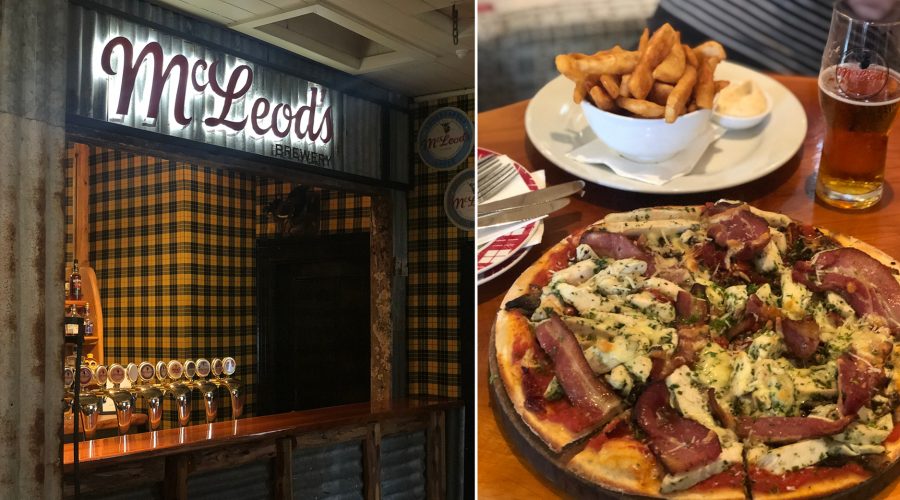 Designed to pair with the pints is a pizza menu that exceeds all expectations. Filled with delicious options that are loaded with the freshest toppings, each pizza is packed full of flavour. Our favourite is hands down, the Cooper which features herb roased chicken, bacon, mushroom, sundried tomatoes and parmesan cheese on a crispy thin crust. The vegetarian pizzas at the barn are also not to be missed, especially the kumara, avocado and brie medley, otherwise known as the Herbalist

The specials change depending on the seasonal availability of ingredients, which means that patrons can rest assured in the knowledge that what they're getting is nothing but the freshest. The specials offer the chefs a chance to delve into other pub classics such as burgers, wings and fish and chips — and boy do they do a good job of it.

Following your pub and grub session (please be sure to secure a sober driver for the day), combat the carb coma and explore the rest of Waipu such as the Waipu Caves. Or add another hour to the journey by heading towards the East Coast side of Northland and soak in the quaint ambience of Tutukaka to really make the drive well worth it.

McLeod's Pizza Barn & Brewery
2 Cove Rd
Waipu
(09) 432 1011