Started by a group of friends brewing in a shed on what used to be a Perth crocodile farm, Little Creatures crept its way into Australia's mainstream, quickly creating a name for itself for its signature, premium pale ale. After opening four standalone venues across the ditch and building a healthy list of stockists, Little Creatures is finally setting up shop in New Zealand, and opening a brewery in Auckland.
The minds behind Little Creatures knew exactly what they wanted while scouting different locations for their first New Zealand site. With a clear vision of a waterfront venue that was historically rich and unique enough to align with the brand's crocodile-farm roots, it took them eight years of searching before they landed on the perfect spot in Hobsonville Point's Catalina Bay.
Not exactly a former crocodile farm but a place that still reflects Little Creatures' connection to the water, the new brewery is taking up residence in what used to be a historic seaplane hangar. Working with Lion and Ignite Architects, Little Creatures developed the 1500sqm area into a vibrant, welcoming community space with three eateries, a Havana coffee roastery, an event space and a child-friendly playground. The brewery also has five fermenters and the ability to produce around 180,000 litres of beer per year.  Visitors should expect the line-up of drinks on offer to include the brand's acclaimed Pale Ale and Pilsner, alongside new additions (to New Zealand) the Dog Days and Rogers. There will also be various seasonal beers created and available throughout the year.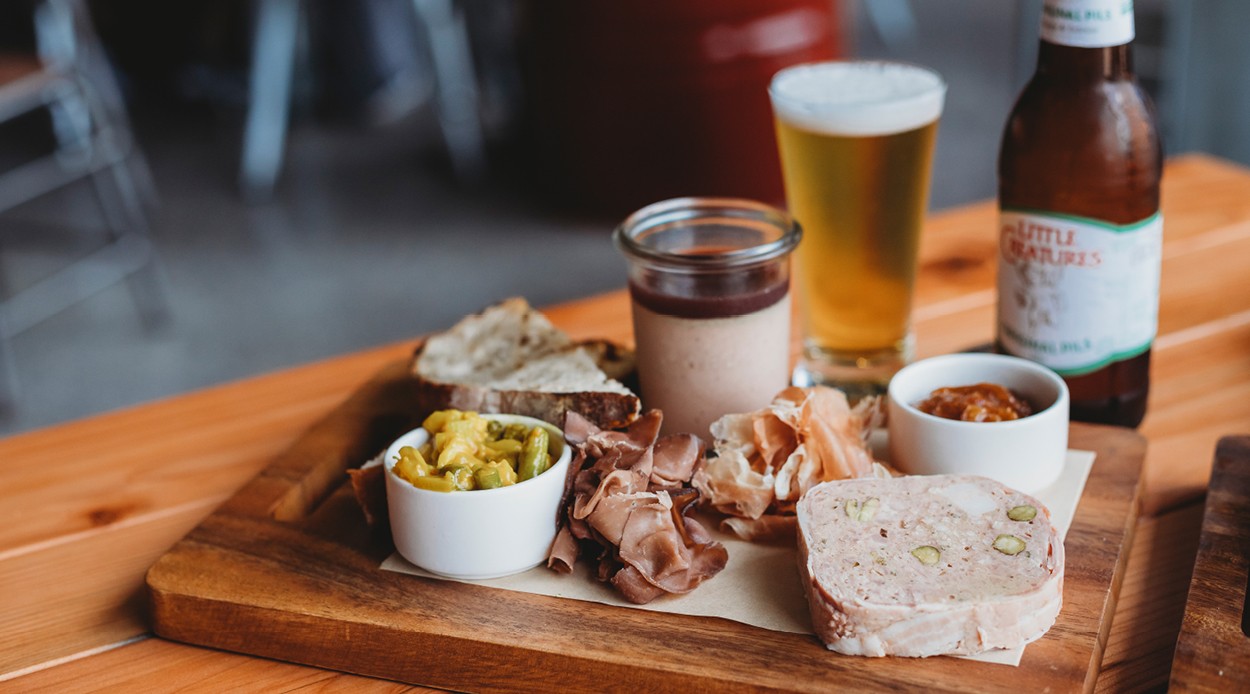 With the neighbouring Catalina Bay Farmers Market giving the brewery's food venues easy access to fresh produce, there is set to be a varied selection from not only Little Creatures own menu (comprising wood-fired pizzas, sharing platters and classic pub grub like lamb shank pie and buffalo wings) but also from the space's other two eateries — Salty's and Kittyhawk Bistro.
The former is a new restaurant offering an upscale take on the Kiwi seafood classics via a menu that features the likes of Little Creatures Pale-Ale-battered fish bites, prawn tacos and mussel and smoked bacon chowder. Elevating the 'fish and chip' experience, the highlight has to be Salty's ode to the potato — serving the starchy vegetable in six different cuts alongside seven condiment options and six different salt seasonings, including chilli spice and bacon salt.

Airforce-themed Kittyhawk Bistro is a cafe and eatery by day and casual bar by night. The daytime menu spotlights classic breakfast food, fresh pastries and healthier options such as breakfast bowls and chia pots, while at nighttime, it switches things up. Showcasing its Italian inspiration, the evening menu features dishes like arancini balls, homemade gnocchi and traditional tiramisu, along with a comprehensive wine and cocktail list.  
Little Creatures' highly anticipated brewery is opening its doors tomorrow (Waitangi Day) for a family-friendly carnival, starting at 11am. Take a day-trip to Hobsonville Point and be one of the first to get a look and taste of what this old hanger has in store. It's set to be a day of entertainment including fortune tellers, face painters, mind-bending contortionists and live music from DJ Alisha and Sola Rosa Sound System.
Little Creatures Brewery
3 Boundary Road,
Hobsonville Point,
Auckland