As an endeavour, winemaking harnesses a harmonious infusion of tradition and innovation, heritage and modification. This is especially true for Brad and Warren Butterworth, whose Butterworth Estate is thriving on the Martinborough vineyard previously known as Julicher, both honouring what has come before and forging ahead into the future.
Indeed, while co-custodian Brad Butterworth may be best known for his renowned sailing career, both he and his cousin Warren have a passion for wine, and a viticultural heritage dating back to the founding days of the New Zealand wine industry through Warren's great grandfather.
It's gratifying to now be able to build on this legacy, says Brad, however they're excited to look forward, rather than back. "What we're doing now is really new and exciting. Our emphasis is on Martinborough, and making our wine as good as it can be."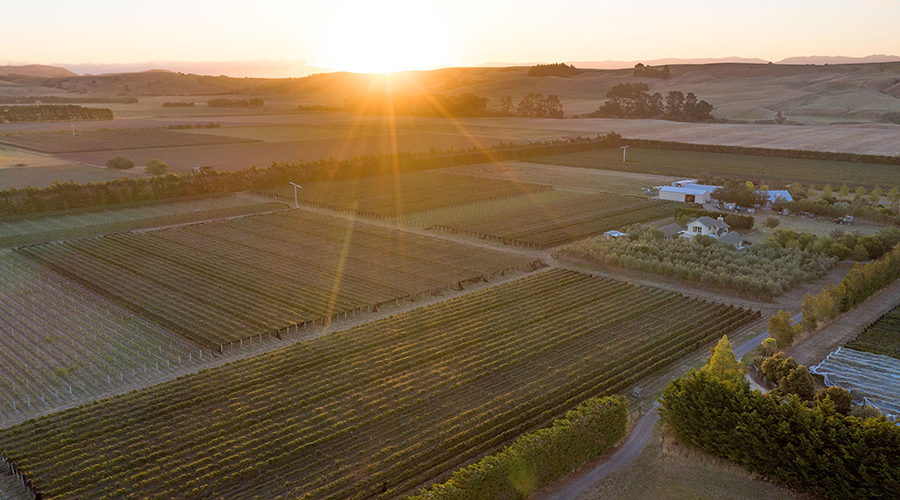 Butterworth Estate is planted in the iconic soils of Te Muna, overlooked serenely by rolling hills with the Huangarua River carving through the land beyond. While the Wairarapa winemaking region may be concise, it is home to some of the country's most acclaimed vineyards and growers, and Martinborough in particular is known to have a climate and soil profile similar to that of Burgundy. This means it is home to world-class Pinot Noir, as well as imparting many other varietals with desirable characteristics from its cool, dry climate and free-draining soils.
Ultimately, after searching all over New Zealand for a vineyard to embark on their winemaking journey, it was after tasting the wines from Te Muna road's growers that the Butterworths were sold on the region. "The difference in the wine appealed to our palate," says Brad. "We liked it, and it made the decision easy."
While, in more travel-friendly times, Brad often jets back and forth to New Zealand from his home base in Geneva, Switzerland, investing in New Zealand is what he is truly passionate about. "I was born and bred here, and while I've travelled and lived all over the world, I just feel more comfortable investing or doing business with New Zealanders" he says. "I think we're inherently honest as a nation, and maybe that goes against us in the big bad picture of the world, but it's a good thing when you're involved with different overseas owners." New Zealanders are, by and large, a trustworthy bunch, he says, and he prefers to conduct the bulk of his business here.
At Butterworth Estate, a large part of the reason why the cousins purchased the vineyard was because of the team. Julicher founder Wim Julicher set up the vines by hand some 25 years ago, building an excellent team in the subsequent years including head winemaker Martin Bell, vineyard manager Kyra Day, and general manager Nick Hewitt. "I didn't want to change any of that," says Brad. "I just wanted to really energise things, evolve and modernise it and give it a new lease on life."
The response to the wines themselves has been overwhelmingly positive, and while the 2018 Pinot Noir is a personal favourite of Brad's, coming off the back of summertime it's been the 2020 Regatta Rosé that has really shone. As the name suggests, it's certainly a fitting tie-in with Brad's background, and the timing of its release couldn't have been better with the America's Cup. He thinks the racing itself has been pretty exciting so far, with no shortage of nail-biting moments. "Seeing the sport in its rawest form just shows you how fragile it can be."
On the cards for Butterworth Estate's near future is expansion into planting more grapes and developing the existing styles of wine, improving and refining. They've recently added eight hectares to the vineyard bringing it to a total of 28. The ranges themselves are tiered, with the slightly more accessibly-priced Layline by Butterworth wines utilising grapes from other local growers in the region, and an even more premium range potentially on the cards in the future.
For now, Brad's excited to have lots to be getting on with at Butterworth Estate. When he visits the vineyard, his favourite place to be is among the vines, breathing that beautiful, clear Martinborough air. "There are some great vistas in terms of the surrounding countryside," he says. "It's a pretty nice part of the world."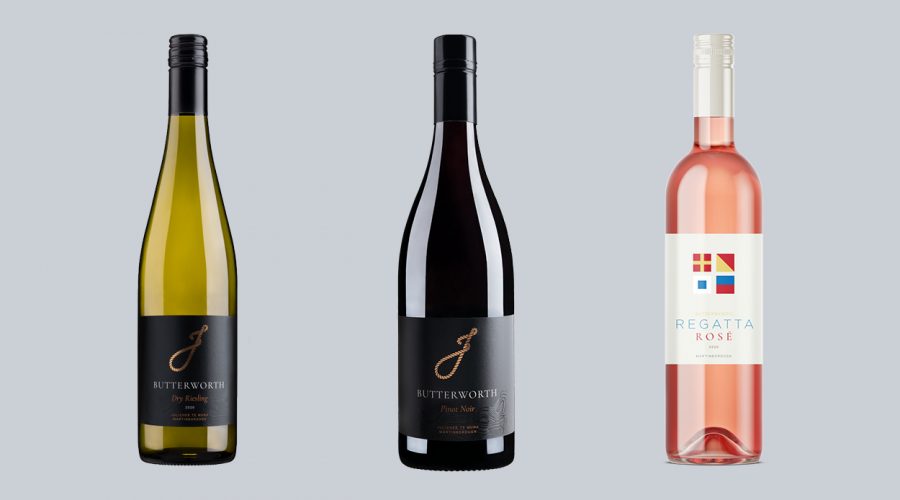 3 Butterworth Wines to Try
Riesling 2020
The grapes forming this dry Riesling were picked to showcase optimum acid drive and flavour spectrum, complementing an aroma of lifted lime blossom, grapefruit, quince and lemon peel.

Pinot Noir 2018
A blend of only the vineyard's best Pinot Noir vines, this unfined wine has a spicy palate with great length and Te Muna road's signature minerality through the middle. Notes of aromatic rose petal, wild raspberry and blackberry, cinnamon and nutmeg spice precede lavender and earthiness in this distinctive, satisfying drop.

Regatta Rosé 2020
This limited edition drop is made with 100 percent hand picked Pinot Noir grapes. Notes of strawberry, raspberry and freshly-sliced watermelon, along with hints of vanilla bean custard and cream, make this a delightfully sippable Rosé.