When done right, few destinations surpass a neighbourhood coffee shop. It facilitates a certain kind of community vibe, where the baristas know your name and your order, and the coffee always adds a pep to your step (and that's not just the caffeine). This is the vision that Sarah and Janusz Choromanski had when they moved home after 13 years in Melbourne. There, they owned a hole-in-the-wall spot and once they were home, wanted to create something similar here. Work began on Everyday Coffee some months ago, and when the signs went up, we were immediately curious. Now open with a stunning new fit-out and serving seriously good coffee, this Morningside spot is everything we hoped it would be.
"Our vision for the space was to create a place that we wanted to be in, a place that was open and welcoming to everyone," the couple tells me. The focus was always going to be on the simple things; good coffee, food and music — a low-key operation. Janusz, a qualified architect and director of Native Design Workshop, used this philosophy as the prompt for the space. "During the design phase, there was constant discussion around 'bringing people into our own home'," he shares. "We both love natural, raw materials, so it was an exercise in keeping it all as honest as possible — a simple space that was warm and inviting, that used locally sourced or recycled materials wherever possible."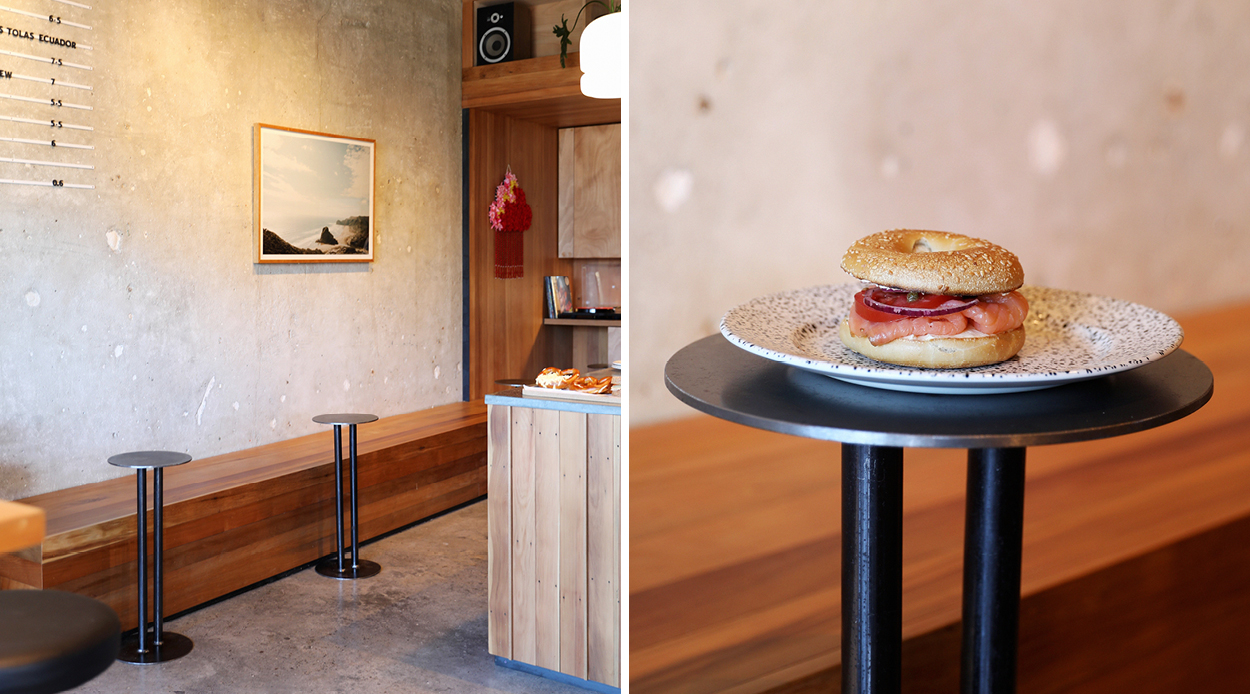 Because of the last tenet, every element of the space has a story. The recycled Matai wood has been salvaged from local houses and a school hall, and the stools from an old pasta joint in Melbourne that the couple loved and brought with them when they moved home. The steelwork was made by hand and left raw because, as Janusz says, steel is beautiful. (I agree.) And due to the space's positioning and its fortuitous windows that capture the morning light over Mount Eden, an expansive window leaner was always going to be part of the picture. This approach speaks to what makes the space so beautiful. It's easy on the eye, but the loving hand that has built Everyday is so apparent too.
And while good design is always essential, most would argue that the offering is almost more important. Here, expertly-brewed coffee currently takes precedence; baristas serve fresh Allpress coffee, and an everchanging filter coffee is currently being sourced from El Parche in Melbourne and El Descanso in Auckland. Alongside a counter of Daily Bread pastries and doughnuts, as of Monday, Everyday will begin its full bagel service (having had a taste ourselves, we can attest to the fact that these are seriously good).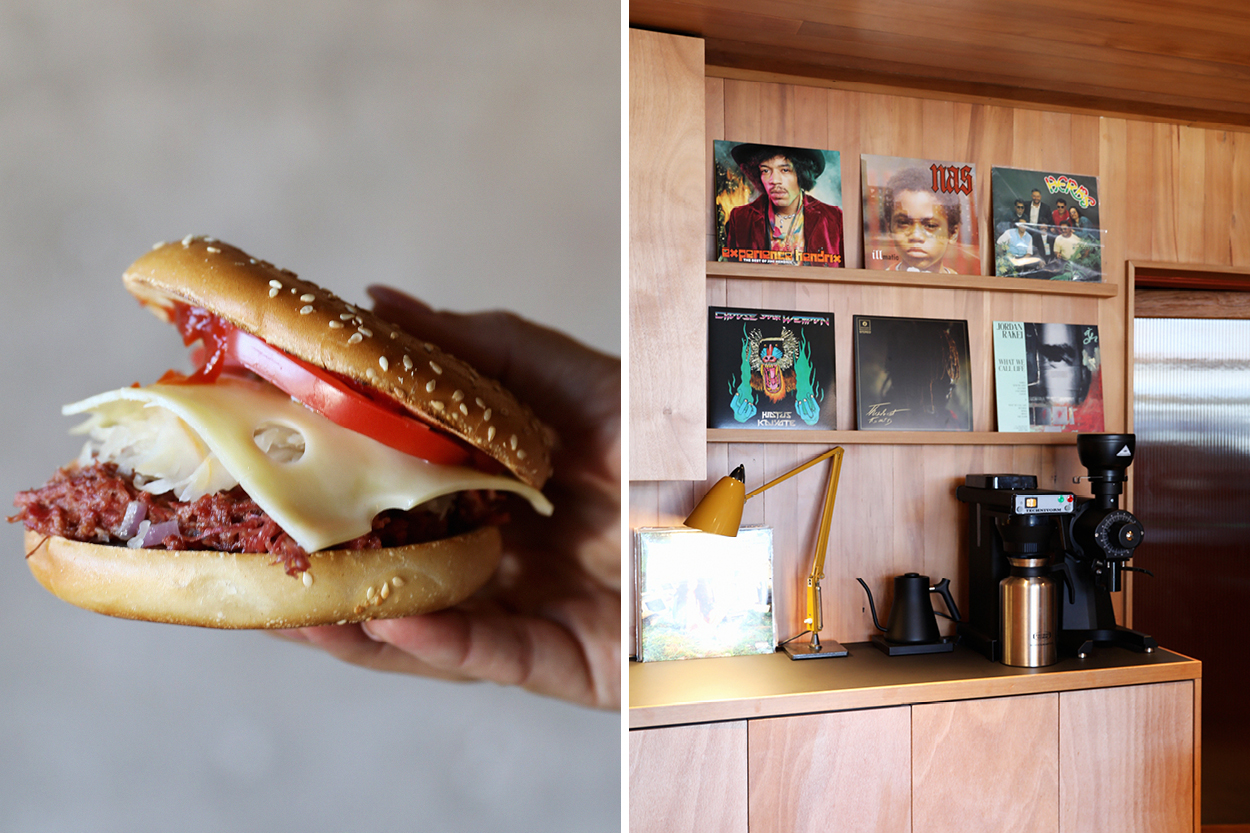 "For us, being of Polynesian and Eastern European descent, we want people to be fed," they explain. "We want to serve bagels that warm you up and leave you full afterwards — we aren't too interested in making them pretty and neat. Ours are more deli-style, where the flavours are right, and they feel a little heavy in the hand." Fillings range from classic salmon lox and ham and cheese to Stan's Deluxe (named after Janusz's Polish father), a classic pastrami, cream cheese, pickle and sauerkraut with mustard, and Pisupo (corned beef), which the couple tells me is an island take on a Rueben.
As Morningside locals themselves, the vision of making Everyday Coffee a community space is more than just an idea. They plan to make the cafe available in the evenings for various groups and collectives to use, and the vision is to expand into a wine bar in the future (all going to plan), with a glorious courtyard open all day too.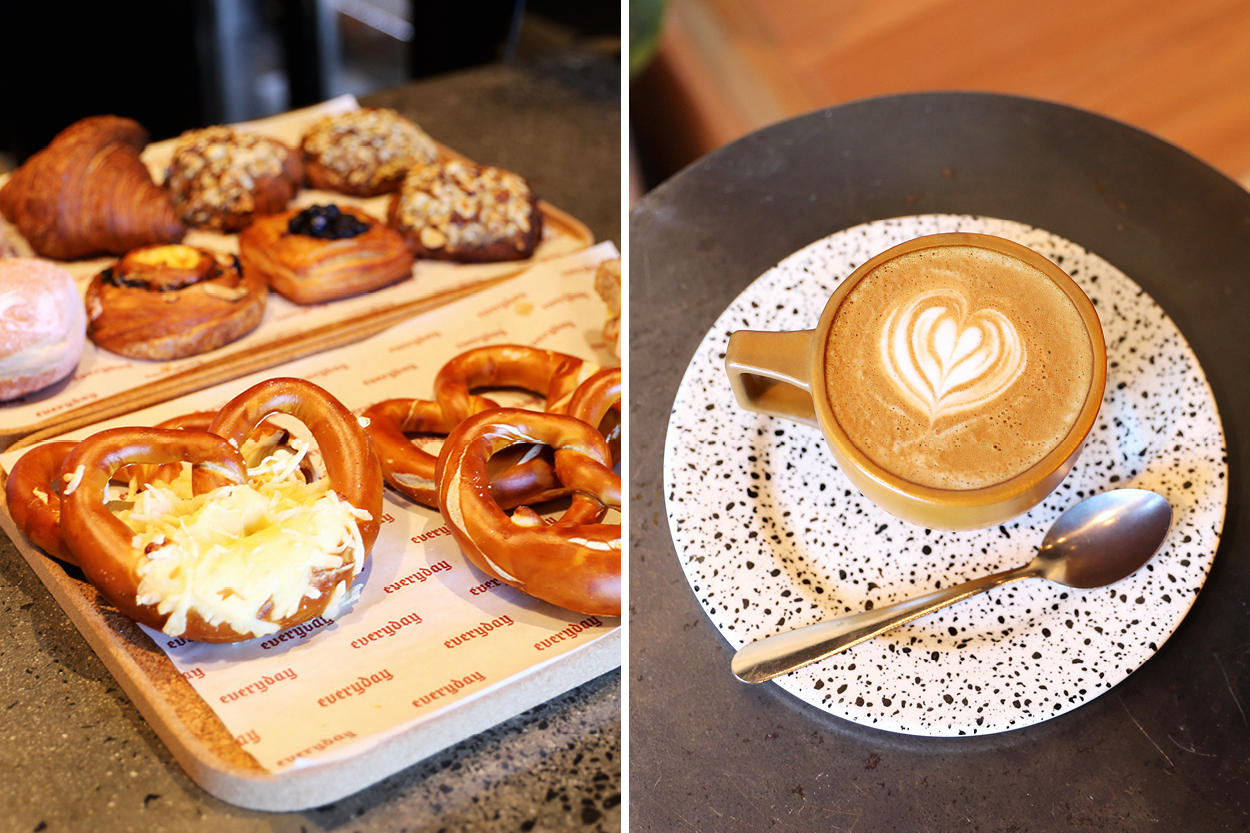 While coffee shops are a dime a dozen, I can hand-on-heart say this one has been well and truly worth the wait. The collective effort from the couple on the design front doesn't go unnoticed — it's laid back, chic, and, most importantly, approachable. (The kind of coffee shop where you're not ashamed to ask for your sometimes embarrassing order.) Locals have already flocked here like a moth to a flame, and I'd seriously suggest that anyone further afield should consider a visit this weekend too.
Opening Hours:
Monday — Friday, 7am until 3pm
Saturday — Sunday, 8am until 3pm
Everyday Coffee
163 Sandringham Road,
Sandringham, Auckland Central