Anyone who has dined at Culprit knows the inner-city restaurant's desserts are something special, thanks to its signature blend of nostalgia and innovation. Chef and owner Kyle Street shares his delicious recipe for a soft pavlova with orange and mandarin curd foam for you to make at home.
"My favourite style of pavlova is the one with the wafer-thin crispy topping and the thick marshmallowy centre, the texture found in pavlova roulades of old. Here's a recipe that tweaks a roulade recipe, and bakes it in a cheesecake tin," says Street.
"For best results, weigh and prepare all your ingredients before you start. Ideally, you should make the pavlova in one smooth process from start to finish, as when egg whites are whipped early and left to stand they tend to deflate and lose some of their ability to become thick and fluffy.
I came up with this combination when my wife and I were staying with my friend Elle at her cottages out in Waimauku. She had an abundance of bitter orange and other citrus and tasked me with coming up with a dessert on the fly one weekend, hence the crushed gingernuts on top."
Culprit's Soft Pavlova with Orange & Mandarin Curd Foam Recipe
Ingredients:
Soft pavlova
190g egg whites
275g caster sugar
1 tbsp cornflour
1 tsp white vinegar
½ tsp vanilla essence
Orange & mandarin curd foam
300g freshly squeezed orange and mandarin juice
6 egg yolks
70g sugar
50ml cream
2 gelatine leaves, bloomed (sprinkled into a little tap water so they dissolve evenly)
50g cream (added separately to the first measure)
50g milk
Optional additions for serving:
Fresh cream
Grated or shaved dark chocolate
Crushed gingernuts
Freeze-dried mandarin from Fresh As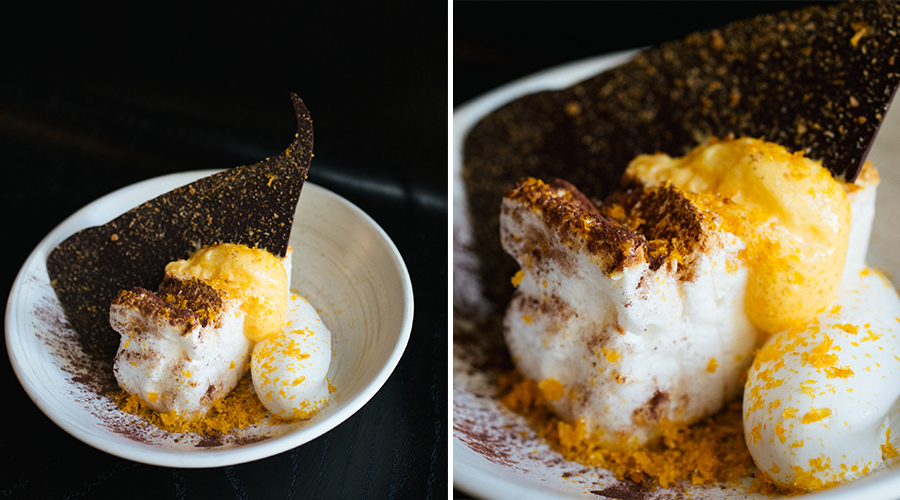 Method:
Soft pavlova
1. Preheat your oven to 160°C on fan bake.
2. Line a cake tin with baking paper allowing a short collar of the paper to extend past the sides of the cake tin.
3. In a KitchenAid or stand mixer, whip egg whites on high until soft peaks form.
4. Once you have soft peaks, slowly spoon in the sugar 1 tablespoon at a time with the motor running at medium speed.
5. Once all sugar is added, beat for a further 5 minutes on high. The mix should become very thick and glossy.
6. Turn off the mixer and gently fold in all the rest of the pavlova ingredients, ensuring you fold from the very bottom of the bowl. Return to the mixer and whip for 1 more minute.
7. Using a clean spatula, dollop a very small amount of some mix into the bottom of the baking tin and press it right into the corners. Add the rest of your mixture and spread with an offset spatula till flat. You should press down firmly and spread right into the corners to ensure there aren't any large air pockets left.
8. Bake for 20-30 minutes. It should rise evenly, wobbly but firm. If the centre has yet to rise, allow to cook further.
9. Once cooked, place the entire cake tin on a rack and allow the pavlova to cool completely in the tin.
Orange & mandarin curd foam
1. Reduce your orange and mandarin juice in a pot on the stove until half is left (150g).
2. Put your yolks, sugar and cream in a separate small, clean pot. Whisk together then add the hot mandarin juice reduction and continue to whisk until combined.
3. Place over medium-low heat and stir constantly with a spatula until it thickens like a custard or anglaise.
4. Remove from the heat, add the bloomed gelatin and stir well to combine.
5. Add the milk and the second measure of cream and whisk well to combine.
6. At this stage you could chill in the fridge until ready to serve and serve as a more traditional curd.
Or, if you have the equipment:
7. You could place the curd into a clean 500ml cream whipper (like an Isi Whip) and charge with one C02 charger. Shake extremely vigorously, chill in fridge upside down until ready to use. Before serving, shake well to get the curd to fall to the head of the cream whipper before foaming.
8. Optional is to serve with a dollop of whipped cream, grated or shaved dark chocolate (or even a large shard like in these images), and a sprinkle of crushed gingernuts and freeze-dried mandarins.