In this new regular column, our Editor-in-chief embraces her long-held passion for food, sharing the unexpected, fascinating and delicious experiences from restaurants, bars, pops-up and cheap and cheerful spots all across the country.
Let me start by introducing myself — well, not myself exactly, because that would be silly, but rather let me regale you with a plethora of reasons as to why this new column of mine has come to exist. A little under 14 years ago, I created a 'blog', titled Denizen. Launched on the back of a career in publishing both online and in print in New York, I returned to Auckland with an insatiable appetite for the hospitality scene. Life in New York, you see, was just as it was told in the (only then) brilliant Sex in the City. I ate out at every meal possible, and as such, having an acute understanding of the latest breathlessly cool and trendy hot spots in which to be seen became a full-time vocation and a large part of my New York publishing career.
My passion and understanding of the hospitality sector started much earlier however — without putting a date on it, because ladies don't reveal their age — while funding myself through university, I secured my first restaurant job, as a silver service waitress at the Christchurch Town Hall restaurant. These were very haughty times indeed, and knowing your duck l'orange from your chicken cordon bleu was of the utmost importance. It was at this impressionable and tender age, that my love for food and service became deeply ingrained in my psyche. But after one too many (narrowly avoided) #metoo moments with overly excitable travelling Japanese businessmen, I moved on to what was then one of Christchurch's most iconic hotspots, Bardellis (if you know, you know). Here, I absorbed every fine detail of the food construction from the magnificent chefs, I learnt how to make delicious cocktails and I educated myself on the nuances of wine varietals. It was at this time that hospitality began to fill me with the most immense pleasure, and working among it, navigating the balancing act of all parts working in unison to create harmony, was where I truly felt the magic happen.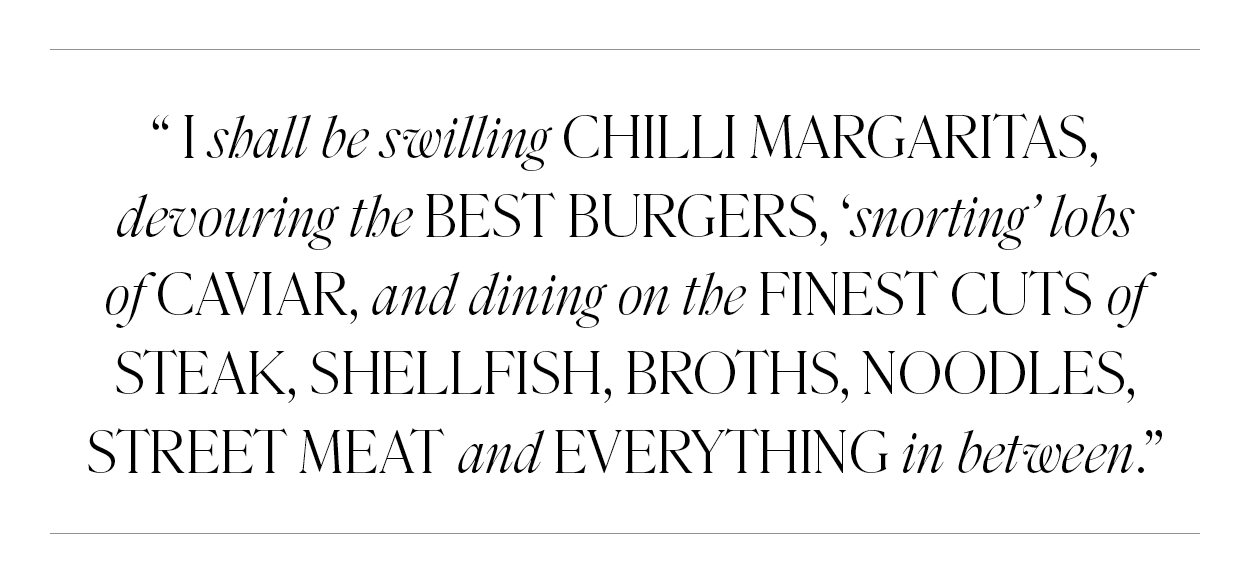 My love of food and the people associated has been long and fruitful. Moving to Auckland, prior to escaping to New York, I ingratiated myself with the city's finest eateries, and can proudly say that the owners of each of these stalwart restaurants are some of my very closest friends today. Spending my weekends in the company of these incredibly passionate and fun-loving people has given me the opportunity to learn more than your average foodie, not just about the nuances of food, but an educated insight that goes far beyond the food itself, to consider such things as the viability of running eateries, particularly in the era of Covid.
Thankfully, the last two years has seen the horrid restaurant critics put down their poison pens (momentarily, I imagine) while we all just got on with the business of supporting the small miracles that were being proffered by our favourite eateries.
But this year, Omicron, or not, I'm planning to make up for lost time. I shall be swilling chilli margaritas, devouring the best burgers, 'snorting' lobs of caviar, and dining on the finest cuts of steak, shellfish, broths, noodles, street meat and everything in between. This shall be my year of magical eating.
After all the restrictions, this old restaurant veteran will be celebrating the very best our city, and our country, has to offer in my usual upbeat, humorous, yet never negating manner. I'll be embracing the comfort and simplicity of a freshly baked loaf of bread, or a bowl of hearty broth, with just as much gusto as an authentic street-side taco stall. I'll be scaling the upper echelons of the city's finer establishments too, taking my tastebuds to countries I long to visit, yet still cannot.
There will be plenty to cover, and I aim to cover it all, because if there is one thing we've all learned from the last two years of restrictions, the one salve that keeps us connected is our appetite for a good meal.


Image credit: Hair & Makeup: Alexandra Stanworth. Claire wears Christian Dior off-the-shoulder jacket and beret with veil, Bulgari Serpenti Viper necklace, earrings, bracelet and rings. Krug Champagne and Caviar from Faraday's Bar.