Walk into any cafe or bakery and you can guarantee that the shelves will carry a cinnamon roll of some sort. Whether its called a brioche, bun, scroll or roll, at the end of the day, it will be comprised of long strips of dough that have been coated in cinnamon sugar and rolled — so same deal. While there are a number places to get your cinnamon scroll fix in Auckland, there are definitely a few that stand out from the rest and here, we round up the ones you should be turning to when the cravings kick in.

Bestie Cafe
All you cinnamon fiends, look no further than Bestie Cafe's offering, as this is the scroll for you. There is no icing or glaze on the cinnamon scrolls at Bestie, but don't let that fool you into thinking that they're lacking in flavour. The scrumptious scrolls boast a number of decadent layers, each coated in copious amounts of cinnamon sugar and are baked in such a way that the top of the scroll is crunchy while the centre remains moist and soft.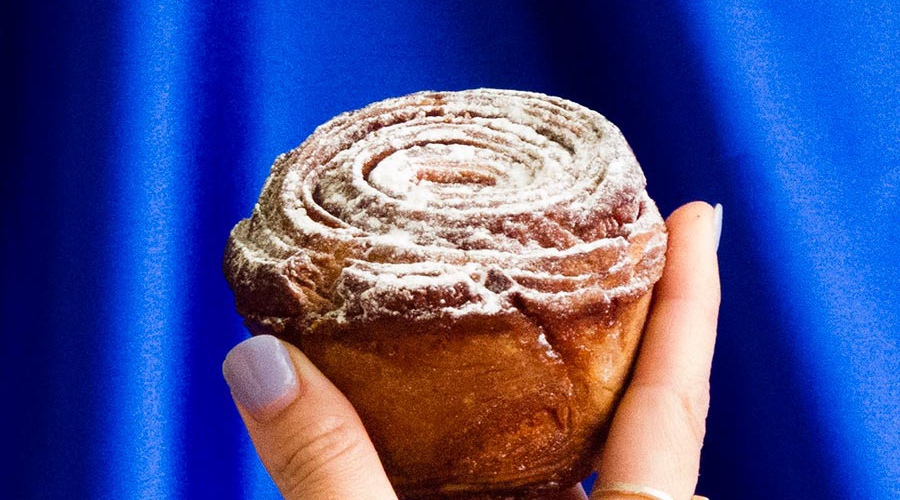 Revolver
Considering how Revolver is a cafe that serves Sri-Lankan cuisine, you wouldn't think that it would be home to one of the scrummiest cinnamon rolls in town, but you better believe it is. Using rich brioche dough means that Revolver's version is slightly heavier than the norm, but with its topping of sweet cream cheese icing and a dusting of powdered sugar, it's certainly one of the tastiest in town. So whether you're after a little treat with your tea or an indulgent dessert, Revolver's cinnamon rolls tick all the boxes.

She Bakes Dough
For those who are seeking the classic, American Cinnabon-style cinnamon roll, with a hefty amount of sweet cinnamon sugar, lashings of butter and a soft roll that has been drenched in cream cheese icing, order a batch from She Bakes Dough. This Instagram-run business found quick popularity for its all-encompassing rolls that have perfected the balance of texture and flavour to become arguably the most decadent and indulgent in town.

Hare and the Turtle
If you leave Hare and the Turtle without getting some cinnamon buns to-go, you didn't experience this cafe to the fullest. These cinnamon buns are fluffy and moist without going overboard on the icing front. The flavours lean more towards showcasing the notes of cinnamon rather than the tart cream cheese frosting and sugar glaze, which makes these scrolls perfect for those with less of a sweet tooth.

Charlie & George Cafe
Noting the subtle differences between a cinnamon bun and a cinnamon brioche (mainly the amount of icing that's applied), Charlie & George Cafe bakes both versions daily. Its cinnamon brioche is ideal for an afternoon tea as it's lighter than the cinnabun, which considering how it's drenched in cream cheese icing that Charlie & George occasionally swap out for salted caramel, requires a touch more dedication to get through.

Petit Bocal
Renowned for its coffee art, Petit Bocal offers the perfect thing to accompany its premium brews and that is its house-baked cinnamon rolls. Some refer to these scrolls as a hybrid between buttery, flaky croissant pastry and chewy, soft brioche. Rather than being dusted in powdered sugar, these scrolls feature a layer of caramelised sugar that gives them crunchy, candied exteriors and makes them truly a one of a kind.