Starting the new year back in the city may come with a creeping sense of foreboding as we move to level 'red', but there is still plenty to look forward to on the horizon. The Chinese New Year celebration (also known as the Lunar New Year) leaps at the chance of new beginnings over 15 days of celebration this January and February.
Marking the the transition between zodiac signs, 2022 is set to be the Year of the Tiger. Given that this spirit animal is known to be strong in the face of adversity, we can't think of a better alignment. More specifically, this is the Year of the Water Tiger, which is known to bring good fortune in relationships and family life, as well as success in work life, with some determination. So, let's toast to turning this year around with some of the most auspicious menus around Auckland.
Huami
Meaning 'nectar' in Mandarin, the masterful Huami restaurant promises something beautiful and precious at every sitting. The Sky City stalwart is offering three unique set menus from Monday the 31st of January to Tuesday the 1st of February. The Nectar, Premium and Deluxe set menus include favoured dishes such as wood-roasted Peking duck, braised supreme seafood treasure soup, and wok-braised supreme abalone slices with fish maw, black moss and black truffle. If you don't set out for the set menu, you can still add some of these special dishes to your bountiful table from a side menu. It includes the wok-fried crayfish with butter and superior broth and Beijing style whole fish with light vinegar sauce.
Ebisu
Chinese New Year has come to be known as a time for feasting with family, and, fortunately, Ebisu has curated a special menu that will ensure everyone is satisfied. The six-course menu includes a selection of Ebisu favourites, including its signature sashimi, Wagyu and scampi sushi, crayfish and spanner crab dumplings and Shio Koji lamb rack. We recommend matching the meal with its themed cocktail list and premium wine list, selected to mark the occasion. Given the exceptional nature of this set menu, it must be booked in advance, for a minimum of four people.
Pearl Garden
With 45 years of experience up their sleeves, the team at Newmarket sensation Pearl Garden have created one of the best Chinese eateries in town. While you can count on the prawn toast, prawn and chive dumplings and steamed pork buns to satisfy your savoury cravings, the golden custard buns have also been called a must-try dish. Given its a special occasion, we recommend ordering extra.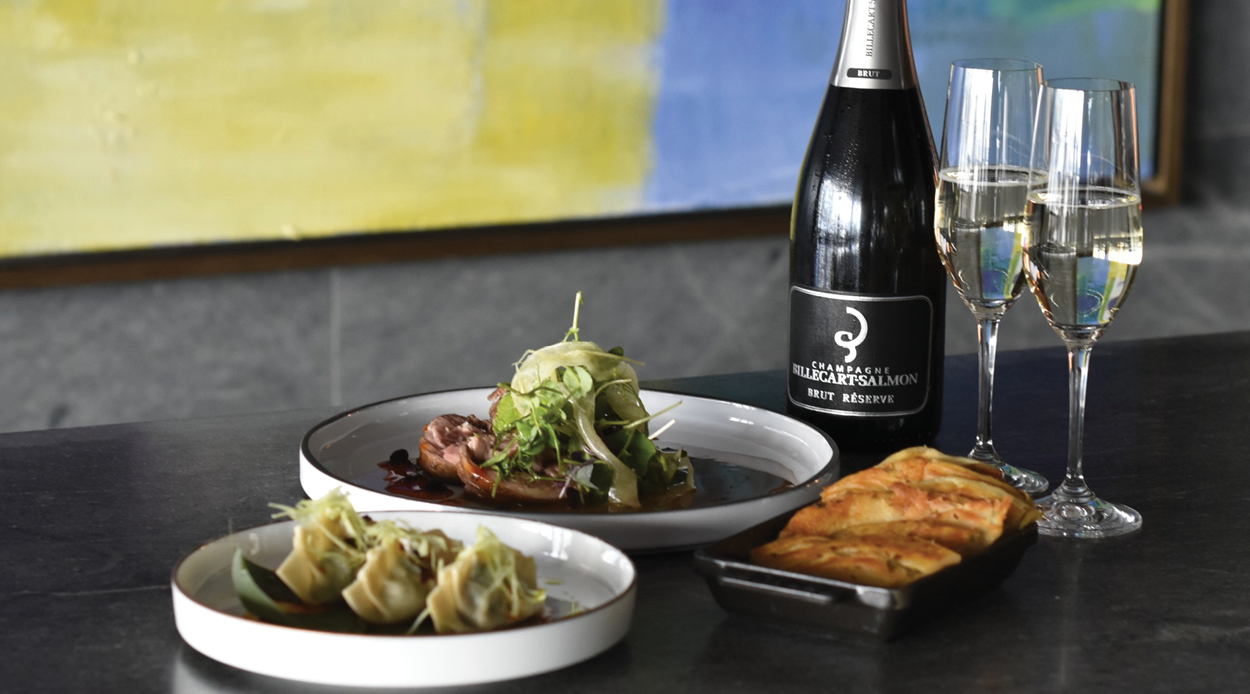 Park Hyatt Auckland
To ensure the Lunar New Year starts on a prosperous note, Park Hyatt Auckland is putting on two excellent dining experiences. Onemata is offering an inspired four-course dinner menu, created by Head Chef Rob Hope-Ede on Monday the 31st of January and Tuesday the 1st of February. The mouth-watering menu marries Asian inspiration with premium local ingredients, including pork and pāua dumplings, grilled scampi with XO chilli sauce and Szechuan braised lamb shoulder. Meanwhile, The Living Room is offering an auspicious afternoon tea, filled with five courses of delicious treats, to enjoy in the light-filled restaurant.
Balenciaga's Year of the Tiger Series
While it's not offering sit-down meals as such, Balenciaga has created a range of Lunar New Year-themed beverages and chocolates while you feast your eyes on the luxury brand's Year of the Tiger series in store. The exclusive collection includes a spirited update of Balenciaga classics, including its Hourglass bags and luxury streetwear staples in vibrant orange and tiger stripes. Private appointments at its Westfield Newmarket store are available from Friday the 28th to Sunday the 30th of January, so we suggest you pounce at the opportunity. (Call the store's sales associate at 09 520 3180 or email [email protected].)
Ghost Street
Known for its city slicker space, thoughtfully designed by Dajiang Tai and James Ting of Cheshire Architects, Ghost Street is celebrating Lunar New Year in style with a special menu of delectable dumplings, noodles and desserts, including the traditional Tang Yuan — with vegan alternatives on-hand. In collaboration with Peddlers Gin Company, the pop-up series includes refreshing cocktails — we have our eyes on the Negroni-esque Flying Cat. Order any item from the Lunar menu, and your table will receive a red envelope, with your chance to win a bottle of Peddler's Gin, a dining voucher valued at $150, cocktail specials and winsome gifts.
Sunnytown
With chefs who have trained in China, and who place great importance on their selection of ingredients including genuine Sichuan peppers from Sichuan, Sunnytown is a joy to visit this Lunar New Year. We recommend heading to its Lorne Street or Commercial Bay locations to see what in-restaurant specials they have on offer.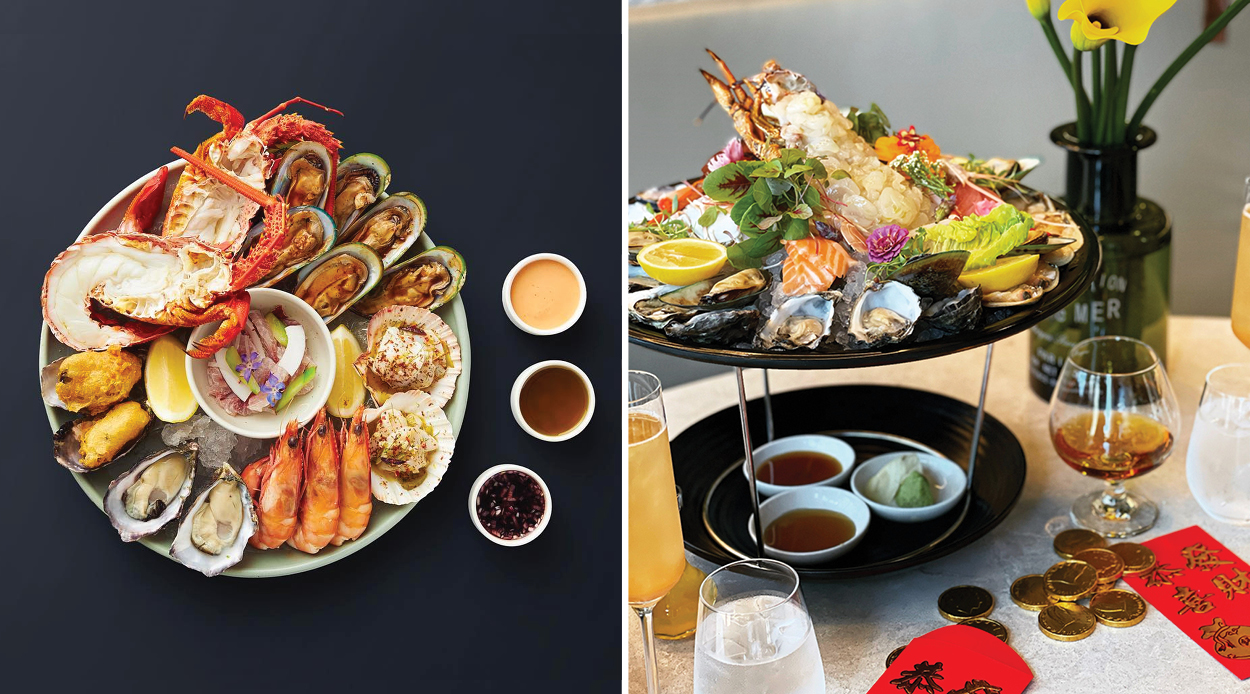 Ostro
When it comes to celebrating in style, Ostro is always on the menu. To ring in the Lunar New Year, it is offering a set dish feast, including an exquisite seafood platter, with a crayfish upgrade on request, and a sublime beef Wellington. A still-secret Chinese New Year cocktail special will keep spirits high, while gold and red themed petit fours will complete the meal with charm. If your evenings are already booked up with festivities, there is also the option of a Lunar New Year High Tea on Sunday the 13th and 20th of February — sure to elevate any catch-up with friends and family.
Sofitel Auckland Viaduct Harbour
Ring in the New Year with a flavoursome roar at the Sofitel's La Marée restaurant. Its festive menu features traditional Chinese delicacies, paired with classic culinary techniques. A fresh seafood platter with poached or sashimi lobster, oysters, market fish, clams, and mussels, is followed by a three-course set menu that includes saffron noodles, spanner crab with Shaoxing jiu spiked bisque and salmon caviar. For something sweet, try the citrus eclipse meringue with a hint of mint and ginger sorbet. Bookings are essential, and some dishes are subject to seasonal availability to keep things fresh.
Grand Harbour
Viaduct Harbour's Grand Harbour is an institution that has cultivated a loyal following of customers and a strong reputation for being home to some of the best dim sums in town, with over 80 different varieties to choose from. While it may be hard to secure a booking at such a busy time for the Hong Kong-style restaurant, it's still worth trying your luck for its bustling atmosphere alone.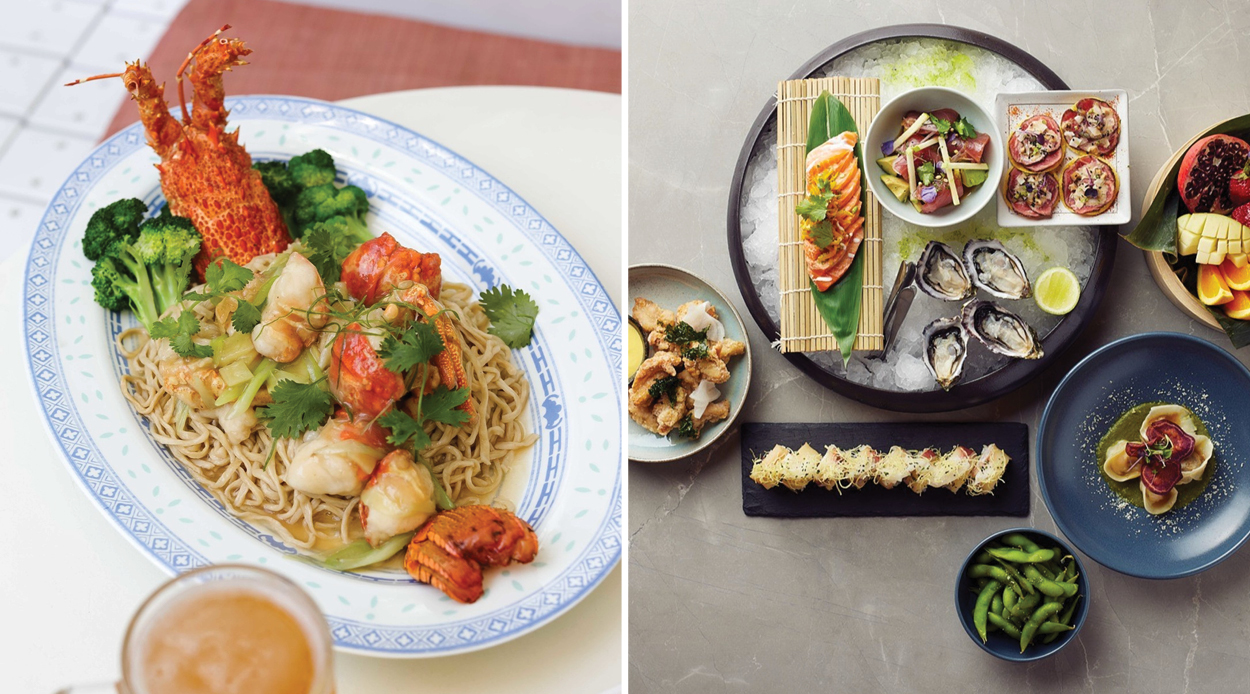 Auckland Fish Market
The Chinese New Year will be celebrated at the Auckland Fish Market with decorations on view from the 1st of February and a range of divine dishes available from its family of eateries. Bang Bang Kitchen has whipped up a crayfish yi mein noodle with ginger and spring onion. Market Galley has perfected a grilled crayfish with garlic butter, and Lobster & Tap are offering a spicy option of its beloved lobster roll. The Wreck bar is supplying the cocktail specials, including a Mandarin Spritz, Lychee Bellini and Mandarin Ginger Sour. If you are feeling lucky, the fishmongers at Sanford & Sons are running a red packet giveaway, with spot prizes and promotions.
Azabu
Azabu always does things its own way, and its Chinese New Year specials are no exception. Both Azabu Ponsonby and Mission Bay are offering a seafood platter artfully arranged with the best market seafood of the day, including crayfish, assorted sashimi, Ruakaka kingfish ceviche and tuna guacamole. The soon-to-be-revealed cocktail list shares in the festivities with creative concoctions you'll feel fortunate to drink. For one lucky table of eight, Denizen and Azabu Mission Bay is giving away an excpetional Chinese New Year experience here.
Empress Garden Chinese Restaurant
This Herne Bay institution is known for its heavenly crispy yet succulent Peking duck, not to mention its Yeung Chow fried rice that sees a medley of pork and shrimp woven into a bed of deliciously fluffy rice. While they are not putting on a special menu as such for Chinese New Year, their range of delectable dishes is reason enough to book in a convivial round table.
Chamate
With a focus on modern cuisine that represents the cuisines of many different regions, Chamate takes our taste buds on a tour of China — all from its central Auckland City location. Connoisseurs can expect to find hand-pulled beef noodle soups from Lanzhou, the spicy flavours of Sichuan, and dim-sums and more delicacies from Xinjiang and Shanghai.