With a career that spans almost 25 years and two continents, Gareth Stewart was always destined for success. With his first big break — landing a job at London's prestigious Claridge's Hotel — at the tender age of 18, Stewart went on to work in the kitchen at the Michelin-starred restaurant The Greenhouse in Mayfair.
In 2007 Stewart moved to New Zealand to take the helm at Soul Bar & Bistro before becoming the National Executive Chef for Nourish Group in 2015. Responsible for planning and overseeing the menus at some of the country's most revered eateries including Jervois Steak House, Andiamo and the newly relaunched Euro, Stewart executes his role with an acute awareness of ever-changing tastes and a unique ability to move with the times.
Here, the acclaimed chef shares his experience working in Michelin-starred kitchens, his love of two-minute noodles and why he finds his work so rewarding.
I realised early on in life (around the age of eight) that I was destined to be a chef. I loved producing food, I loved the fact that you put all these ingredients together, and at the end of it, you got this delicious, tasty treat. By the age of 11, I cooked my first dinner party for adults. My mum took me to a place in Cornwall, that was an old cottage and it had an AGA, which at the time I didn't even know what it was. I grew up semi vegetarian, so I cooked a pasta dish with cheese sauce and some salad, it was a lot more exotic and tasty than it sounds, and everyone loved it.
I think there's probably an inherited trait in me that understands food, my mum's a great cook, her mother was a home economics teacher, and both of them are really great at baking. My dad's mother was also an incredible cook who would passionately cook for armies of people.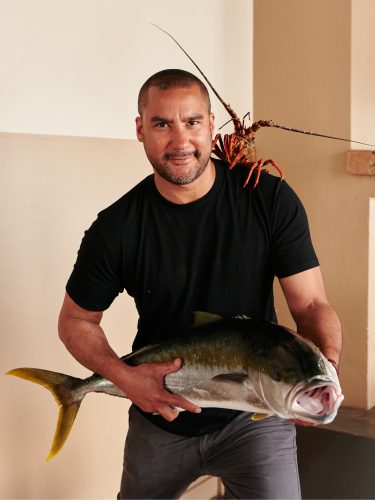 The first time I ran my own kitchen, I realised I had to teach myself an awful lot. I was definitely running with a "fake it til you make it" attitude, it actually feels like I'm still doing that in some respects today. I was Head Chef at 21 in London at a restaurant in South Kensington called Cactus Blue. I was working extremely hard, making quite a bit of money and having lots of fun. But I also learnt very quickly that you can't always be friends with your staff.
Because I started my career working in Michelin-starred kitchens like The Greenhouse (in Mayfair), my focus in the early days was on classical culinary techniques. I think having the understanding of these techniques, whether you use them in their traditional sense or modify them, has been a major factor in my success. I definitely still draw on this knowledge today, and try as much as I can to impart these ideas onto my chefs.
To be in hospitality you need to be tough and have a hard skin. The first kitchen I worked in was the Queens Hotel in London. I'd left school at 15 and had grown up in a pretty PC household, and all of a sudden I was exposed to some outrageous things. Initially I'd go home really upset because it was just so intense, some of the bad things they were saying. But I learnt it's not personal, you just have to have a really thick skin.
Ultimately though, this is not the best way to develop staff, encouragement works better, and sitting down with them having a frank conversation. Cooking is incredibly hard, it's stressful, and you have to learn to be continually creative and precise while you work under pressure. It's hot, you're on your feet all day, so if someone is screaming their head off at you it's not great. But for me, I was never going to lie down and take it, until I got better and moved up the ranks. It was a hierarchical thing back then for sure. Chefs realise now they don't need to put up with this behaviour, so times have definitely changed for the better.
When I got the call up to lead Nourish Group, I didn't realise the scale of it. There were nine very diverse eateries, including the iconic Euro restaurant, Crab Shack and Jervois Steak House, it was very overwhelming at the beginning. But after nearly five and half years, we've grown and gotten better as we understand our diners better. Eating habits have also changed dramatically, so we've had to evolve our menus to suit this new way of eating out.
I absolutely love chefs and the kitchen environment. My passion is chefs, I always want my chefs to do well, so I always make a plan with them, which makes me feel good and makes them feel like they're recognised. Training staff is one of the most rewarding parts of my job.
I spend a lot of time doing research. Ideally it's by travelling, I love Italy, and lately I've been obsessed with Los Angeles. The LA food culture is amazing, it's all based on healthy eating, which is something we're still not quite into here in NZ, we still get a lot of requests for the meat and veg approach.
The best advice I could give someone starting out as a chef is to concentrate on working in really good restaurants. Immerse yourself in them. Give yourself at least three years in one place. And read all that you can about great international chefs and food trends, and follow great chefs on Instagram.
People seem to think that you go into becoming a chef or waiter because you've failed at school and life in general. It's a bloody hard career that is so rewarding, but it deserves much more respect than it gets. We're not just cooks, we're craftsmen, accountants, counsellors to our staff, and magicians. It's a real guessing game working out who's ordering what, how many people are going to come in, how much fresh produce to order.
If I have to admit a guilty pleasure it would be two-minute noodles, I absolutely love them, but they're so bad for you. And I'm also a Trekkie [a fan of Star Trek], is that going to ruin my cred?
I would have loved to have met Auguste Escoffier, the French chef, restaurateur and culinary writer who popularised the idea of Haute Cuisine. He wrote a book in 1903 Le Guide Culinaire on the fundamentals of cookery, which was a bible for me in my early career. I would be so interested to see what he would make of food today, the ingredients and the equipment we have to create the magic.