Translated to English, Tiramisu literally means "pick me up" or "cheer me up," and we can vouch for the fact that this delicious Italian dessert lives up to its name. Although it requires only a few elements, the simple dessert is actually harder to execute than one might think.
The espresso-infused sponge needs to be moist without becoming soggy. The aroma and taste of the liqueur must be present but not overwhelming, and the mascarpone needs to be fresh and in proportion to the rest of the cake.
That said, there are a few places around Auckland that have refined their tiramisu dishes down to a fine art, and these are some of our favourites.
Andiamo Eatery
When it arrives at your table, you'll likely first notice the generous portion of this dessert which is a bonus because when it comes to sweet treats, more is always more. Unlike most tiramisu, Andiamo's rendition features an amaretto crumb for some extra crunch to contrast against the creaminess of the mascarpone and also incorporates delightfully rich Valrhona chocolate. Those who have tasted this version of the classic tiramisu will know that it's a total game-changer.
Farina
Although Farina's tiramisu is considered smaller in size than most, its punchy flavour and beautifully-balanced texture more than make up for any size concerns. Utilising Kahlua coffee liqueur and a generous dusting of premium cocoa powder, this treat-sized tiramisu is unbelievably rich and decadent.
Non Solo Pizza
NSP's tiramisu is so good it takes pride of place as the only dish listed on the dessert menu. Their take sees sponge fingers dipped in espresso coffee and liqueur then layered with a mascarpone and zabaglione cream. Heavenly.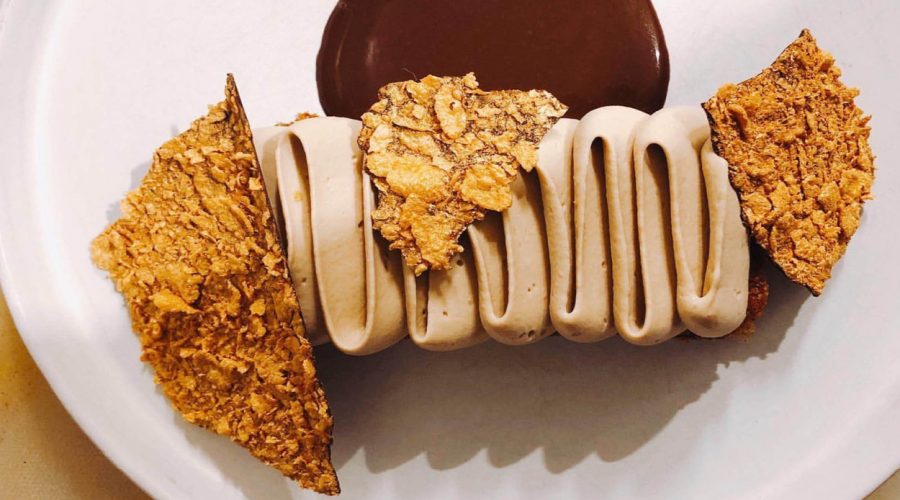 Gemmayze St
For something slightly different, seek out Gemmayze St's clever twist on tiramisu. The modern Lebanese eatery has crafted a delicious version which sees housemade almond torte paired with mascarpone, coffee and spiked with cardamom spice. The best part? It also happens to be gluten-free.
Pasta & Cuore
The tiramisu at Pasta & Cuore is traditional which makes it a favourite among purists of the Italian dessert. Served in a small glass filled with layers of light mascarpone and bittersweet sponge cake, the notes of espresso are especially strong in Pasta & Cuore's version, which makes it perfect for those who enjoy a light texture but intense flavour.
Sam's Mediterranean Eatery & Food Store
Previously located in the Atrium on Elliot Foodcourt and known as Ubite, this Mediterranean restaurant has moved to Takapuna and taken on a new name, Sam's Mediterranean Eatery & Food Store. Although its cuisine isn't necessarily Italian, we can personally attest to the fact that it sure makes a beautiful, traditional tiramisu with rich hints of espresso and a particularly moist texture.
Coco's Cantina
Trust K'Road favourites Coco's Cantina to serve some of the best tiramisu around. The Italian-inspired institution dishes up their signature no-frills version as part of their short but sweet dessert menu. As champions of local hospitality, it's no surprise Coco's have used K'Road neighbour Eighthirty's blend for the coffee hit in their beloved dessert.
Mezze Bar
If you prefer your tiramisu sweeter, Mezze Bar's version is the one for you. The soaked sponge cake has a strong coffee flavour and a light, boozy aroma but it's the slightly-sweetened mascarpone that sets it firmly apart from the rest. Elevating the indulgence of the dessert, this added touch is perfect for anyone with an insatiable sweet tooth.