While there's no denying our hearts (and stomachs) will forever be fond of a good eggs Benedict and a fat stack of pancakes, there's nothing quite like taking your taste buds for a test drive. From croffles to mushroom doughnuts, these eateries are dishing up some of the most innovative brunch fare in Auckland.
Winona Forever
Come for the cabinet treats, stay for brunch at Parnell's popular Winona Forever cafe. Alongside offerings like soft shell crab bruschetta and lemon goat cheese omelette, you'll find the insanely decadent seasonal pavlova, served with prosecco elderflower fruit jelly and heaps of seasonal fruit. A scoop of sorbet seals the deal. 
The Candy Shop
Newmarket's The Candy Shop is the winner of Denizen's inaugural Hospo Heroes Most Innovative Brunch award, and for good reason. Every item on the menu is a step above, with the croffles (yes, that means croissant waffles) coming with vanilla ice cream, chocolate crumbs and the option to add maple fried chicken. Drool.
Bestie
Taking prime position in the back of St Kevins Arcade, a spot in Bestie's sunny atrium may just be the best way to start the day. Bold and never boring, the menu features deliciously clever dishes, with the 'Roast Dinner' providing a cheeky take on a traditional favourite with corned beef, housemade hash cake, poached eggs, crispy Brussels sprouts, lemon sage stuffing and cranberry sauce.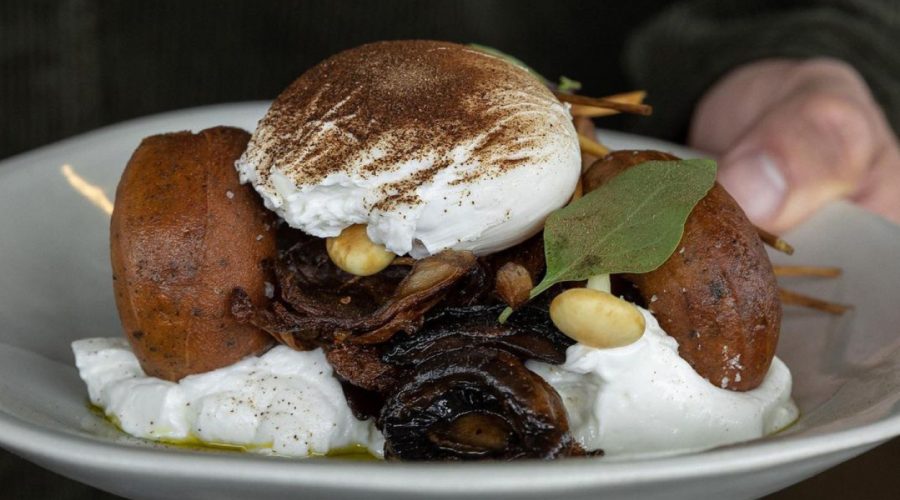 Honey Bones
Like bees to honey, you'll find both locals and hungry visitors migrating to Grey Lynn's Honey Bones seven days a week for a taste of its inventive Middle Eastern-inspired menu. In a step up from classic mushrooms on toast, the wild mushroom doughnuts are nestled on a bed of whipped Persian feta with basil and zhug (a fresh, herby hot sauce). Be sure to add a perfectly poached egg.
Simon & Lee
Parnell's Simon & Lee is the place to be for brunch, especially if you lean towards the lunch side of the portmanteau. Executing Modern Korean fare with undisputed expertise, Simon & Lee's menu spans smashed peas on Freedom loaf and eggs Benedict with kimchi, to baos, dumplings and some of the best fried chicken in town.
Little Bird
Arguably the most innovative of them all, Little Bird perform all matter of delicious alchemy to create the raw, plant-based dishes that are served daily at its Ponsonby outpost. Chickpea and kimchi pancakes, lentil dosa and savoury herb waffles with cashew hollandaise are just some favourites.
Williams Eatery
Don't consider a stroll around Wynyard Quarter without pencilling in a brunch date at Williams Eatery. Sun-soaked and family-run, Williams draws on Lebanese and Italian flavours to create its delicious all-day menu, of which the bone marrow toast with smoked eggplant and sourdough is a particular favourite.
Ozone Coffee Roasters
We've said it before and we'll say it again — Ozone's kedgeree is the dish that just keeps on giving. The Westmoreland Street coffee roasters do so much more than a good brew, with the aforementioned smoked fish kedgeree, field mushrooms with fermented chilli and Coromandel mussel fritters all offering a brunch experience above the usual.
Odettes Eatery
This City Works Depot favourite pumps from morning 'til night, with brunch being no exception. Experts at taking familiar favourites and elevating them to new heights, the prawn omelette with ricotta, spanner crab, fennel and lime oil is the perfect example of Odettes' exceptional brunch offering.