There's nothing quite like walking into one of Ina Bajaj's spas after a long day. Offering a moment's respite from the outside world, her East Day Spa and Spring Spa locations have brought world-class health and wellbeing experiences to New Zealand, and solidified Bajaj as a pioneer in her field.
Inherently entrepreneurial, Bajaj, who divides her time between Auckland and Bali, started her business in 2002 and has carefully presided over its steady growth. Now, her empire comprises nine locations across New Zealand and Indonesia, and continues to make sustainable strides forward.
Proving that success in the beauty and wellness industry requires resilience, a thick skin and sharp emotional instinct, Bajaj matches her business acumen with a desire to understand and empower the people who work for her, an approach that feels as holistic as the treatments her spas provide.
Here, she talks about her brush with hospitality, the lessons she has learned and why we should all have a catch phrase.
"I am an emotional entrepreneur so I work from gut instinct. Reason and information only produce conclusions. Emotion produces action. I never micromanage, and prefer to hire people that are far more capable than I, immersing them in the running of the company. I am there for guidance and direction, and I encourage my team to figure things out themselves. This enables them to unleash their minds.
Never forget the people who support you, especially in difficult times. Advice I always come back to.
Inspiration comes from travel. I was born in Kenya, a country of spectacular scenery. Growing up in the African savannah and being surrounded by many different cultures, travelling and experiencing more of the world became a need. I find I am most drawn to destinations that embrace nature, which actually inspired our latest and most ambitious project, an eco-friendly spa retreat in Nusa Lembongan just off the island of Bali.
I am blessed to call three countries which are naturally spectacular home: Kenya, New Zealand and Indonesia. I would love to visit the gorillas in Rwanda or Uganda. I'm a huge fan of Jane Goodall and Diane Fossey and the work they have done in this field.
I ran a restaurant for a decade and during my international trips, I used to frequent spas in Asia and fell in love with the industry. It was 2002 and New Zealand really didn't have any Asian-influenced spas. A trip to New York was the catalyst to the pivot (most overused word of 2020) where I realised I was living to work, not working to live. Three months after returning from New York I was out of restaurants and starting my path towards wellness. It's been nearly two decades and my passion for this industry has not waned one bit.
An entrepreneur's mind is on-call 24/7. Many people don't realise the commitment, sacrifices and dedication required to run a successful business. All entrepreneurs, no matter how big or small their companies are, deserve to be applauded.
I am very proud of my business' evolution. Creating these brands and nurturing them to become leaders in their field (in both the countries we are based) has been so rewarding.
Success to me is growth. We started with four staff in 2002 and now, we have over 250 employees at nine locations across two countries.
I wake up at 5:30am every morning, when I'm in Bali, and take my dogs for a quick sunrise walk on the beach. At 6.00am, I catch up with the New Zealand team as they are four hours ahead. 7.00am usually comprises a swim with my religious mantras playing — prayers while exercising. At 8:00am I'll have breakfast and get dressed, before heading into the office around 9:00am.
Motivation comes from passion. I work with people I like, I work in an industry I love and I only select locations I'm obsessed with. It's really that simple.
When I relax, I look for mindless pleasure. I'm a Netflix binger, but nothing heavy. Shows like Money Heist and Elite that aren't too serious. No documentaries. I really don't want to be educated when I relax. I'm also a fan of Bollywood movies, which offer total escapism.
Self-indulgence is necessary sometimes. My go-to guilty pleasure is always Dom Pérignon and Beluga on an Emirates flight.
Resilience is crucial in business. Resilient entrepreneurs are fighters not victims.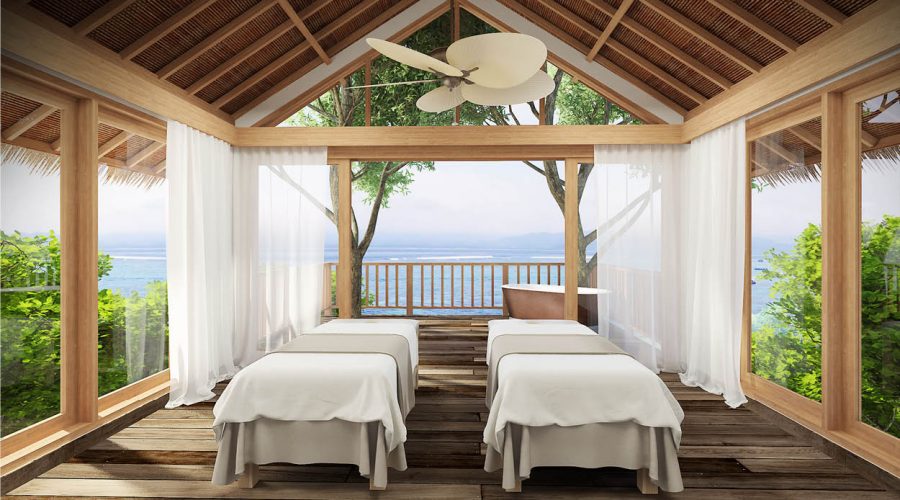 I need to know when to switch off and focus on increasing my physical activity. One thing lockdown taught me was that without distractions my performance was at its peak, as was my time diverted to non-work related activity. On a daily basis I was walking around 15,000 steps and swimming 50 lengths.
In a crisis, I always call my friend and COO, Lara Springhall. We have worked together for 14 years and traversed through a generation. Lara began her spa journey at 19 and me at 40.
If I had a catch phrase it would be, 'when everyone zigs, I zag.'
I am in control of how I respond to and work with constraints. Lockdown showed me that resilience is a learned muscle and it's taken a lot of it to get through what has certainly been the most challenging time of my professional life.
We only know the value of wellness when our health is at risk. Covid-19 has brought this message to the forefront. So, the global wellness economy, currently worth US4.5 trillion dollars, will see continued growth. The disconnect that people are experiencing (as a result of distancing) is having an impact on physical and mental wellbeing. The virus is a wake-up call to remind us how precious good health and wellbeing is, and by nurturing our bodies we strengthen our physical, mental and spiritual immunity. Spas, beauty and hair salons help people feel good about themselves and, with travel restrictions in place, will provide the necessary escapism for the winter ahead.
True luxury is about embracing time. In the face of a pandemic, immunity can be your biggest weapon and prevention is the core of wellness so support your immune system by investing in you. Time is the best gift you can give yourself."