Type 'Patricia Urquiola' into Google, and it becomes immediately clear the omnipresence of this iconic designer. Almost every result relates to a different project she has undertaken. From boutique and showroom fit outs to furniture collaborations with some of the world's most impressive brands to hotel interiors, Urquiola's deft and unique design has touched almost every corner of our lives. She even released a fashion collection for Max Mara last year — such is the versatility of her creative genius. Any exploration of this particular designer must start with the question of how she has achieved such a prolific presence, and how her vision is able to cross so many boundaries to be applied to a breathtakingly broad body of work. Because while the canon of designers who are considered 'iconic' is indeed vast and varied, very few of Urquiola's peers, or even forebears, can lay claim to such an impressive reach. Here, we delve into her life and career through some of her most recognisable work.
Last year, Patricia Urquiola said to Noor Brara for The New York Times, "Ultimately, the work of an artist comes down to… searching for your own idea of quality, a pursuit that requires freedom, for which you must advocate." It is a sentiment that cuts to the heart of Urquiola's vast and varied body of work. Because even if you are unfamiliar with Urquiola's name, you'll likely have encountered something she has designed, or experienced her unique vision.
Born in Spain and now based in Milan, Patricia Urquiola has established herself as one of the most sought-after names in contemporary design and interiors globally. She has worked with lauded brands all over the world (including Cassina, for whom she has been Creative Director since 2015), and undertakes a range of industrial design, architecture, art direction and consulting projects under the eponymous design studio she established with Alberto Zontone in 2001. Her approach is all about connection and ease, and she is known for pushing the boundaries of what is possible, harnessing research and exploring the limits of technology. And while her designs are often defined by a tendency for colour, clashing details and modern eclecticism, they are always comfortable, inviting and built to last.
In fact, part of what has made her so successful as a designer is the way she can balance creativity with comfort. Her ability to temper sculptural, eye-catching design with practical considerations is one of the main reasons why many of her designs continue to stand the test of time. Pieces from her Tufty-Time, Bend and Outdoor designs for B&B Italia, or her collections for Moroso still feel as relevant and impressive today as they did when they were first released (the true hallmark of a great).
Beyond this, it's Urquiola's refusal to limit herself to one medium or object or industry that takes her work to another level. Not only has this interdisciplinary designer created iconic furniture, but over the years she has been called upon to create hotel interiors (most recently for the Il Serano Hotel in Como, the spa of Milan's Four Seasons and the Mandarin Oriental in Barcelona) as well as showrooms, collections and installations for brands like Gianvito Rossi, Missoni, H&M, Max Mara, BMW and more. She is also often called on to speak at design weeks around the world and lecture at revered universities like Harvard. Pieces by Urquiola are on display in a number of art and design museums from MoMA in New York to Paris' Decorative Arts Museum to the Victoria & Albert in London.
Essentially, Urquiola taps into design in its truest, most authentic essence, her work offering a holistic spectrum that covers objects, textiles, structures and spaces. And while her creative versatility makes it difficult to define her work, our understanding and experience of design is better for her contribution to it.
Here, we examine some of Urquiola's most revered pieces in a bid to showcase only a snippet of what makes this designer such a timeless icon.
Tufty-Time sofa for B&B Italia (2005)
The iconic Tufty-Time collection reinterprets classic Chesterfield and Capitonné styles for modern living and is one of Patricia Urquiola's most ubiquitous designs. The range's hallmark modularity, comfort and removable covers allow for versatile and adaptable configurations, including linear and corner sofas, peninsula-shaped compositions and island elements. Large squares of fabric or leather joined by pleats form its signature upholstery, adding a textural depth that lends distinctive character. With its timeless appeal and effortless elegance, the Tufty-Time remains a sought-after icon of contemporary design, and for very good reason.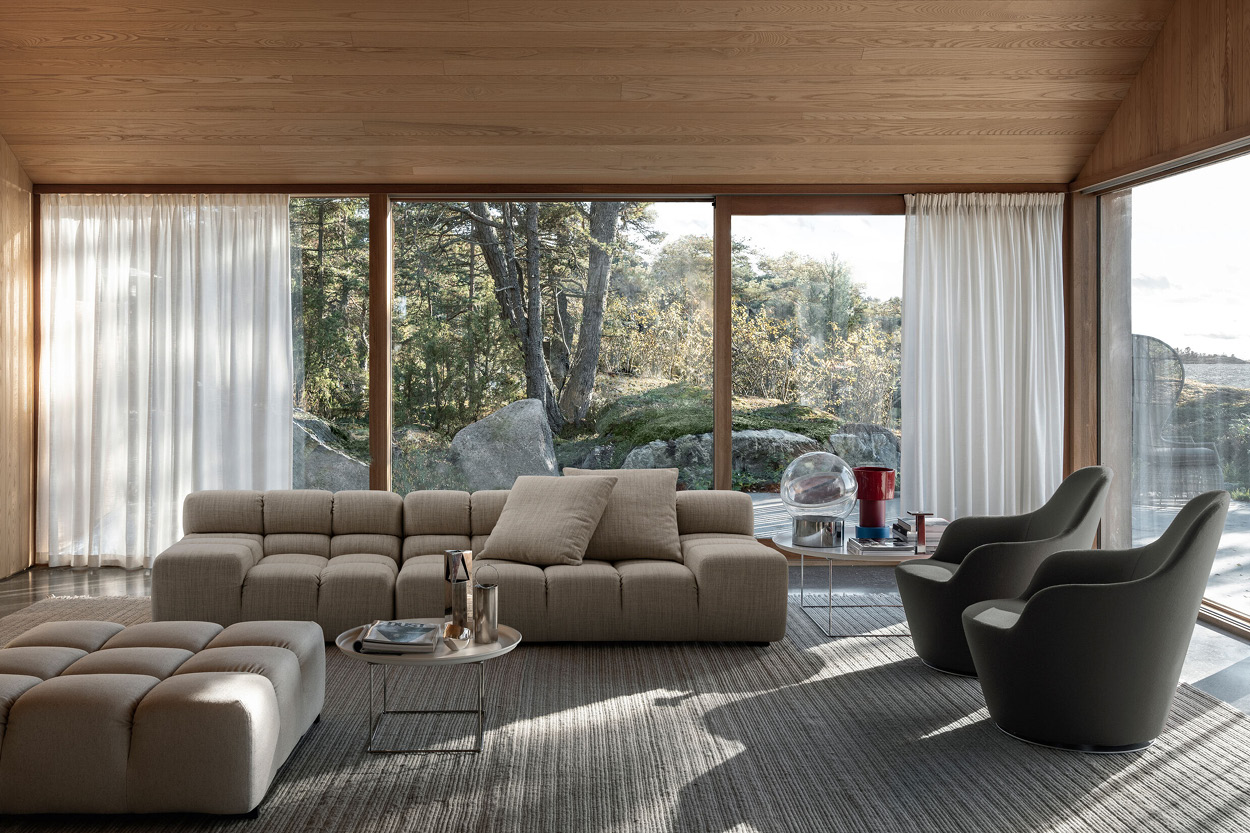 Dudet chair for Cassina (2021)
A true masterpiece of retro-inspired design, the Dudet is a small, architectural chair, designed by Patricia Urquiola for Cassina in 2021. With its strikingly fluid lines and plush, inviting silhouette, this armchair commands attention in any room. But don't let its luxurious appearance fool you. Featuring a groundbreaking system that allows for easy separation of its core materials, including a steel frame and bio-based polyurethane foam padding, the Dudet chair is a model of circularity and sustainability. And with removable upholstery that makes maintaining its appearance easier than ever, the Dudet embodies Urquiola's uniquely innovative and holistic approach.
Swing chair for Louis Vuitton Objets Nomades (2015)
Luxurious design and clever craftsmanship collide in Patricia Urquiola's Swing chair for Louis Vuitton's Objets Nomades collection, inspired by the brand's famous fashion origins. Featuring two large leather-covered metallic handles that hold up a stunning woven mesh seat, the chair is available in two versions; either with a woven chocolate leather cord with black leather finishes and yellow leather accents, or with a beige polyurethane cord with natural leather rings and a darker back cushion. With gold-plated hooks and endcaps adding an extra touch of elegance, the Swing chair is a masterpiece.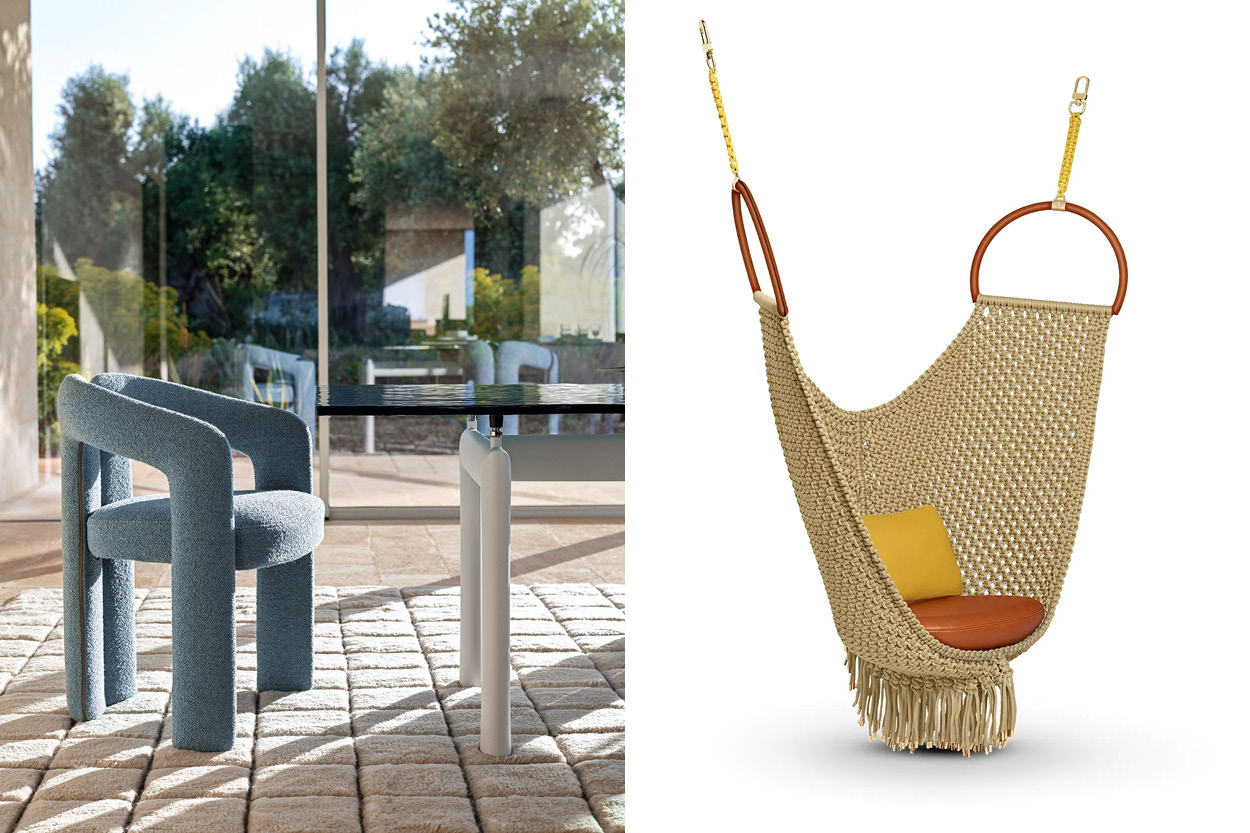 Redondo armchair for Moroso (2010)
Beloved for the way it exudes comfort and elegance, Moroso's Redondo armchair by Patricia Urquiola offers a nod to the plush interiors of 50s and 60s American cars. Its distinctive, two-part shape features padded shells that embrace huge seat cushions, inviting moments of respite. The quilted decoration, created with delicate pencil-like lines, adds an exquisite three-dimensional quality to the fabric, making it as visually arresting to look at as it is comfortable to sit in. Injected polyurethane foam and polyester fibre over an internal frame of steel ensure durability, while removable covers offer practicality. It's easy to see why the Redondo has been a favourite in living spaces around the world for more than a decade.
Almendra for Flos (2022)
Effortlessly blending form and function, the Almendra lighting system, unveiled last year by Patricia Urquiola for Flos, was inspired by the organic shape of an almond. Boasting a modular, suspended structure that allows for endless configurations, the Almendra is perfect for both private and commercial settings. LED technology (hidden in oval panels that splay out like the pages of an open book) ensures maximum efficiency, while a carefully-designed diffuser delivers a warm and welcoming glow, and the entire structure is fashioned from bioplastic (a byproduct of paper production). Ultimately, this system is a testament to Urquiola's exceptional talent. Here, she has fused sleek modernism and cutting-edge technology with natural inspiration, to create something truly contemporary and captivating.
Shimmer for Glas Italia (2015)
Boasting iridescent, multi-coloured finishes that deliver a mesmerising quality to any space, the Shimmer tables by Patricia Urquiola for Glas Italia offer an infinite variety of nuances depending on where they are placed and how they are viewed. Seamlessly blending form and function, this collection is sure to leave a lasting impression, an example yet again of Urquiola turning her practiced hand to creating something practical, utterly magical and that stands the test of time.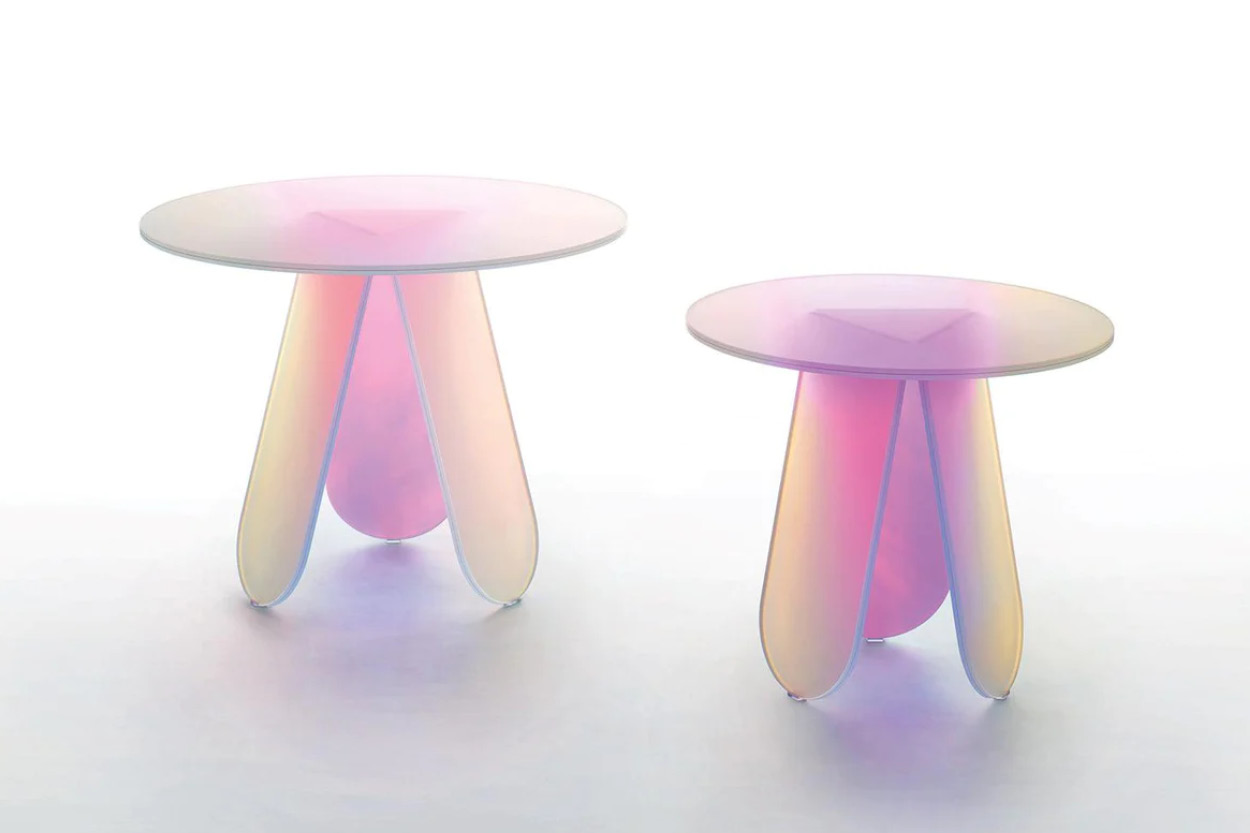 Getlucky for Moroso (2020)
There is something both contemporary and classic about Patricia Urquiola's Getlucky sofa system for Moroso. Elegance meets versatility in this modular collection (that includes a range of pieces from a corner to a chaise-longue design) defined by harmonious refinement, where clean lines collide with soft, inviting curves. The result is a system to suit a range of interiors. Beyond the fact that its design allows for complete customisation and flexibility, its plush cushions and durable materials promise comfort and longevity in spades. The Getlucky is a masterclass in the Urquiola's singular design language.
Sengu Bold sofa for Cassina (2022)
Offering a new interpretation of Patricia Urquiola's lauded Sengu sofa system, the Sengu Bold was unveiled last year. The epitome of comfort, this exceptional sofa saw Urquiola hide the expected Sengu base and instead, bring the sofa's ample curvature all the way down to the floor, creating a fuller and more conspicuous shape. The soft cushions on the backrest are padded with recycled PET fibre, adding to the luxurious feel, while the upholstery fabrics have also been designed with eye-catching texture, which enhances the sofa's soft lines. It is modern, minimalist and a masterly example of Urquiola's ability to refine and rewrite the rules.
Crinoline for B&B Italia (2008)
Urquiola designed the Crinoline collection for B&B Italia based on a study of 3D textures, creating a sumptuous collection of seats, small armchairs and larger armchairs that were fashioned from unique weaves and that highlighted sinuous lines. The textures are incredible, evoking a sense of luxury and style that could be integrated into virtually any kind of space, no matter how traditional or modern. Dual-coloured polyethylene weaves in black and white, or black and bronze, complement natural fibre or bronze string, and produce a stunning contrast. And every piece is designed to provide maximum comfort, showcasing the perfect combination of useability and showstopping design.
Mesh daybed for Kettal (2016)
The pinnacle of modern outdoor luxury, the Mesh daybed designed by Patricia Urquiola for Kettal was inspired by architectural façades that filter the environment without blocking out the light or airflow. Combining industrial materials with natural elements and transparent volumes with solid structures, Urquiola harnessed the idea of contrast to make this daybed a statement piece. Its durable aluminium frame is covered in a stylish mesh fabric, creating a sophisticated yet comfortable seating area for lounging in the sun. Whether poolside or on a terrace, this daybed has long been an essential addition to any outdoor space.
Asterias for Molteni&C (2016)
Patricia Urquiola looked to the mountains of Mexico for the Asterias collection she designed for Molteni&C, eventually finding inspiration in the Asterias cactus. The result is a generously-sized round table that captures the essence of this unique plant in its central base. Composed of six curved, wedge-shaped wooden panels, the base sits atop a central plinth which has been 3D printed for an eye-catching finish. The tabletop, available in two sizes, boasts a rounded edge that is subdivided into four wedges, forming a striking geometric pattern. The Asterias also comes with a practical central Lazy Susan turntable, perfect for entertaining.
Vieques bath for Agape (2008)
Designed by Patricia Urquiola for Agape, the Vieques bath is a strikingly contemporary take on traditional freestanding tubs. Constructed from steel, with a white interior finish and available with a white or dark grey exterior, the design is finished with a luxurious iroko backrest and shelf. The blend of classic and contemporary styles here is enhanced by the addition of the minimalistic, matt white Fez tap. And with a name inspired by the pristine island of Vieques in the Caribbean, it's clear that this bath was carefully designed for winding down, relaxing and forgetting any and all worries.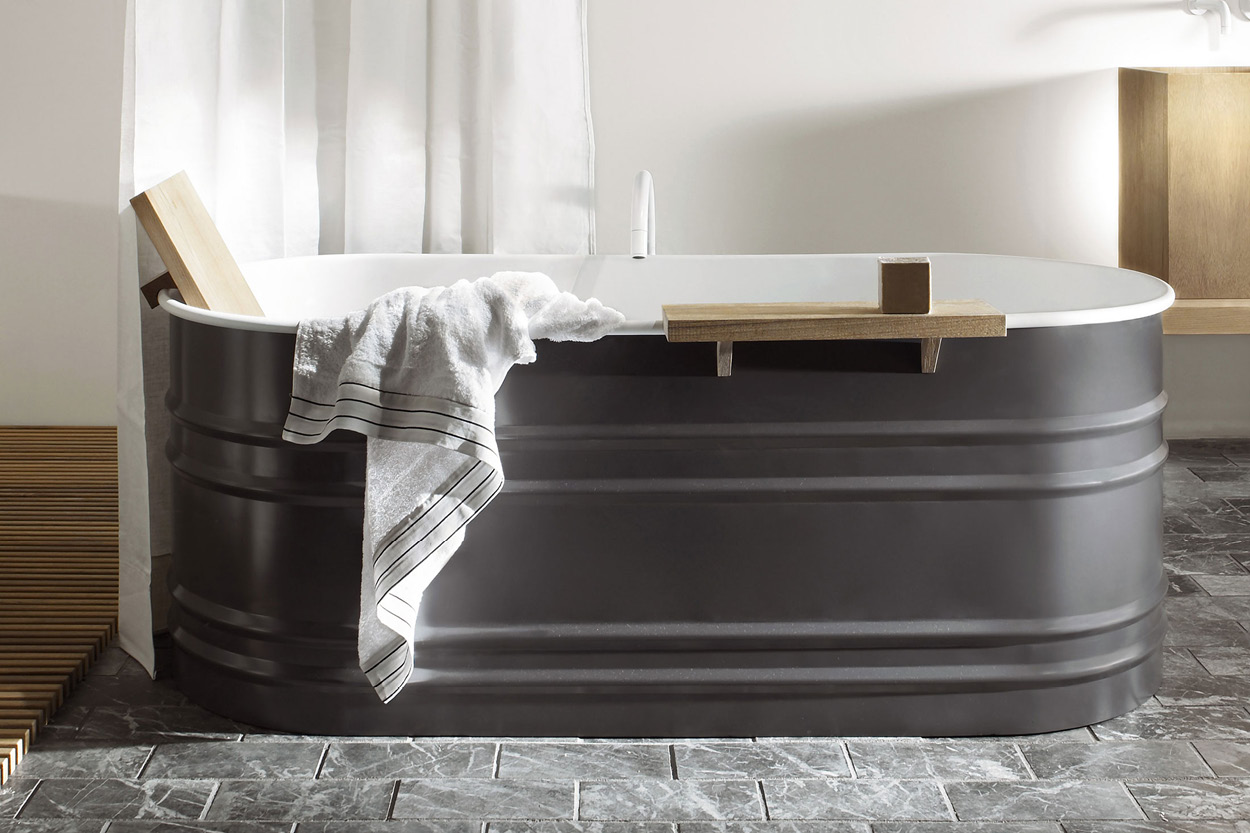 Bend sofa for B&B Italia (2010)
A play on contrasts, technology meets craftsmanship and solidity meets flexibility in the Bend Sofa designed by Patricia Urquiola for B&B Italia. The sofa's irregular shape appears to be the result of an artist's work, but is actually derived from a study of 3D models and digital research. These contrasts not only define the design, but also enhance its comfort and give meaning to its irregular silhouette. Made from corrugated modules, the Bend can facilitate an array of combinations, from compact options for limited spaces to complex and far-ranging layouts. There's a very good reason why it is now widely considered an icon.
Husk armchair for B&B Italia (2011)
Encapsulating the idea of comfort beautifully, the Husk armchair by Patricia Urquiola for B&B Italia is a study in how to merge various styles into one design. This iconic armchair showcases a unique combination of a stiff multilayer polymer body and soft cushions to offer relaxation on every level. The cushions are divided into portions that underscore the chair's ergonomic profile. And with such a versatile design (that somehow manages to both blend in and stand out), it's hardly surprising that the Husk armchair has lasted, for over a decade, as a truly timeless piece.
Re-Trouvé for Emu (2008)
Here, Urquiola paid tribute to the traditional forms of 50's furniture, infusing her inspiration with modern innovation and more than a few playful twists. In her Re-Trouvé collection for Emu, the designer used numerical control technology to develop a complex diamond-shaped pattern that was repeated to generate unique pieces. Sophisticated, elegant and whimsical, the Re-Trouvé pieces are beloved for the way they effortlessly blend into any outdoor setting, and are testament to Urquiola's exceptional ability to reimagine the luxurious potential of outdoor space.