Easter is already upon us and despite the fact that there are a raft of delicious bun offerings in Auckland (see our exhaustive list here) there is something so comforting about being able to whip up a batch of hot crossies at home.
So, who better to turn to for a foolproof hot cross bun recipe than Liv Glazebrook from @kitchenoftreats? Our go-to for all things sweet and delicious, Liv's recipes have seen us seriously step up our game in the kitchen — and thank God for that. If you want to impress the extended family this Easter, perhaps this recipe for easy, at-home hot cross buns is just the ticket.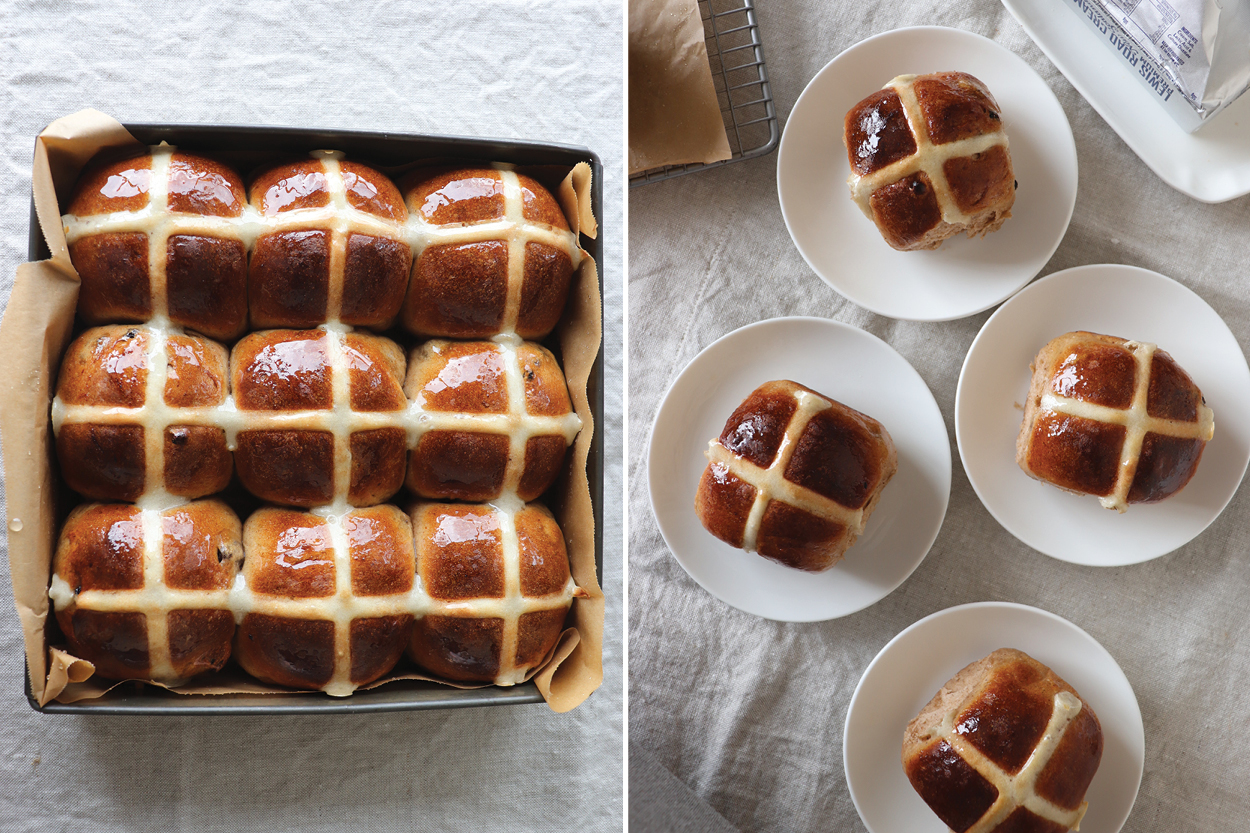 Kitchen of Treats Hot Cross Buns
Makes 12

Ingredients:
For the dough:
1/2 cup lukewarm milk
1/2 cup lukewarm water
1/2 cup brown sugar
4 tsp active dried yeast (don't forget to check the expiry date!)
75g butter, melted
1 large egg
1 tsp salt
4 cups high grade flour
3 Tbsp mixed spice
1 tsp ground cinnamon
½ tsp ground cloves
1 ½ cups sultanas (or raisins, or apricots or figs or chocolate)
For the crosses:
½ cup flour
½ cup cold water
For the glaze:
1/4 cup sugar
3 Tbsp boiling water
Hand-kneading Method:
1. Measure the warm milk, warm water and one tablespoon of the brown sugar into a large bowl, then sprinkle in the yeast. Stir to ensure yeast dissolves before adding 2 cups of flour. Cover and leave in a warm place for about 30 minutes.
2. In another bowl mix the melted butter and remaining brown sugar, then beat in the egg, salt, spices, and sultanas. Add the risen yeast mixture and the remaining flour and mix to make a dough just firm enough to knead, adding a little extra flour if necessary.
3. Knead with the dough hook of an electric mixer or by hand on a lightly floured surface for 10 minutes or until the dough forms a soft ball and springs back when lightly pressed. Add the dough back to the mixing bowl, cover and leave in a draft-free place until it's doubled in size – usually an hour or two – it depends on the temperature of the surroundings, among other things.
4. Divide the dough evenly into four pieces then each of these into 3 or 4 (12 – 16 in total). Shape each piece into a round ball and arrange in a square or rectangular roasting pan (lined with baking paper), leaving about 1cm between each bun. Cover and leave in a warm place until buns double in size and puffed up into 'proper' bun size (they don't rise any more when cooking, like cakes do).
5. To make the crosses, whisk flour and water together until smooth, placing in a piping bag and form crosses on the buns.
6. Bake at 225°C for 10-12 minutes or until lightly browned.
7. While the buns are baking, whisk the sugar and boiling water in a heatproof bowl until dissolved (microwave on high for 20 seconds to help dissolve the sugar).
8. Brush the syrup on top of the buns as soon as they come out of the oven.
9. Serve warm with lots of butter.
Bread Maker Method:
Measure all ingredients (except fruit) into the bread machine. Set to dough cycle and press start (add fruit when the cycle indicates to do so with a 'beep'.) When the cycle is complete, shape and bake as per above.
Liv's Top Tips:
Use High Grade flour (if possible), it has a higher gluten content so works better with the yeast.
Check your yeast hasn't expired and is still 'active'
Make sure that your salt is thoroughly mixed into the flour, if salt comes in direct contact with yeast it will reduce its effectiveness
Soaking fruit prior to mixing will prevent the dried fruit taking moisture out of the dough – Cover the dried fruit in a bowl and cover with boiling water (or orange juice that has been warmed on the stove.) Seal/cover and leave for an hour or so. Drain the fruit in a sieve before using.
Be patient and let your dough rise in a warm, draft free spot until it has doubled in size. Let it rise again after shaping it into buns.
For defined 'crosses' make sure your cross mixture isn't too runny, if so, add more flour.
For a great fruity alternative to the sugar/water glaze mix 4 Tbsps of Apricot Jam with 1/3 cup of water. Place water and jam into a small saucepan over low heat and stir until jam dissolves. Bring to the boil for 3-4 minutes, then remove from heat. Immediately brush glaze over warm hot cross buns.