When you bought your coffee from your local cafe this morning, what were you thinking about? You were probably thinking about the fact that the barista said your name wrong (again), or perhaps you were deciding which urgent call you would fake in order to escape some impending meeting. You definitely weren't thinking about the cup that was holding your early caffeine kick, a robust, sturdy, familiar vessel, and these days, most likely made from plants. Yes, plants.
Food packaging has had a severe overhaul of late and it's all down to one name: Ecoware. Eradicating oil-based plastic packaging with its range of sustainable corn or bamboo based alternatives, Ecoware has become the brand on the lips of every food business, whether that's supermarkets, food trucks or airlines. And while the brand itself might be on the verge of household recognition, there are two people, Alex Magaraggia and James Calver, the childhood friends behind the operation, that should be receiving similar acknowledgement.
It was during university when Calver describes stumbling across his first major eureka moment. He was in the midst of a business degree, and as part of his event management placement, was expected to look after the waste disposal situation at one of Sanitarium's Weet-Bix Kids TRYathlons. At some point during the event, he came to realise that both the recycling and landfill bins on site connected at the back, into one, singular bin. And although it was a moment that sparked within him a rage against the plastic industry, he still didn't understand the gravity of the situation until shortly after, when he was surfing in the Mentawai Islands in North Sumatra. Ravaging what he describes as, "a remote paradise," was tonnes and tonnes of plastic, swarming the once peaceful and ethereal atolls. "This made me realise that the problem with plastic was really, really big," he explains, and he's right.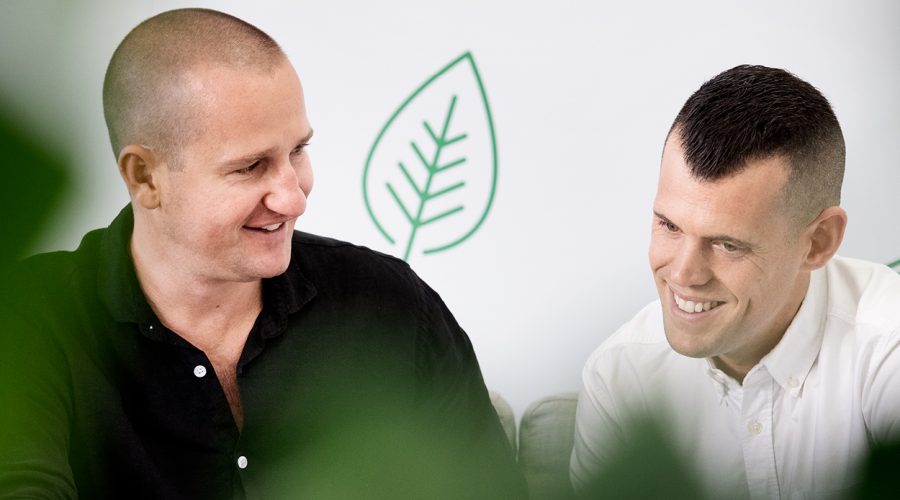 Around 252,000 tonnes of plastic heads to our landfills every year, 252,000 tonnes of material that will take over 400 years to degrade — and even then it will never fully disappear, but merely disintegrate into smaller and smaller pieces. The situation is dire indeed, and after Calver relayed the story to Magaraggia, they felt compelled to act. It was here that the ball began rolling on an idea that would change the course of both of their careers, and lives, for good.
The concept was simple. As opposed to the linear system of plastic — where products are made and, even if they are recycled, still end up in landfill — they would instead create packaging with a more circular ethos. Namely, compostable products crafted from plants that would biodegrade and, essentially, return to the earth from which they came. The idea wasn't rocket science, Calver explains, but it was so alien to businesses at the time that "it sounded too good to be true." And so for the next two to three years the young duo — then in their early 20s — created a number of teaching programmes to educate and inform businesses, not only on their products but on the growing issue of landfill. Striving to be taken seriously, Magaraggia describes these early years as comprising nothing but "hard work and persistence."
It was coffee companies that were the first to start taking the pair's message seriously. Described by Magaraggia as "young, vibrant and casual," the coffee industry was very much like them, and as such allowed meaningful long-term relationships to be forged. From there, success ballooned. All they had to do was get one industry on side, and the rest would succumb to their proposal like a row of toppling dominoes. In 2018 alone, Ecoware replaced approximately 750,000 kilograms of packaging made from oil and now, its wares — whether produce containers, bowls, cutlery or coffee cups — can be found in a wide range of commercial businesses as far reaching as stadiums, hotels, food trucks and juice bars.
I ask if they can spill the beans on any juggernaut businesses they are working with, and, for a brief moment, I am met with silence. Throughout our interview, it became apparent to me how the pair — friends since the age of five — are cut from the same cloth in terms of ideals, yet still, they boast differences that ensure a balance of personalities. When answering my questions, Calver would speak honestly and openly, letting the sentences roll off his tongue without pause for thought. Magaraggia was more carefully constructed: as though many more decisions were required before he could convert his thoughts into words. Their manners were contrasting, but it meant that at no point during the interview I was met with no answer at all, until now. "That's a tough one," Magaraggia replied after a few moments. "It's not that we can't name names, because we do work with a few big market leaders in different areas, but to just name a few would be an injustice to the others." "We try to avoid that question," Calver chimed in, agreeing that, while they have the big names on board, "we wouldn't want to do a disservice to the smaller, lesser known brands that got us to where we are today."
That said, it would be remiss to not mention one or two of the bigger entities Ecoware now supplies. Partnerships with the likes of Auckland entertainment powerhouse SKYCITY, supermarket giant New World and Air New Zealand have seen a serious overhaul of large-scale, waste management systems and have given the brand exposure that has been far-reaching and meaningful.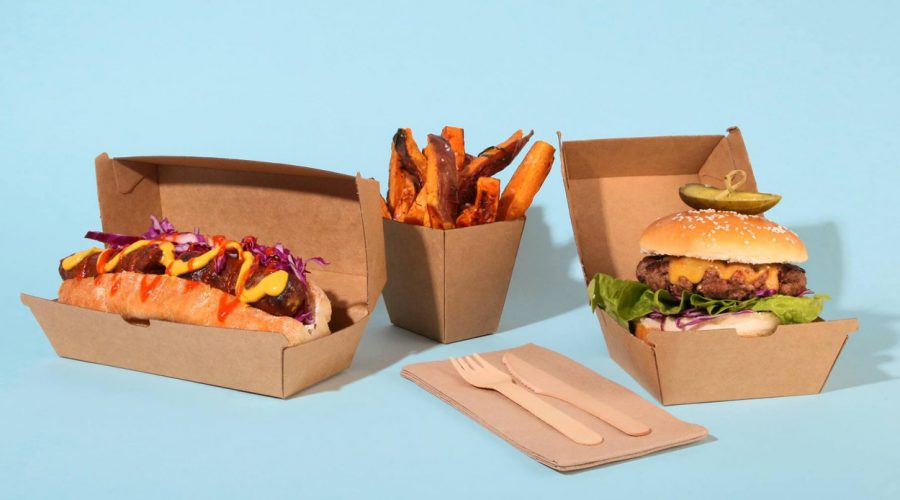 Anyone in Calver and Magaraggia's position could be forgiven for name dropping. It is, of course, how a lot of people in this industry — or any industry for that matter — get ahead. But that approach just isn't part of the pair's modus operandi. In fact, this is just one of many examples of their genuine nature and propensity to be modest that I'm presented with throughout our interview. Both down to earth and incredibly approachable, it is easy to see how their leadership would have been a defining factor when it came to Ecoware standing out against the rest, something Magaraggia describes simply as "a Kiwi attitude to business."
The same goes for their commitment to educating others about their message. They are an intelligent, articulate duo — undoubtedly — but they never slip into condescending tones when asked to explain intricate concepts to novices like me. Even when they outline the current state of recycling — how it used to be an efficient municipal system until China, the place we were shipping all our recycling to, banned the import of most plastics — they speak in layman's terms without being patronising. They educate without being righteous. "We're not preachy," explains Magaraggia, saying that, when it comes to recycling and the such, "nobody likes to be told that what they're doing is wrong. It's not part of our business — we could have potentially got more sales that way — but it's just not us."
Ecoware, it seems, is far more than just a packaging company, and Calver and Magaraggia are far more than just business-minded co-founders. They serve as teachers, environmentalists, friends, aids, supporters and so much more. So perhaps next time, when you are waiting for your daily flat white, you should take a moment to think more about the process behind the packaging you are about to hold and — perhaps most importantly of all — the forward-thinking, innovative, and humble people behind it who are, in the name of the environment, striving to deliver palpable change for the sake of all of our futures.
To learn more about Magaraggia and Calver's inspiring story, pick up a copy of the winter issue of Denizen magazine, out now, or click here to subscribe.
Image credit: Alistair Guthrie