Ever since Savor Group announced that it was taking over the Viaduct Harbour site that once housed Headquarters and opening a sprawling new waterfront bar and brasserie, we have been waiting in excited anticipation. Now, just as the summer season is starting to kick off, Bivacco Bar and Grill is poised to finally open its doors — offering the kind of experience that we can only really compare to the likes of Balthazar in New York or Totti's in Sydney. Here, set in one of the best spots in Viaduct Harbour, this exceptional new hospitality destination is serving great drinks, tantalising food, breathtaking views and a convivial vibe, and we have your first look ahead of its official opening next week.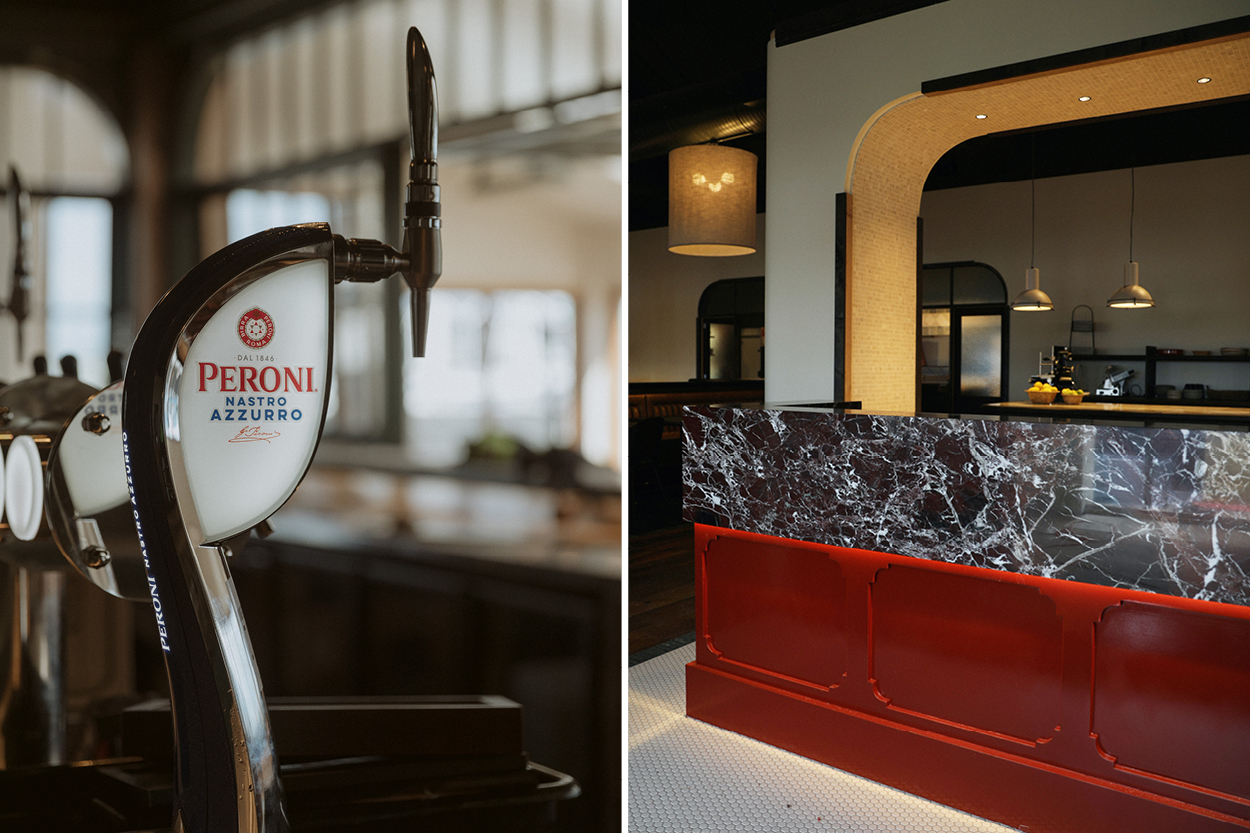 Step into Bivacco and you will immediately be struck by its size. Able to accommodate around 300 people, the space is on a scale that we don't often see here, its floorplan shaped by cleverly-placed walls and practical preparation benches. Here, award-winning designer Paul Izzard has conceived a fit-out that imbues Bivacco with a sense of intimacy despite its size, and the interior is truly spectacular. Finished in deep, jewel-green tones, dark timber, travertine and marble with sumptuous booth seating surrounding an open kitchen on one side, and a more casual set-up around a bar on the other, Bivacco is as much a place for a meal with friends as it is for easy drinks. And while the inside feels cosy and cool, it gives way to a light-filled, covered verandah that spills out onto the surrounding Viaduct Harbour walkway, where sun-soaked outdoor tables and the bustling hum of celebratory patrons will entice anyone strolling by to pop in for a drink, or a delicious bite overlooking the water.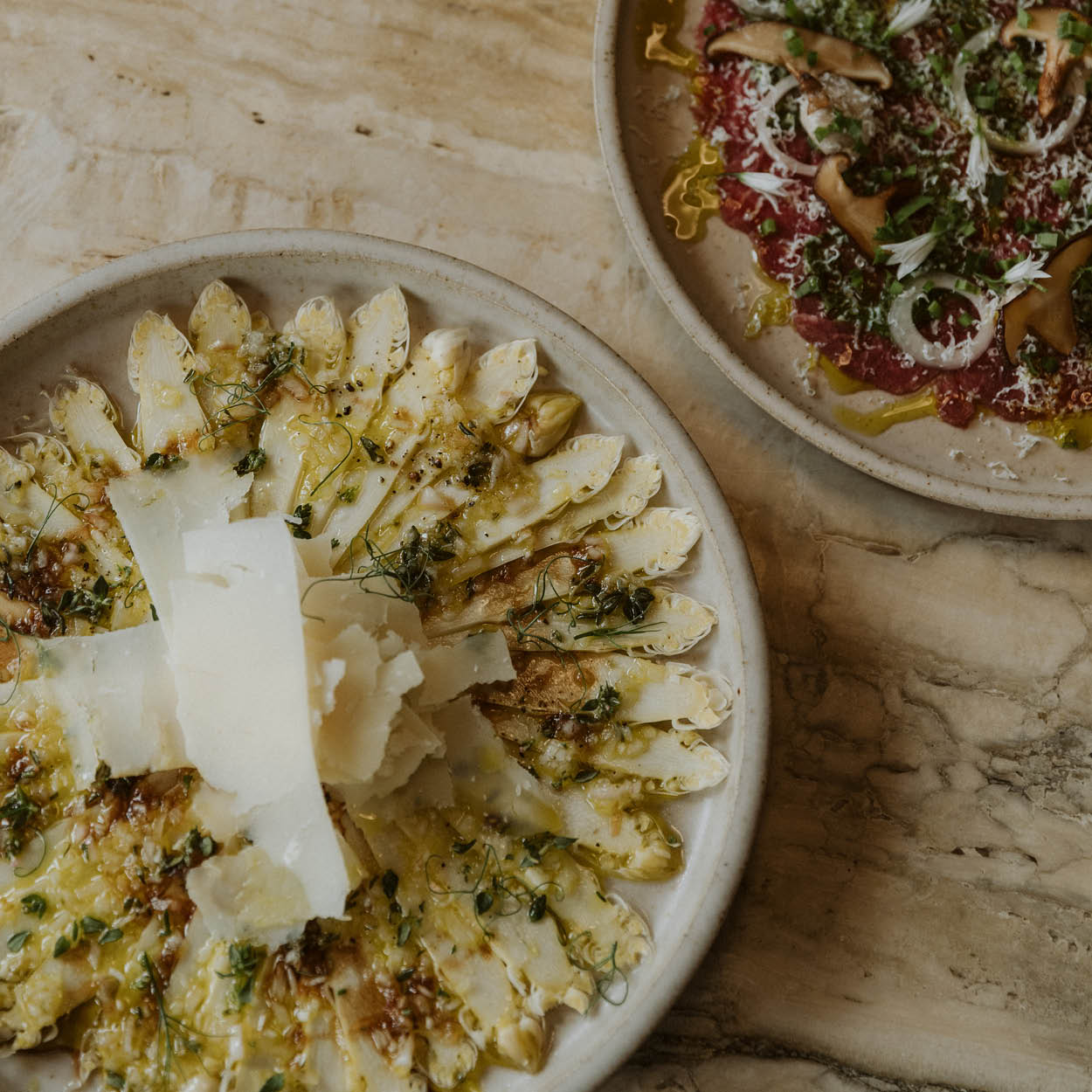 On Bivacco's menu, overseen by Head Chef Ryan Moore, simple but flavourful Italian food takes centre stage, where an array of options will cater as perfectly to someone seeking late-afternoon aperitivo as they will to those settling in for a long, indulgent lunch. Speaking to the former, Bivacco is making after-work drinks more appealing than ever, with a dedicated aperitivo special every weekday from 4pm until 6pm. Diners can watch the sun go down over Viaduct Harbour with refreshing glasses of Peroni, flowing Champagne and satiating cocktails, all paired with a range of complimentary bites. And considering Bivacco's extensive antipasti menu includes dishes like raw white asparagus, drizzled with aged balsamic and thyme and finished with parmesan, fried mozzarella sticks with caviar, and delicate beef carpaccio with truffle, wild garlic, pickled mushroom and ricotta salata, a casual, pre-dinner snack has never sounded more appealing.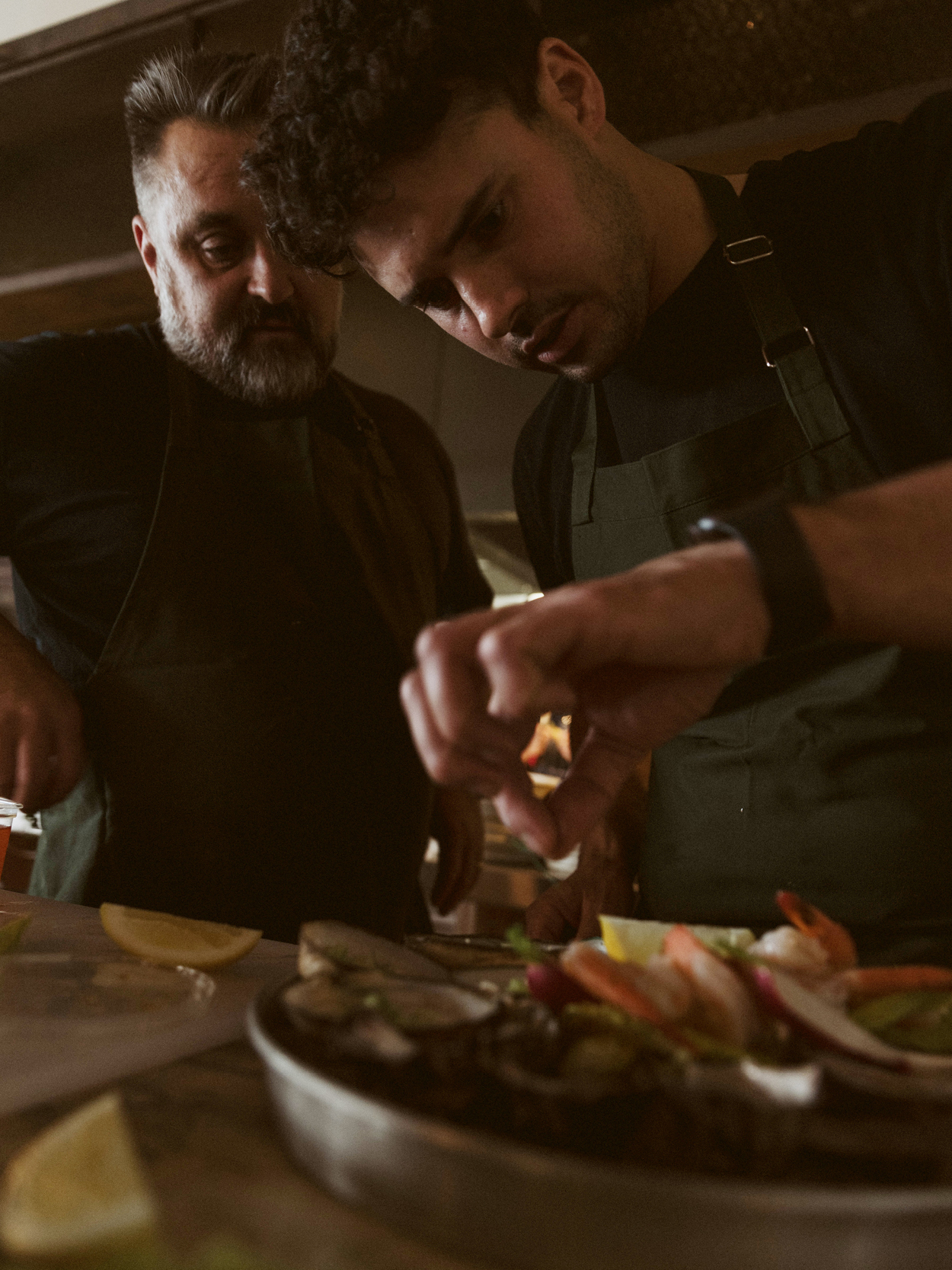 Elsewhere, fresh Mediterranean flavours are heroed in locally-sourced seafood, not only via dedicated platters of prawns, marinated chilli mussels, calamari and scallops (served with salsa verde) but in grilled dishes too, like a wood-fired octopus with celery and potato salad and white bean purée or a wood-fired whole John Dory, served with pickled shishito and preserved lemon gremolata.
Those seeking something more substantial will find it in beautifully al dente handmade pasta (think goats cheese ravioli with asparagus, burnt honey and pistachio or braised lamb agnolotti with sheep's milk ricotta, zucchini and mint), and satiating pizzas (with toppings that range from classic Margherita to mushroom and truffle to spicy salami). There is also a line-up of sustainably-sourced, meticulously-prepared meat dishes, cooked to perfection on an open flame. (We've got our eyes on the aged ribeye on the bone with roasted garlic and salmoriglio.)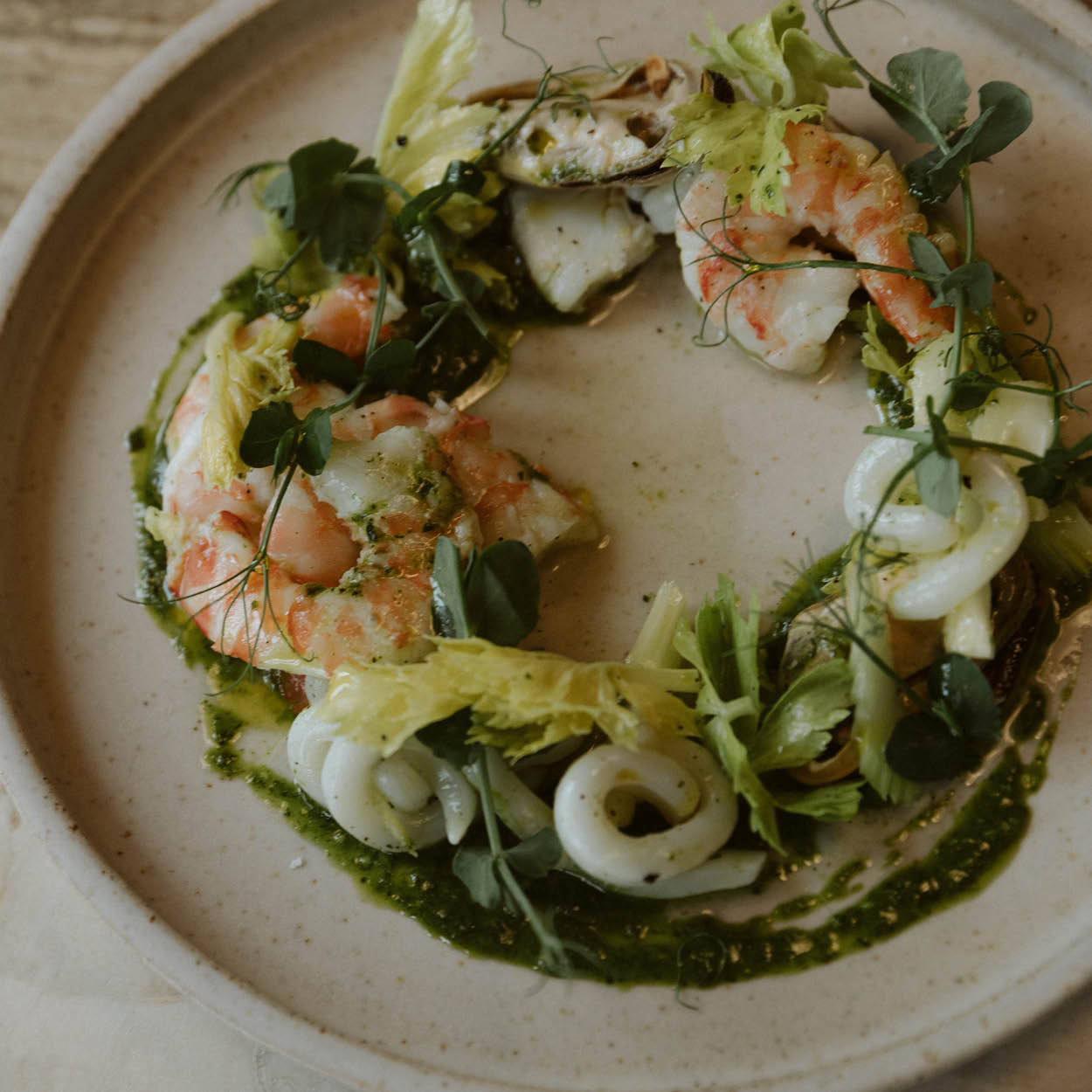 All of this is only made better when enjoyed with one of Bivacco's signature cocktails, a crisp Peroni or a glass of wine from the bar's extensive list (ranging from lauded local varietals to exquisite international drops).
We're predicting that the house spritzes will be popular, with concoctions like the Hugo (with elderflower and mint), and the Island Time (with rum, lime, sugar and cucumber tonic) promising the perfect antidotes to humid summer days. Negroni fans will be delighted with Bivacco's fresh takes on the classic, which include a Spagliato (using prosecco in place of gin), a Bianco (with Yuzu gin, Italicus Rosolio di Bergamotto, dry vermouth and Lillet) and a special Bivacco Negroni (where the gin and Campari are mixed with Amaro and grapefruit). There are a number of more traditional house cocktails as well, each offering tantalising twists on crowd favourites, alongside a couple of dessert cocktails (like the 'Liquid Tiramisu' if you're that way inclined). And of course, there will be plenty of non-alcoholic options too.
While Auckland has long been renowned for its proximity to its stunning harbour, there has never been a venue that quite lives up to the backdrop — until now. From its impressive setting and its meticulous finishes to its carefully-designed menus, Bivacco is undoubtedly the most significant hospitality opening of the year, and (if first impressions are anything to go by) is shaping up to be the venue of the summer (and beyond). Nailing the balance between laid-back and elevated, and offering the kind of festive atmosphere that will make it the perfect precursor to any fun night out, Bivacco Bar & Grill is exactly where you'll find us this season, satiating our taste for the good life surrounded by friends with a platter to share and a Peroni in hand. See you there.
Bivacco, Bar & Griglia
115 Customs Street West
Auckland CBD
Auckland 1010
+64 09 801 6505