Nestled in one of the most storied neighbourhoods in Auckland's CBD, Gilt Brasserie is the newest (and third) venture of celebrated restaurateurs Josh and Helen Emett (of Onslow and The Oyster Inn), who are expanding their already-impressive reach to deliver a dining destination that is truly exceptional.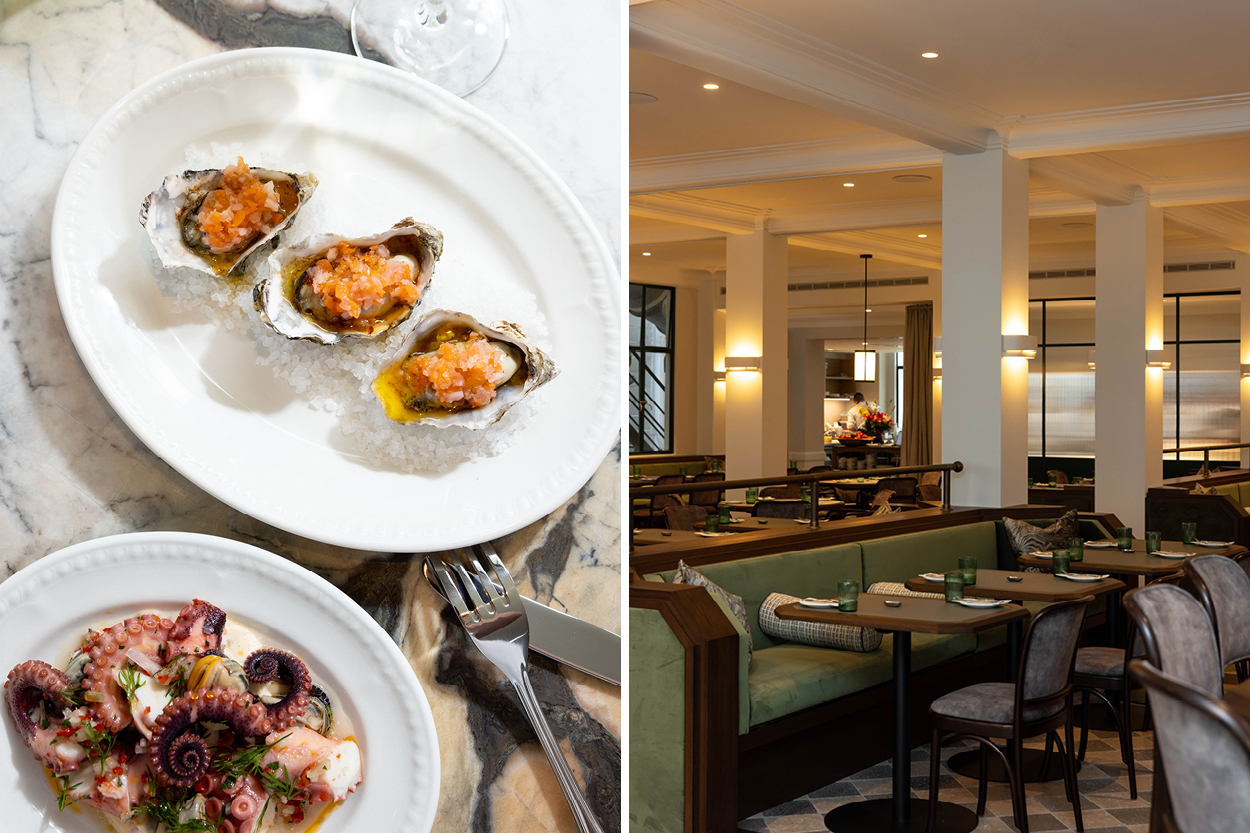 Drawing on elevated restaurant culture from around the world, the dynamic duo have created a sumptuous space that not only speaks to their love for cosmopolitan life, but that introduces something unique and decidedly international to Auckland's hospitality scene. An ode to the kinds of restaurants one might find in New York or Paris (restaurants that hum with activity from lunchtime to dinner and beyond) Gilt Brasserie is poised to become the City's most popular new opening, where old-world glamour collides with refined, contemporary cuisine in a setting that will revive the iconic O'Connell Street and its surrounding neighbourhood.
Ahead of Gilt's official opening next Wednesday (the 18th of October), we talked to Josh and Helen Emett about what to expect from their much-anticipated, new spot.
Tell us about Gilt Brasserie, what inspired the concept?
Our inspiration was the all-day European-style brasseries we loved so much when we lived in New
York. Where you go for the lively dining room that transports you to Europe with every bite and
sip. We love Europe, in particular Spain and France, and have always admired their approach to food and dining, a culture where you can go and enjoy delicious food any time of the day — lunch, late lunch, long lunch, relaxed drink, dinner and beyond.
What has the process been like of bringing Gilt to life?
Creating a restaurant calls on so many skills and brings together so many elements, from
interior design to marketing, finance and recruitment, as well as the obvious hard yards that are required in the kitchen and bar to create a standout menu. Gus Dobson of Made By led the build and we have loved working with him. He has been as dedicated to our vision as we are, and he made sure to seek out the best tradespeople for the job, each a master of their craft, whose attention to detail has been second to none. Getting this right has been a real triumph. Every restaurant opening has its challenges but overcoming the hurdles is what gives us a real buzz.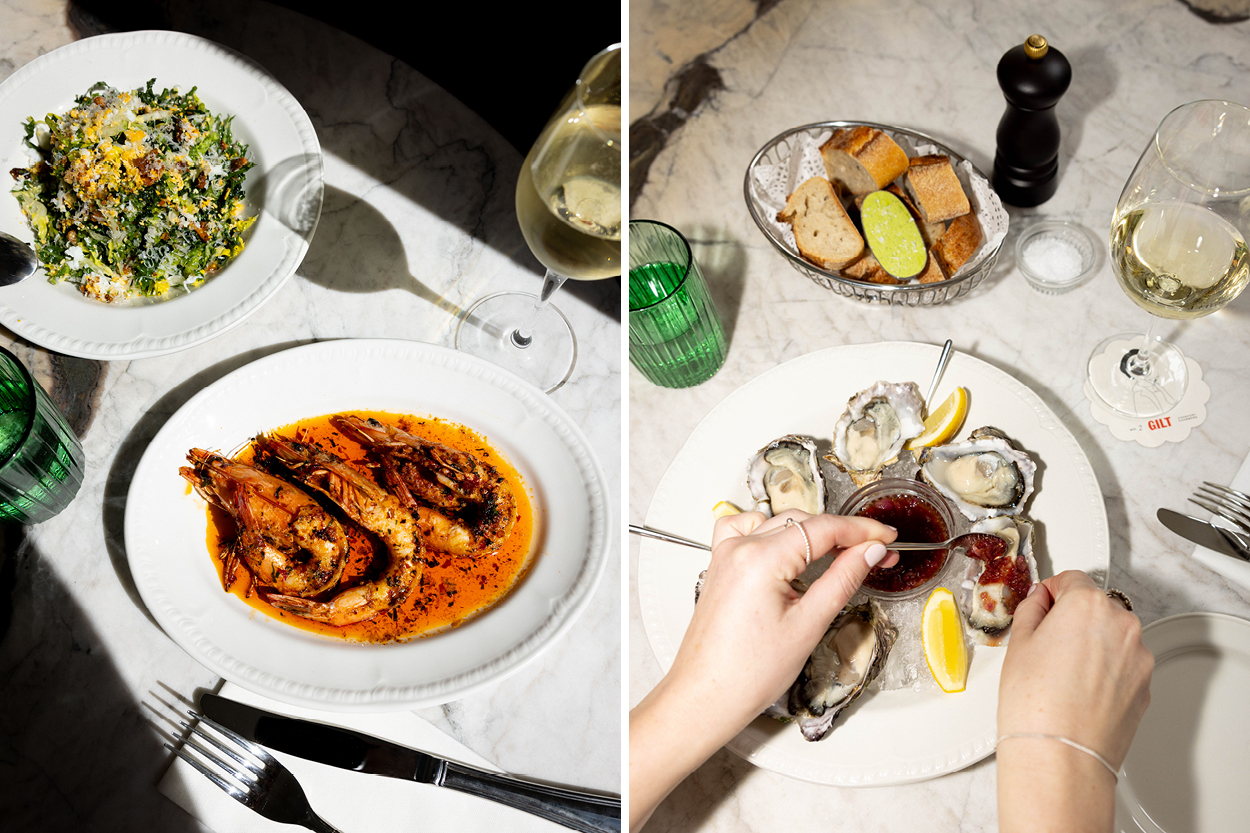 Tell us about the menu. What kinds of food can we expect?
We wanted to focus on classic dishes done right with a nod to playful nostalgia. Think pork and duck rillette, oyster mornay, a plate of delicate one-bite beignets, duck frites with sauce a l'orange, endive 'au gratin' and carrot râpé. Our vegetable dishes are not confined only to side options either, they are very much front and centre. Overall, the idea of all-day dining has been a real focus for us. We want people to enjoy Gilt at any time of the day, whether it's for a satiating sandwich at the bar or a cobb salad for a quick lunch.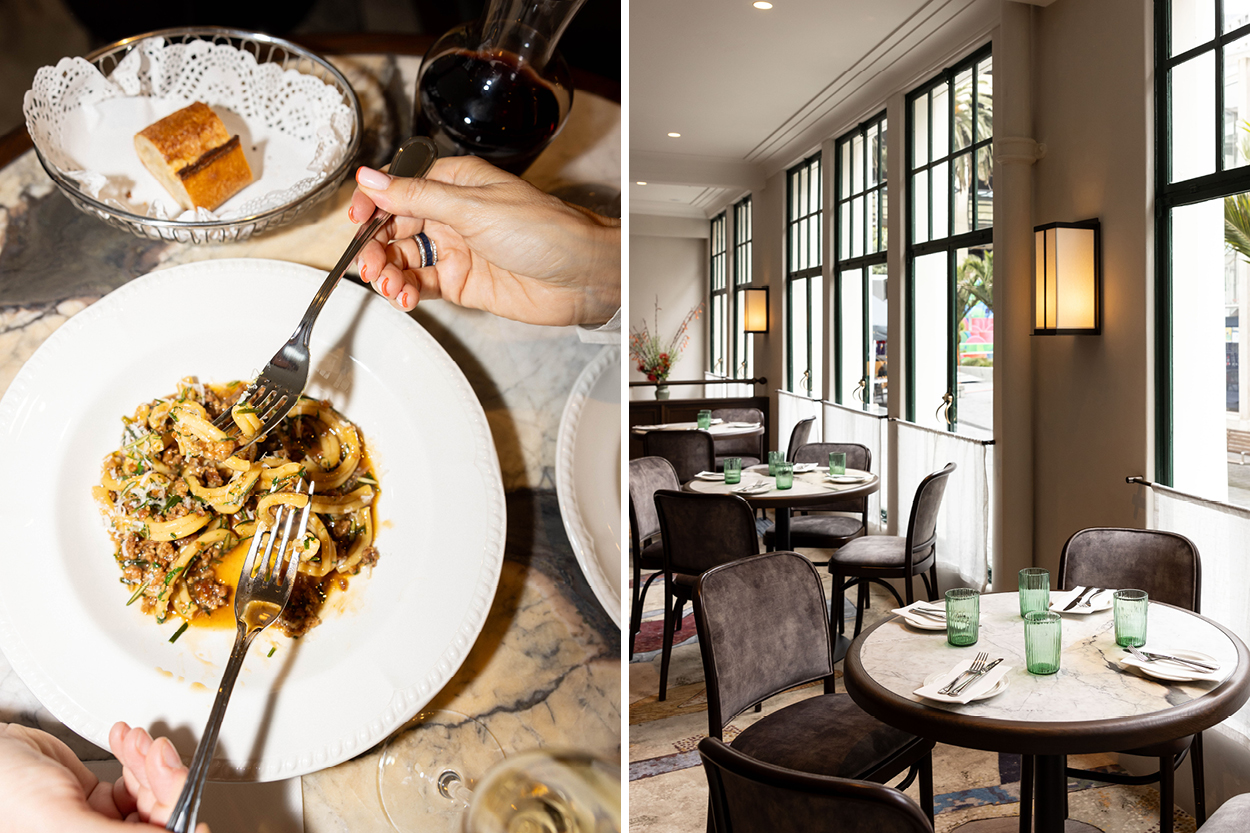 What are some of the menu highlights?
Right now, our team has given the Confit Potato Squares with Saffron Aioli a big thumbs up, which is no surprise really. We actually have a whole menu section dedicated to the humble potato! Another team favourite is the handmade King Crab Pappardelle Riccia with Brandy Bisque and our lunch-only Minute Steak with Pomme Frites and Entrecote Sauce is going to be really popular, we think, especially for business lunches. Those looking for something more substantial should head to the 'Large' section on our menu, which includes a delicious Rib On the Bone. Ultimately, our aim is for the food to be approachable without sacrificing sophistication.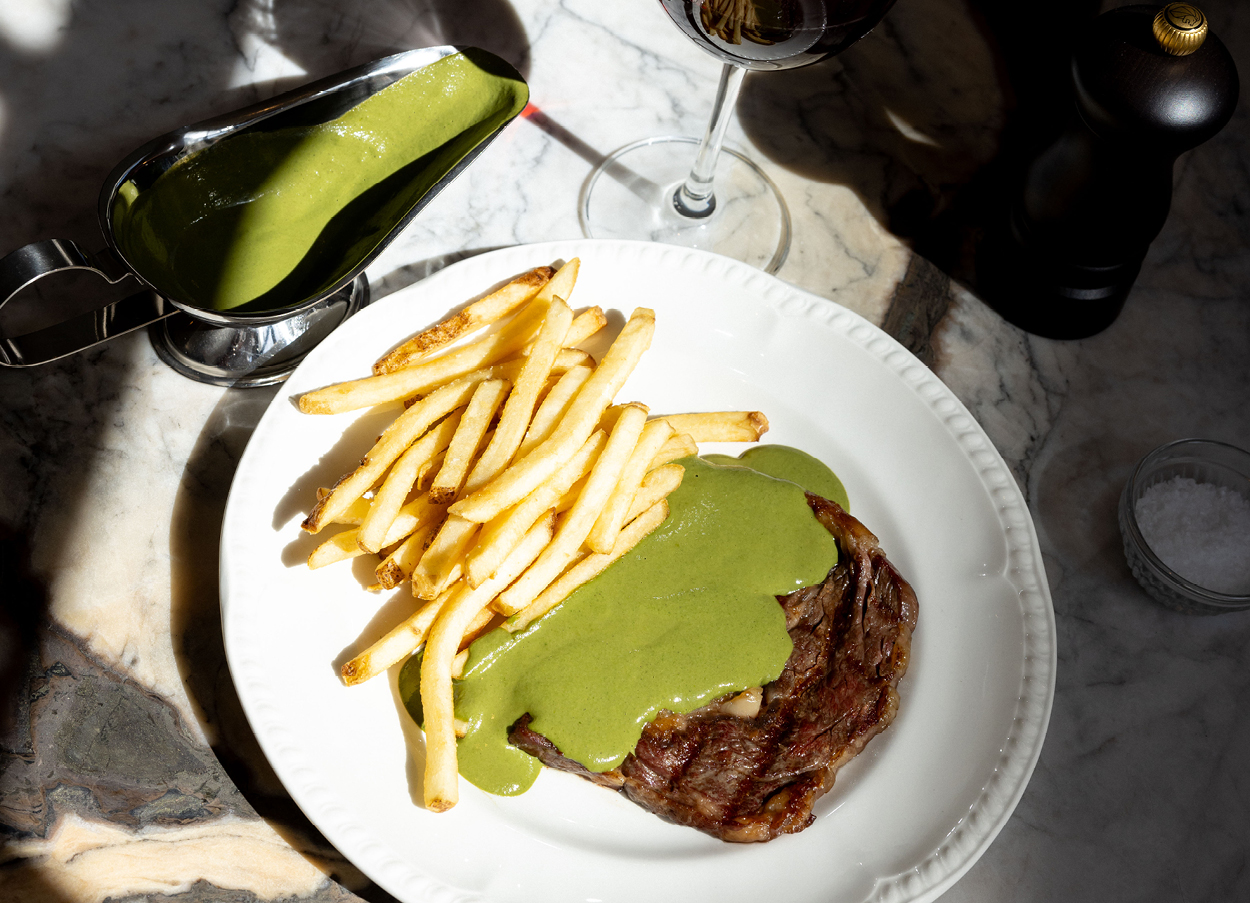 What can we expect from the drinks and wine list?
Again, we've added a nod to Europe here with our favourite Portuguese apéritif — the white port and tonic. Vermouth and sherry will be a feature as well as a beautifully curated, European-inspired wine list. People can expect recognisable gems and new discoveries as they work through our extensive wine list, where there really is something for everyone to enjoy. Our cocktails will be classics done well. In fact, we think our Cosmo will become a bit of thing (our version has sexier, darker red tones and packs a serious flavour punch). Our Blood Orange Sgroppino is also SO good (a delicious mix of blood orange sorbet, vodka and Prosecco) and our tap beer is Estrella Damm (a drink we personally love when we are on holiday in Spain). Leah Kirkland, our Head of Group Beverage and Arun Rodgers, our Bar Manager have been working on this menu for over two months and the result is outstanding.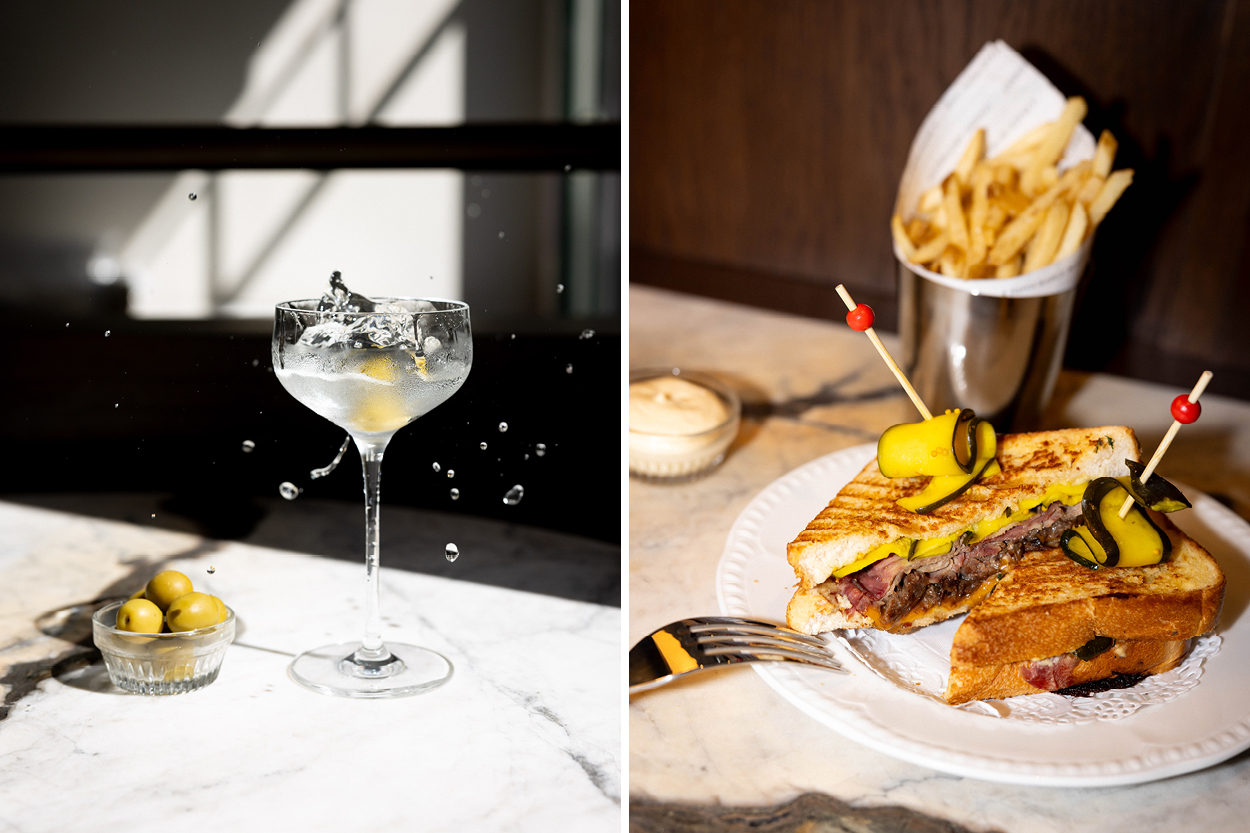 Tell us about the space. Who helped you bring it together?
Gilt is tucked away behind Auckland's iconic laneway on the corner of O'Connell Street and Chancery Street and the restaurant looks out onto Freyberg Square and High Street. We wanted to create a vibe that people would love coming back to, and as such, we are open from Monday to Saturday, 11.30am until late, and have made sure that we have a large bar area with lots of walk-in space for people to enjoy a drink or two. Rufus Knight and his team at Knight Associates looked after the restaurant design and worked with Dahlia Ghani to create something really special here. We love their style and the meticulous attention to detail in the spaces they create. We also brought in Sonja Hawkins in to deliver her signature design flair with special touches like the fabric selections, antique pieces and lamps.
The striking art hanging on our walls was curated by Sarah Hopkinson and Georgia Currie of Salomé, a boutique art advisory that works to showcase the best of local New Zealand talent and helps up-and-coming collectors curate their art purchases in a really meaningful way. They helped us secure three pieces by Stockholm-based Kiwi artist Milli Jannides, as well as a site-specific wall painting by Glenn Otto, which really make the space sing.
For branding and strategy, we struck gold working with Studio Round, a Melbourne agency helmed by Founders/Directors, Rob and Michala, Kiwi expats who have such a breadth of experience that includes working on some of our favourite restaurants in Australia. As two married couples who work together, our business meetings often would happen over dinner with both of our families in tow.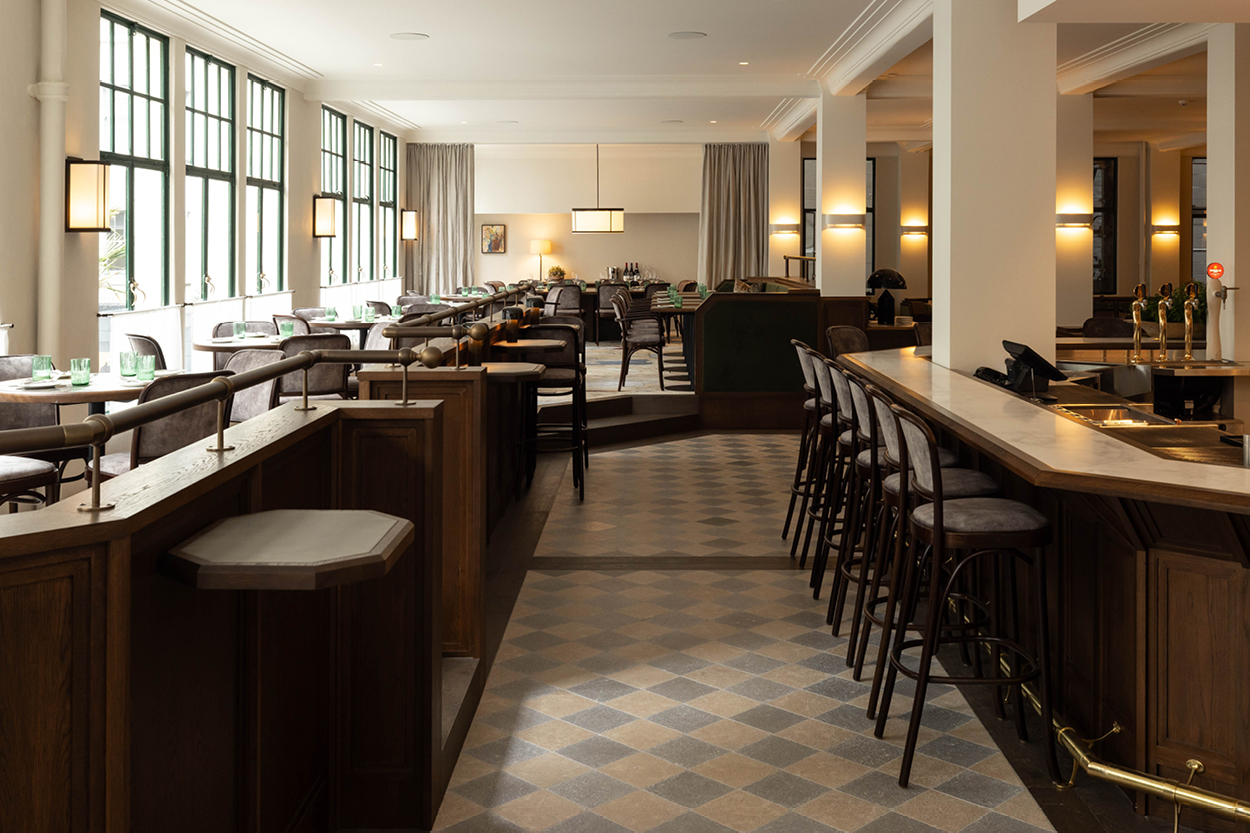 What kind of experience do you want people to have at Gilt?
We want it to be a busy bustling space for our guests to enjoy — a place that quickly becomes
comfortably familiar, where excellent service, delicious food and great company collide.
Finally opening Gilt is the realisation of a longstanding dream. We've always wanted to create a brasserie and this site has been on our minds for over four years. People keep telling us Auckland needs another lively and relaxed dining spot so that's what we wanted to deliver. There is also something so exciting about the prospect of revitalising this pocket of Auckland City. It really is a
storied neighbourhood and we love bringing such an iconic building back to life.

Bookings for Gilt Brasserie can be made here and are available from its official opening day on Wednesday the 18th of October. Bookings are encouraged but if you head along early enough, Gilt will have a section dedicated to walk-in guests for spontaneous drop-ins and easy catch-ups.
Opening Hours:
Monday to Saturday, 11:30am until late
Gilt Brasserie
2 Chancery Street
Auckland, 1010