There is a proverb that says 'gifts reflect those who give them'. Therefore, should the gift itself be thoughtful and meaningful, a joy to behold in both packaging and product, then the resulting reflection is bound to be very favourable indeed.
A time for conscientious gifting choices is undoubtedly Chinese New Year, also often known as Lunar New Year or Chinese Spring Festival. Fast approaching on the 1st of February, this year, it's Year of the Water Tiger — said to be a year of many changes. Whether in your personal life, your relationships or your career, experts say 2022 is the time to be bold if you're yearning for a new direction.
For those who celebrate, it's a time to get together with family and friends, to eat special dishes and, of course, to give gifts. For the Scotch lover, there is no more thoughtful gift for toasting Year of the Tiger than The Macallan's exquisite new single malt whisky: A Night On Earth In Scotland.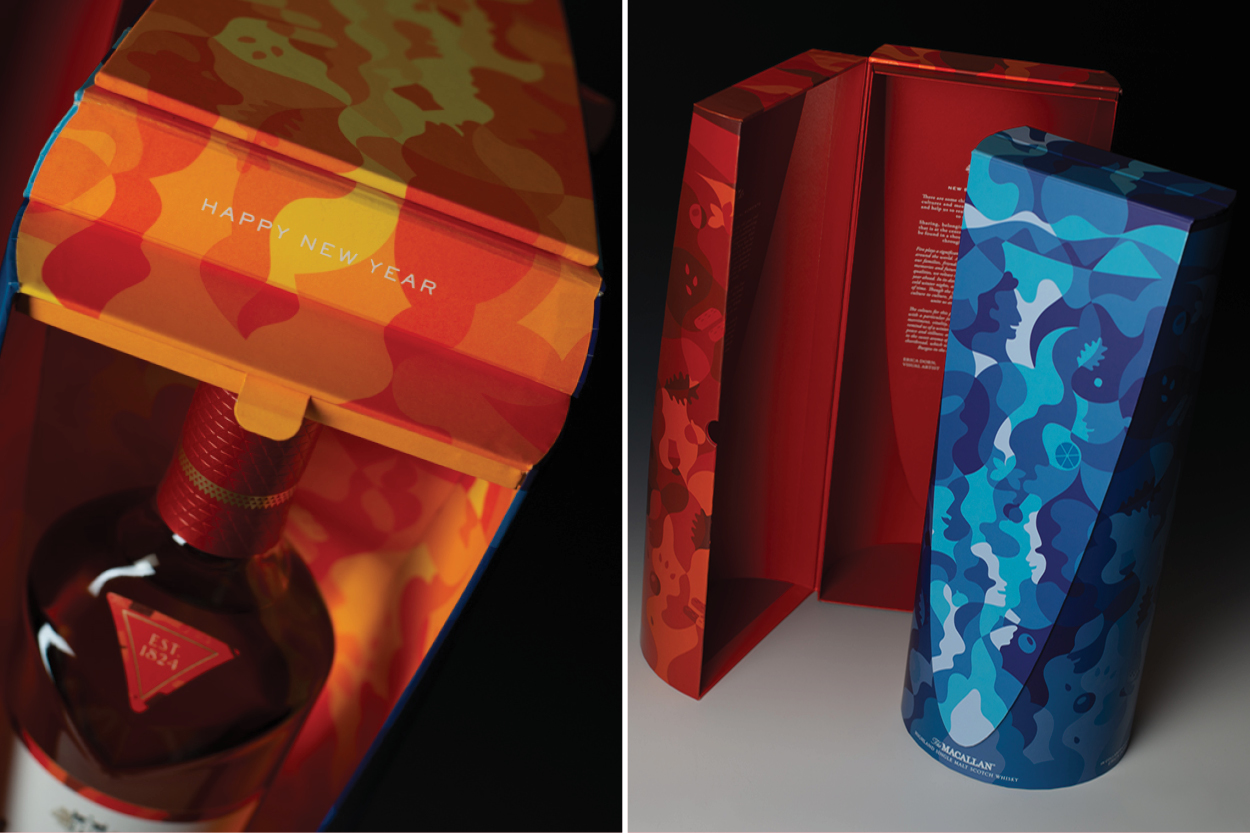 As the first in its new, annual limited-edition gifting series, A Night On Earth In Scotland was originally inspired by the particular story of Scotland's traditional Hogmanay (New Year's Eve) festivities. However, celebrating special occasions with loved ones is a globally resonant theme — especially when so many of us have been feeling the distance from our families and friends.
This limited-edition drop spares no detail in its luxurious execution. Before we even get to the amber-glowing bottle, the multi-layered packaging itself is a masterpiece. It is decorated with eye-catching motifs by Erica Dorn, a talented graphic designer and illustrator who works regularly with famed director Wes Anderson.
Dorn's abstract, playful illustrations capture historic fire rituals, dominant in new year festivities around the world — including Lunar New Year, with its lantern festival and firecrackers. The stunning outer case is red, a shade that also symbolises wealth and prosperity in Chinese celebrations, and opens to a night sky-inspired indigo inner package.
Inside, the single-malt awaits, a richly redolent expression of the craft. The Macallan's Lead Whisky Maker, Sarah Burgess, has created a multi-faceted whisky. Its butter-rich aroma encompasses vanilla, baked apple and biscuits, plum and almond; the soft, velvety sweetness of its palate is reminiscent of shortbread. The moreish, biscuity character is thanks to The Macallan's American and European oak casks, which are sherry-seasoned, as well as American ex-bourbon barrels.
This special release from The Macallan is designed to pay homage to the hopes and dreams of those who have attended festive celebrations — both in times gone by, today and those to come. With the Tiger symbolising courage and vigour, ambition, enthusiasm, self-confidence and commitment, we can't think of a better (and more delicious) way to say "cheers" to embracing these qualities for the coming year.