Despite new eateries popping up left, right and centre in Ponsonby's foodie hub, Ponsonby Central, it's the most recent addition, The Hidden Village, that many have their eyes on. Aucklanders are no strangers to Asian cuisine, but the Filipino variety is still relatively unknown, and The Hidden Village is serving Pinoy fare with a modern and Western-fusion spin.

With a modern, pristine space The Hidden Village is tucked in the back of Ponsonby Central and neighbours Olas Arepas. Featuring stone countertops and warm shaded wooden tables, the look of the eatery is classic yet timeless. While the menu is condensed down to a single page, there is a wide variety to choose from. Noodles, rice, salads, meat, seafood and sweets are all elements that feature, ensuring there is bound to be something for everyone to enjoy.

A highlight from the menu, the savoury pancake is not like the usual French galettes that we're used to, but that's not to say it isn't delicious. The thin, crispy crepe is rolled and filled with vegetables like shredded carrots, cucumber, sprouts, herbs and spring onion. The freshness is followed by flavourful fried tofu and crispy fried shallots, along with a drizzle of sweet and spicy sauce to lend the dish a tangy element.

The satay chicken skewers are also an absolute winner. The chicken has been chargrilled for a smoky aroma and the satay sauce clings to the chicken, making each bite packed with flavour and succulence. The final sprinkle of crushed peanuts and fried shallots adds a crunchy texture and nuttiness to the dish. The mie goreng is another favourite of ours, where, within the bed of chewy egg noodles, you will find slices of sausage and thick cuts of juicy steak. The noodles have been laced with scrambled eggs along with bean sprouts, herbs and vegetables and like the satay skewers, boast a sprinkle of nuts that finish the dish with the perfect amount of crunch.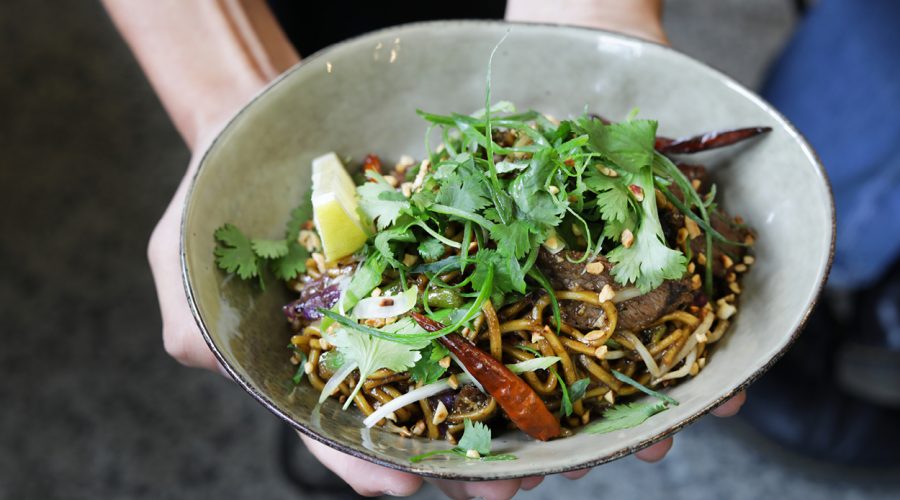 The standout dish at The Hidden Village is its dessert, the turon — a traditional Filipino dessert that is quite a rare find in Auckland (especially one of this quality). For those unaware of what a turon is, it's a deep fried banana, wrapped in a thin pastry and is loved for its natural, caramelised sweetness. This one is elevated by the addition of jackfruit and a side of almond praline for extra sweetness and texture. To make the dessert more decadent, a scoop of vanilla ice cream accompanies it, sitting on top of a bed of cookie crumble which melts all over the freshly fried banana when the two are mixed. If you're a dessert lover, this one's for you.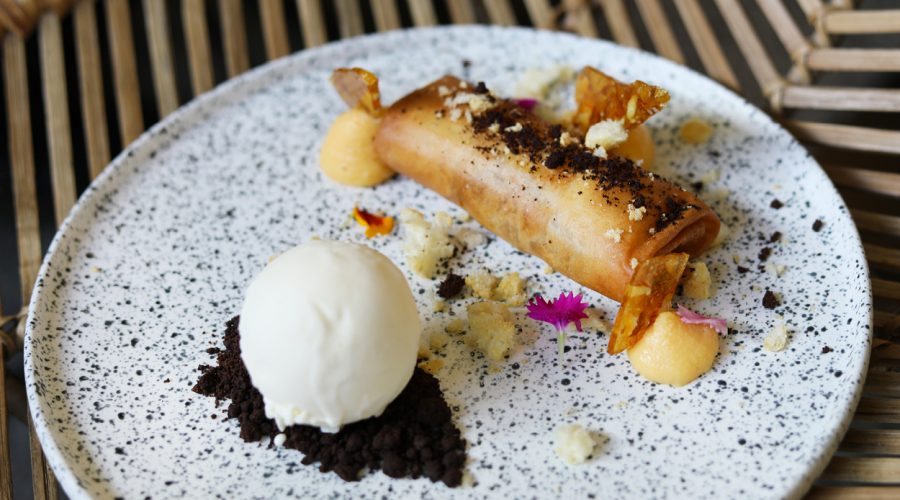 The Hidden Village is showcasing a side of Asian flavour not often seen in Auckland. The menu also features other traditional Filipino dishes such as chicken adobo and tokwat baboy which are usually quite hard to come by. With a comprehensive menu of drinks that includes wine and classic cocktails, The Hidden Village is a spot fit for any occasion — from a quick lunch break to dinner with friends.

Opening hours:
Monday – Sunday, 12pm until late

The Hidden Village
Ponsonby Central
136-146 Ponsonby Rd
Auckland
022 173 4472