Times like these call for all the comfort we can get — and that includes of the culinary kind. If it's gloomy outside and morale is generally gloomy, too, then warming the belly and the soul with a comforting meal is more appreciated than ever. Luckily, while restrictions are stopping them from opening for dine-in, our favourite restaurants are offering takeaways for us to tuck into — from perfect pasta to moreish meat dishes and more, here are the most comforting takeaways in town.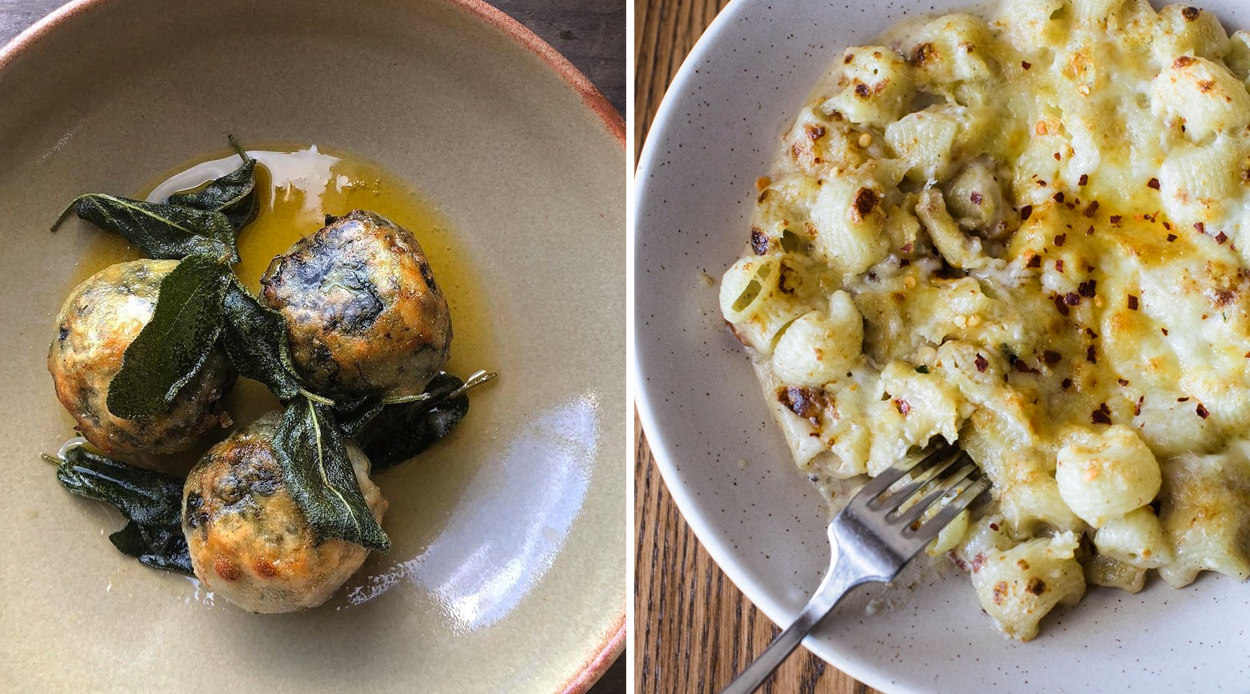 Craving pasta?

Pasta e Cuore
Mount Eden's fresh pasta masters are open again for contactless pick-up during the alert level 3. They have irresistible ready-to-eat mains for you to whisk home, such as tagliatelle al ragu, tortelloni with butter and sage, and gnocchi al Pomodoro. You can also pick-up fresh pasta and sauces to make yourself at home, plus pre-cooked meals to warm up, such as meatballs, lasagna and focaccia, and desserts. Pick-up is between 11 am and 7.30 pm and the online ordering system is available 24/7. Order online here.
Pici
The pasta heroes at Pici have pasta kits that you simply heat at home, a welcome addition to any household craving the comforting taste of handmade pasta. On the menu, you can expect the likes of rigatoni with pork and fennel rags or bucatini, butternut, sage and salted ricotta. There's also ready-to-eat focaccia, olives and other sides, plus wine, dessert (that beloved cheesecake!), fresh pasta and a selection of deli items including their Extra Virgin Olive Oil. Available for pick-up and delivery within central Auckland. Order online here.
Ada
Ada is open Friday, Saturday and Sundays during level 3, 4pm — 8pm for piping-hot, contactless pick-ups. We're making sure we have room for both pastas — currently ricotta cavatelli with zucchini, mascarpone, pinenuts and razzoletti with beef cheek, fennel, chives, the flavours of which are likely to change. A side of its signature pizza frittas wouldn't go amiss either, topped with the likes of Ortiz anchovies with whipped ricotta or Nduja with taleggio and more. Order via text on 021 766 621, payment taken on pick-up and follow @ada_akl for updates.
Amano
As well as having its incredible sourdough and ciabatta, pastries, cakes, and tarts on offer, Amano has just launched hot, ready-to-eat takeaways straight from its kitchen including crowd favourite pasta dishes like Scampi Chitarra and Spaghetti Cacio e Pepe. These are available for pick-up on Friday and Saturday between 5 — 8pm. Order hot takeaways online here, and pastries and breads here.
Cotto
Praise the pasta gods, Cotto has brought back its takeaway offering, with the K'Road eatery open from Monday to Saturday, 5pm — 10pm. Pick-up a meal of its famous spinach and goats cheese dumplings, plus a pasta or two — we've got our eye on the Maltagliati lamb shoulder rags with chilli and fennel, and the tortellini with smoked mozzarella, spinach and pine nuts. Order online here.
Prego
In news that could not come pronto enough, Prego is open for takeaways during level 3 from 4:30pm — 8.30pm Thursday to Sunday. The team is working on a refined menu of its classics hits, including several pastas like spaghetti agioli, eggplant rigatoni, fettuccine alfredo and more. All orders can be made by phone (09 3763 095), with pre-orders welcome from midday. For more information, keep an eye on Prego's Instagram page, where updates will be posted and see the menu here.
Andiamo
Andiamo To Go is back, offering a tasty takeaway menu with contactless pick-up plus a dedicated picnic box menu. If it's pasta you crave, look no further than Andiamo's spaghetti with beef meatballs, or the macaroni and cheese with truffle and bacon. Orders can be placed between 4pm — 8pm, with contactless pick-up available from 5pm. ⁠Contactless delivery is also now available, serving Herne Bay, Saint Mary's Bay, Ponsonby, Westmere, Grey Lynn and Freemans Bay. Phone 09 378 7811 between 4pm — 8pm to place your order and make payment. Find the full menus here.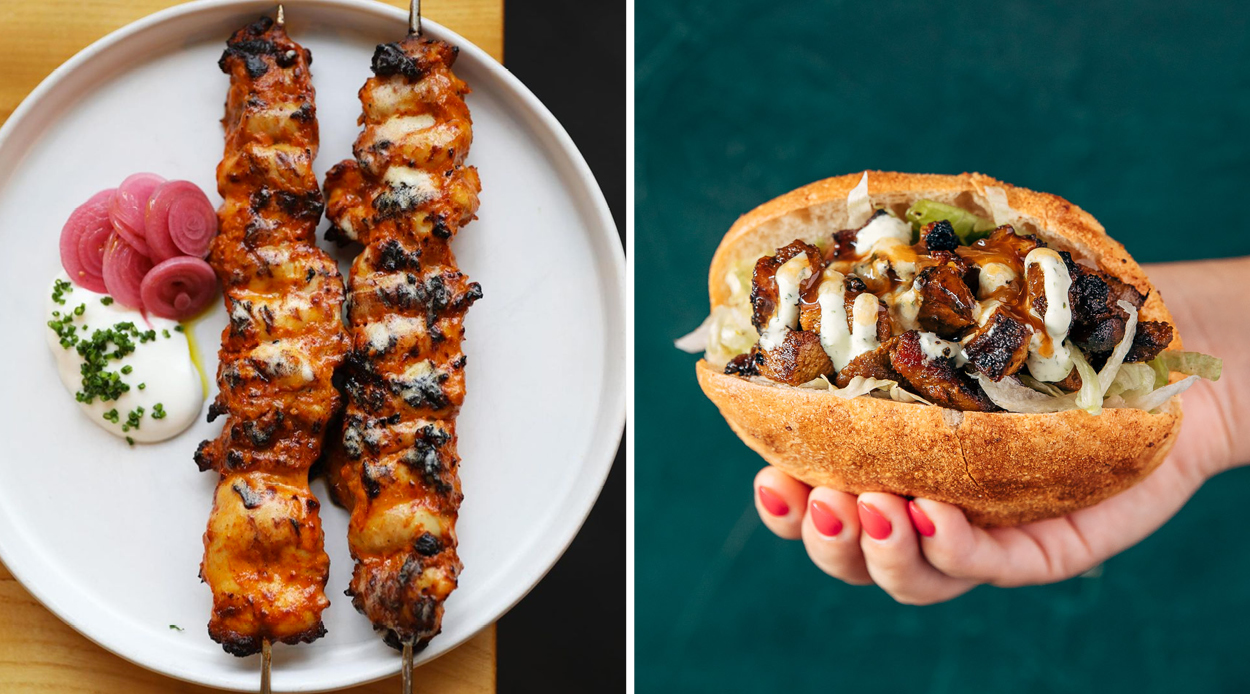 Moreish Middle Eastern flavours…

Gemmayze St
Those craving Gemmayze Street's ever-popular hummus will be pleased to know the Lebanese eatery is back for level 3, offering mezze boxes (with a variety of dips, sauces, homemade bread and the aforementioned hummus) and make-your-own wrap kits (including lamb shoulder or falafel) during the week, alongside a new weekend menu of lachmajun (Middle Eastern pizza) and kebab shop-style wraps. An at-home version of its jeeb menu includes three irresistible courses with mezze, mains and dessert. For something sweet, dark chocolate and halva (tahini nougat) brownie and pistachio baklava is not to be missed. Available for pick-up only, Tuesday — Sunday. Order online here.
Williams Eatery
This Wynyard Quarter cafe has us sorted for lunch with mouth-watering sweet and savoury goods, plus Flight Coffee for a much-needed caffeine fix. Offering up Lebanese pitas, stuffed with either falafel or chicken shawarma, pickles, hummus and salad, plus mezze bowls, indulgent extras like shawarma fries and more, we recommend paying these guys a visit between 9am and 1:30pm, Monday to Friday. Orders can be made via DM on the Williams Instagram; email — [email protected]; or at the front door.
Fatimas
For those in need of their Fatimas feed, online ordering will be available for contactless takeaways from its Ponsonby and Takapuna stores. Fatimas full, fresh menu is ready-to-go, as well as Make Me Chawarma Kits and gift vouchers. Order and shop online here.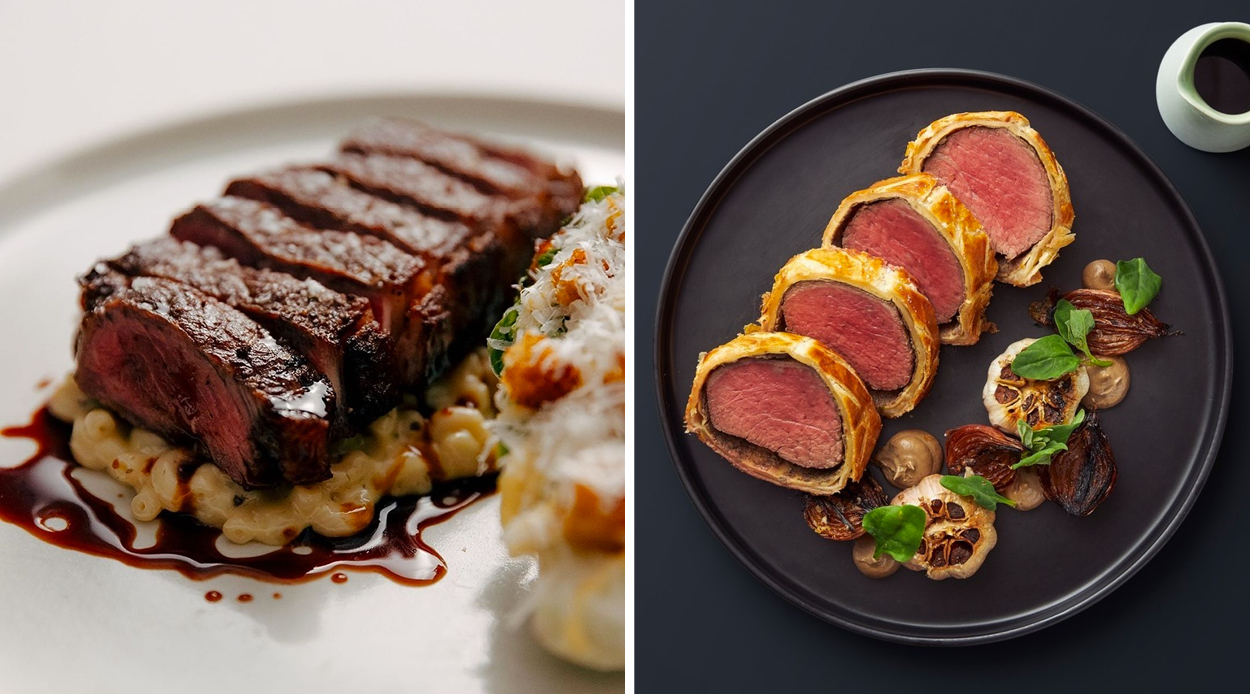 Mouthwatering meat dishes…

Ostro
Ostro's selection of take-home comfort food is just what we need to get through these times. There's the famous Beef Wellington, designed to serve two, it comes with all the delicious trimmings — confit garlic and onion, potato gratin, horseradish creme fraiche, mustard and jus. We also wouldn't turn our noses up at the delectable Ostro Harmony pork belly roast, the free range chicken pie or the lobster, prawn and snapper pie. Order online here.
Jervois Steak House
Our favourite steak house is offering contactless pick-up. With a curated takeaway menu of all your favourites, including crispy calamari, duck liver parfait, forest mushroom pappardelle, salads and dessert, the range of signature meat cuts also available means you won't find a better steak anywhere else. Available from 5pm for dinner, and orders can be placed between 4pm – 8pm. Phone 09 376 2049 to place your order and payment.⁠
Homeland
As well as a range of pantry staples like granola, kawakawa pesto and snacks, Homeland has meals to go — some of which are ready to eat and others can be heated at home. Its large cuts of meat to share are catching our eye currently — we're talking half or whole boneless Hawke's Bay lamb shoulder, gently spiced and slow roasted for reheating at home. It comes served with a greek-style salad. There's also a slow-braised, whole Greenlea beef cheek on offer, with celeriac and chimichurri sauce, or Hāngi pork belly, served with tamarillo relish. See Homeland's full menu and ordering details here.
Cazador
Order online for pick-up hampers of Cazador's famous housemade charcuterie and cheeses, and prepare-at-home, multi-course feasts including dishes like spatchcocked, roasted quail, saffron and chorizo rice, organic greens with sherry and raisins, and dessert. For take-out on the 23rd of October, Cazador has a hot, ready-to-devour meal of roasted, marinated lamb served with dill rice and tzatziki, with the option to add Greek salad, coal-fired pita bread and pistachio baklava for dessert. Find the full selection here.
Brothers Beer & Juke Joint BBQ
For ribs, wings, beef brisket and more, look to the citywide southern style BBQ slingers at Juke Joint. They deliver vacuum-packed meals, sides and craft beer every Friday afternoon and are also doing click & collect and UberEats deliveries of hot, ready-to-eat bites from five sites (Birkenhead, City Works Depot, Mt Eden, Ōrākei and Onehunga) throughout the week. This includes almost the full menu, such as moreish meats, sides and sharing plates, plus you can find craft beer on the website to wash it down (and at all good liquor stores and supermarkets). Order online here.
The Engine Room
North Shore neighbourhood bistro The Engine Room is serving up click and collect takeaways of delectable heat and eat meals. Order at least 24 hours in advance and you too could enjoy the likes of duck confit, beef cheek bourguignon or five-spiced pork belly. There are also additional items for order like a bake-at-home version of the iconic cheese soufflé, and a daily dessert. Find menu and ordering details here.