While keeping things fresh and exciting is the mark of any good restaurant, there is often one dish so beloved it would cause an uproar if it were to disappear from the menu. From tried-and-true staples to new indulgences, these dishes are a must-order, whether it's your first time visiting or your fiftieth. Without further ado, discover Auckland's top 10 favourite dishes, as voted by you in the 2021 Denizen Hospo Heroes presented by American Express.
1. WINNER: Hummus from Gemmayze Street
Simple is often best, and the sentiment couldn't be truer for your top, favourite dish. Unbelievably smooth, slightly tangy, and imparting an addictive crunch with every whole fried chickpea, while hummus may be a humble dish, judging by the landslide win in this category, Gemmayze Street's is clearly something you can't get enough of.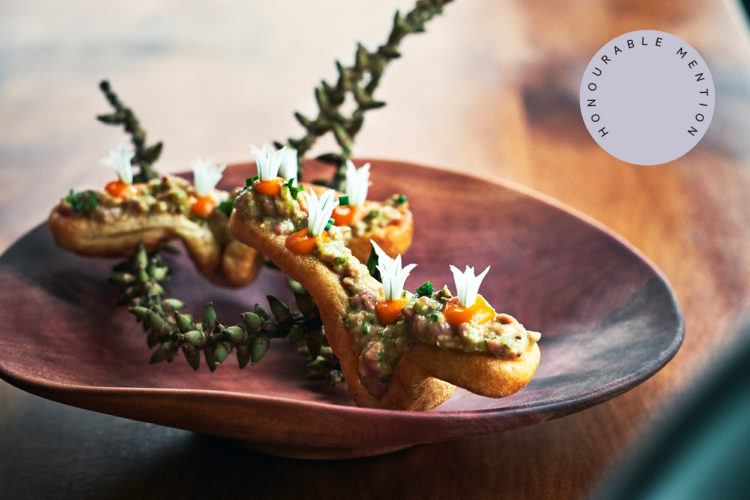 2. HONOURABLE MENTION: Tahr tartare from Ahi
A snack we keep returning to time after time, these morsels are the perfect way to kick off a meal at Ahi, comprising finely diced tahr (a wild goat-like game) and fermented hot sauce on small, undulating choux pastries. Not just a clever play on words, Ahi's tahr tartare has become somewhat of a gateway dish for those trying tahr for the first time — and what a delicious introduction it is.
3. HONOURABLE MENTION: Milk bun from Gochu
Fans of modern Korean restaurant Gochu will know you have to get in quick to get your paws on one of its pillowy milk buns. Filled with an addictive mixture of spicy pork and kimchi and served with luxurious beurre blanc sauce, this is the naughty dish we can't get enough of.
THE TOP 10: The Rest of the Best
4. Scampi Chitarra from Amano
5. Kung Pao Chicken from White + Wong's
6. Volcano Sushi from Azabu
7. Sweet & Sour Pork from The Blue Breeze Inn
8. Lobster Roll from Lobster & Tap
9. Prawn Toast from Hello Beasty
10. Roast Duck from Culprit
Discover the full list of 2021 Denizen Hospo Heroes winners in our new Winter issue, on sale now.