It's no secret that we are regular customers of the restaurants at SkyCity as they consistently provide some of the best food and dining experiences that Auckland has to offer. It seems us Denizens visit at least one restaurant under the SkyCity empire on a weekly basis and just like any ritual, it's easy to fall into a habit of ordering the same, signature dishes to ensure an experience that levels up to the one before. However, we have discovered a number of dishes that have us reconsidering what we order. Next time you find yourself dining at one of these restaurants, step outside your comfort zone and order the following.

Smoked fish toasts from Depot
Al Brown's restaurant Depot serves no-frills Kiwiana cuisine and it could be considered almost abnormal if you haven't dined here. The iconic Auckland eateries signature dishes include the bone marrow, sugar pie, pork hock, and the ever-so-popular, fish sliders. Having hired a new head chef, Edward Baillieu, Depot's menu has been undergoing some changes with new and creative dishes. The smoked fish toasts with crème fraîche tartare, pickled shallots and dill are a game-changer and we hope these stay on the menu, for good.

Deep-fried home-made tofu Huami
When you think of Huami, it would be fair for the fruit-wood roasted duck to first come to mind as it is, without a doubt, their most popular item on the menu. However, the deep-fried home-made tofu can not go amiss. The tofu has been topped with spinach and deep-fried for a slightly crispy exterior while the inside is unbelievably soft and almost like custard. It's mind-blowingly good and paired with juicy mushrooms that burst in your mouth each bite, you really can't go wrong.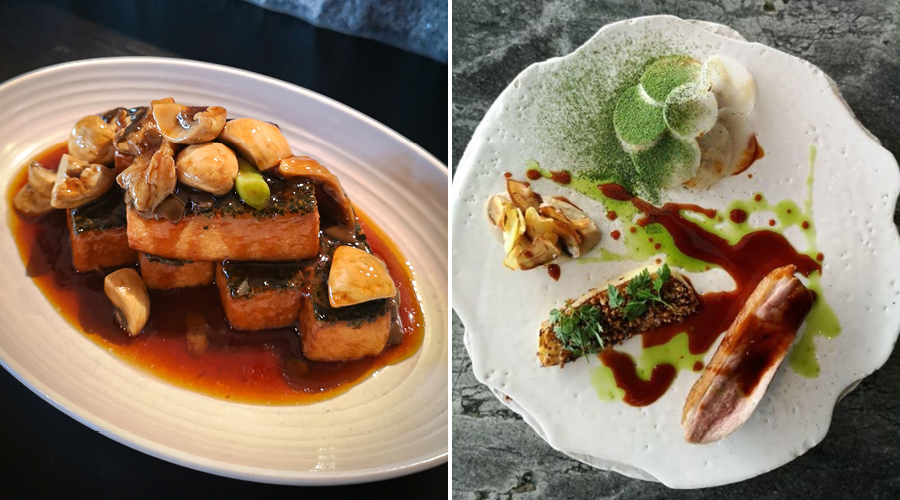 Cambridge duck breast from The Sugar Club
The crayfish linguine has been on the menu at The Sugar Club for as long as we can remember and has become the signature dish of the fine-dining restaurant. It's buttery, aromatic and most certainly one of the best pasta dishes in town, but the Cambridge duck breast is just as tasty and deserves as much recognition. The complementing elements change depending on the season and available ingredients, but the duck always boasts a deliciously succulent flavour. It's served with a duck bolognese that is loaded with tangy and punchy flavour to cut through the richness of the fatty duck breast and melt-in-the-mouth skin.

King Crab hotpot from MASU by Nic Watt
This Japanese restaurant earned its reputation for being one of the best Asian restaurants in Auckland, especially renowned for its Alaskan King Crab leg with smoked wasabi lime butter. After ordering this numerous times, we can confirm that it's absolutely divine, but so is the King Crab hotpot. It's served with wasabi tobiko, fennel, lemon, ginger and is somewhat more comforting and hearty while being just as flavourful as the leg.

Cloudy Bay Clams spaghetti from Gusto at the Grand
Another top-class restaurant by Sean Connolly — Gusto at The Grand made waves in Auckland's dining scene for serving gorgeous and authentic Italian cuisine. The Orgy of Mushrooms with ricotta gnocchi is what we usually go for, but recently, we tried the Cloudy Bay Clams spaghetti and we're not turning back any time soon. The spaghetti has been doused in garlic and chilli while the clams have a clean, ocean aroma and the sprinkle of 'poor man's parmesan' adds a creaminess to the zesty sauce.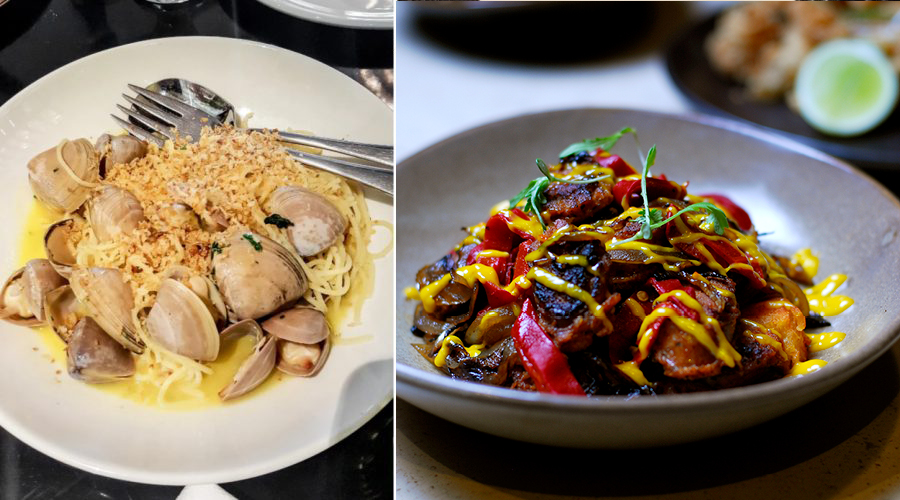 Chorizo from Bellota by Peter Gordon
Regarded as the pioneer of fusion food, Peter Gordon is a culinary master of many cuisines and his Spanish tapas bar, Bellota, only validates his talents as a chef. Everyone raves about the fried goat's cheese balls and we agree that they are morsels of deliciousness. However, a night at Bellota would feel incomplete without their home-made chorizo. The juicy, flavourful sausages are paired with deep-fried potatoes, charred onions, saffron alioli and tangy piquillo peppers for an extra kick that is impossible to fault.

Duck, Duck, Duck from The Grill by Sean Connolly
It would only seem appropriate to order a steak at one of Auckland's most reputable steak restaurants. But, if you've already dined at The Grill and had the full steak experience, we suggest you go for something a bit different. Let us recommend the Duck, Duck, Duck. Staying true to its name, this dish features duck in its tastiest form with the skin that melts in your mouth and a crispy spring roll that lies over the plate. It's also paired with roasted baby beets to offer the dish some earthiness, acting as the cherry on top.