Liv Glazebrook, the baking genius behind Kitchen of Treats (and our favourite ANZAC biscuit recipe), has very kindly shared with us her latest creation ⁠— a gloriously sticky, sweet and chewy ANZAC caramel slice. Silky smooth caramel is paired with an oaty base and just the right amount of texture from the crispy crumble topping. And while we don't deny that the classic ANZAC biscuit is timeless, this decadent slice is offering a fresh take on tradition, and is the perfect thing to whip up this weekend.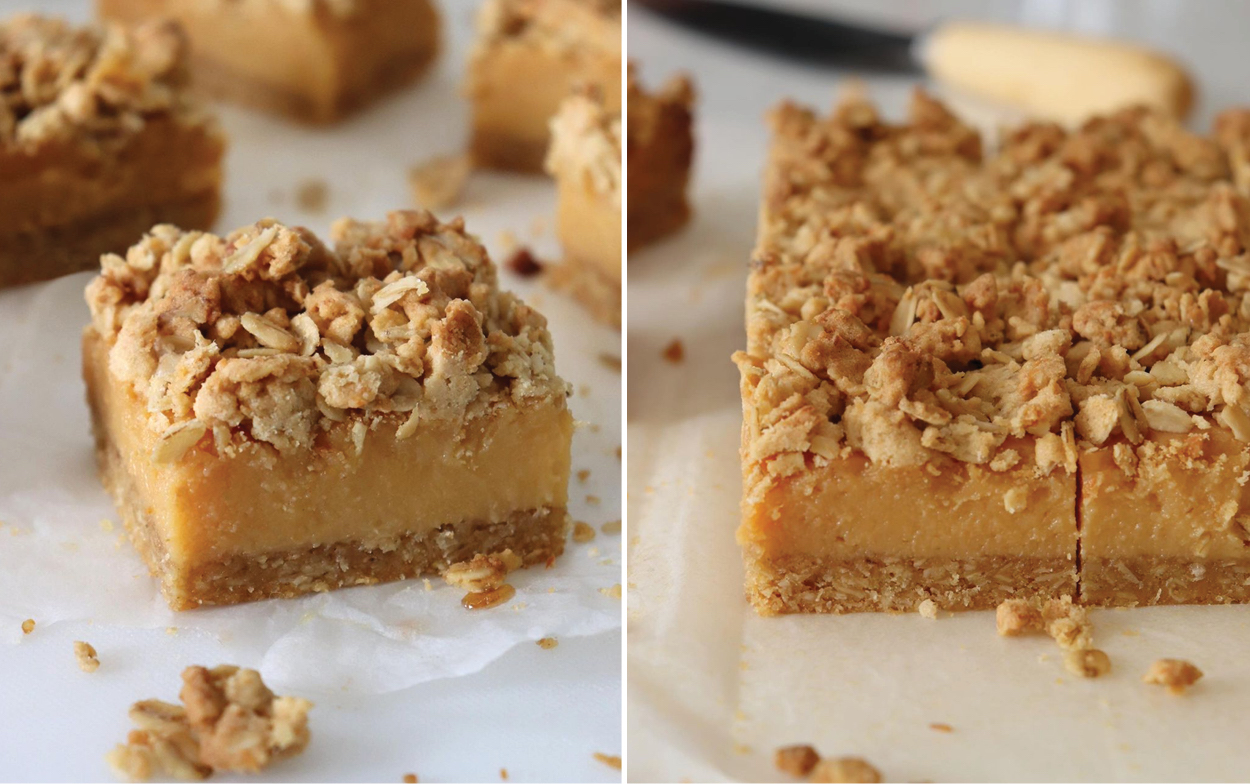 Kitchen of Treats ANZAC Caramel Slice
Ingredients:
For the caramel:
225g butter
2x tins (395g) condensed milk
4 Tbsp golden syrup
For the oat mixture:
250g butter, softened
165g brown sugar
1 tsp baking powder
225g flour
135g rolled oats
60g desiccated coconut
½ tsp salt
+ 40g whole oats (optional)
Method:
1. Preheat the oven to 160C.
2. Line a 20 x 25cm slice tin with baking paper.
3. Melt filling ingredients together in a medium sized saucepan until the butter has melted. (NB. Do not boil – the mixture catches easily and will burn.) Remove from the heat and set aside to cool slightly.
4. To make the oat mixture, cream the butter and brown sugar until pale and creamy. Sift in the flour and baking powder then add the oats, coconut and salt. Stir until combined.
5. Add ¾ of the oat mixture to the base of the tin and press into an even layer. Mix together 40g of whole oats with the remaining oat mixture & set aside.
6. Pour the caramel over the base, then bake in the oven for 15 minutes, remove from the oven and crumble the remaining oat mix lightly over the caramel filling.
7. Return to the oven for another 30-35 minutes until the edges of the slice and the crumb are golden.
8. Remove from the oven and allow to cool completely before chopping into squares.
Liv's Top Tips:
– I like adding the whole oats into the topping for extra oaty texture, but not necessary. You could also add walnuts (or some dark chocolate!)
– Make sure the baking paper covers the sides of your tin to avoid a sticky mess.
– For a gluten free slice, sub flour with Healtheries baking mix & use GF oats.