Perfectly timed to coincide with the beginning of the summer season, with its long, sun-soaked days and leisurely evenings ahead, G.H. Mumm has revealed its latest sparkling wine, giving us yet another reason to celebrate.
In an industry-first, the innovative French Champagne Maison has looked to Central Otago — a region celebrated for its outstanding pinot noir — to create Mumm Central Otago Blanc de Noirs. The release marks the first time a Champagne house has collaborated with this particular region to produce a sparkling wine, and the results are exceptional.
Building on G.H. Mumm's 200-year history of crafting pinot noir-forward wines, Central Otago was an obvious addition to the Maison's Terroirs Collection, which celebrates the true sense of a region and the uniqueness of its terroir. Boasting some of the most southern vineyards in the world, Central Otago's surrounding mountain ranges and cool climate combine to create the perfect conditions for growing outstanding pinot noir, that thrives in temperate climes.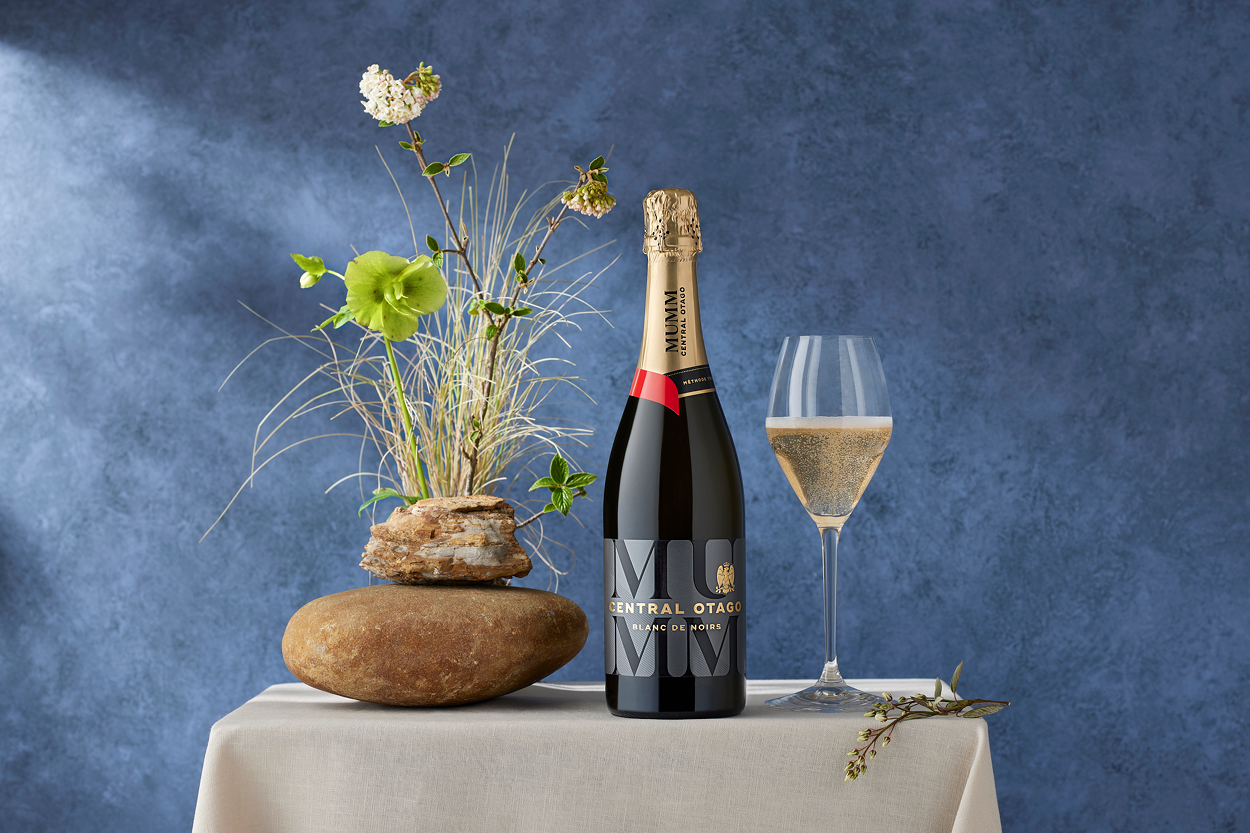 Under the stewardship of Chief Winemaker Jamie Marfell, combined with the G.H. Mumm
pinot noir savoir faire, the Blanc de Noirs is produced using méthode traditionnelle, the same process used by Maison Mumm when crafting its world-renowned Champagne. As Marfell tells us, "By picking early for sparkling wine, we were able to capture the purity and essence that Central Otago pinot noir naturally produces while maintaining the juicy, natural acidity that forms the backbone of this wine." He continues, "Rather than creating a style that was all about the fruit, we wanted to add a little bit of complementary complexity… which was an exciting brief… so in our process we used 20 percent wild fermentation, to add layers of flavour, and 20 percent oak cuvee fermentation, which adds a richness and creaminess to the blend."
The resulting wine is one of finesse, power and elegance, with complex aromas of black cherry and red plum, complemented by toasty notes of brioche. The palate is elegantly structured with delicate fruit flavour, a fine creamy texture and refreshing natural acidity, while the finish is fresh with lingering flavours of citrus and nougat with a refreshing mineral acidity. As Marfell reveals, "Developing Mumm Terroirs' Central Otago Blanc de Noirs took time and patience… but the hard work has paid off, and we are thrilled to be able to showcase the craft of G.H. Mumm alongside the exceptional fruit from Central Otago."
Mumm Terroirs was created in collaboration with Champagne house G.H. Mumm and renowned producers Pernod Ricard Winemakers. The collection is the result of passionate winemakers sharing their expertise and local knowledge to produce a modern sparkling wine using time-honoured techniques to highlight the terroir and pinot noir varieties. "I'm just privileged to be associated with the marriage of two iconic brands," Marfell tells us. "The G.H. Mumm legacy is built around producing Champagne that is pinot noir dominant, and with the release of this wine, I feel I am respecting this legacy… being 100 percent pinot noir, it also shows how Central Otago can make a world-class sparkling wine."
Mumm Central Otago Blanc de Noirs is available here, so be sure to stock up ahead of the summer season.