Previous only available online, Pizza Presto has opened its first bricks and mortar store in the heart of Auckland City. Located on Commerce Street (in the same space that was once home to New Zealand's first Sal's Pizza), Pizza Presto is continuing the building's legacy, with its metre-long pizzas, specially made-dough and ever-changing, seasonal toppings.

Although the pizzeria opens at 7am, Head Chef and Owner, Mitchell Ross (also referred to as the 'Dough Nut') is in the kitchen from as early as five in the morning, rolling out his special dough recipe which only comprises four simple ingredients — flour, yeast, salt and olive oil. Ross' dough is a source of pride for the chef and boasts a thick base and crust while managing to remain airy, fluffy and light.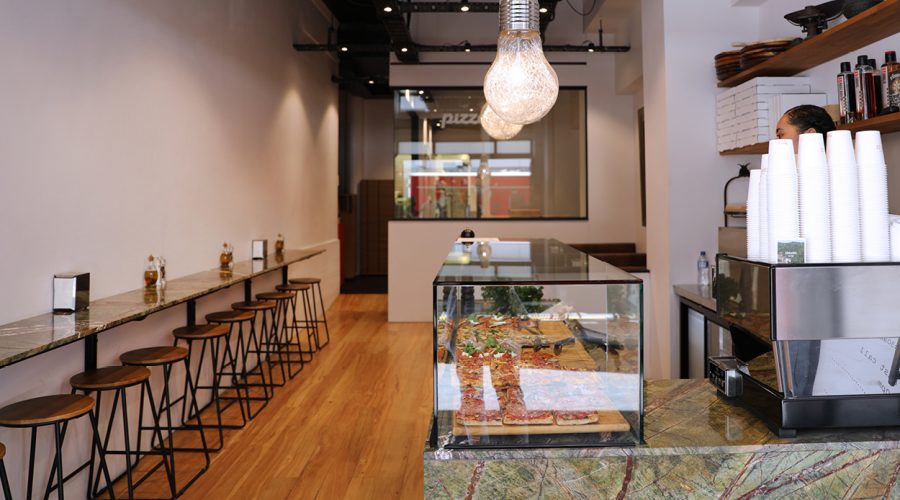 When the business was online, it was offering whole pizzas only, but now, the walk-in shop has allowed Presto to sell by the slice, too. And while the toppings on the pizzas in the cabinet change daily, on the menu, classic combinations like tomato, cheese and oregano abound, while others err on the more creative side. One of our favourites is the smoked fish and cheese — Pizza Presto's rendition of the classic fish pie. Imbued with a smoky flavour and enticing aroma, the toppings of this pizza are highlighted by the light and airy nature of the thick base. And despite the fact that cheese and meat are widely considered as pizza-topping staples, Presto always has vegan and vegetarian options available so anyone can get a slice to suit.

Pizza Presto has also managed to call on the crème de la crème of suppliers around Auckland to create its unique toppings. The different types of cheeses are sourced from gourmet food store Sabato and the meat is from Grey Lynn Butchers, renowned for its premium quality sausages which can also be found at acclaimed restaurants like Han and Saint Alice.

From early in the morning until 10:30 at night, Pizza Presto will be continuously churning out its tasty pizzas, so whether you're in need of a quick lunch, some quality catering, or just want to try a different style of pizza, this pizzeria's diverse menu and delicious offerings are bound to please.

Opening Hours:
Seven days, 7:30am until 10:30pm

Pizza Presto
8 Commerce St
Auckland CBD
0800 37 47 57