We love a hidden gem, and nestled in a tiny block of shops in the suburbs, Young George is providing the neighbourhood with great coffee, tasty bites and friendly chats.
The brand new cafe opened last week in Mount Albert, much to the joy of any locals craving an expertly-brewed cup of joe — plus a woman who had driven over from Westmere during our visit because she heard from a friend the coffee was that good.
Helmed by George Bristow, Josh Young and Georgie Duncan, Young George is very much a family-run vibe, with the team all lending their hospitality expertise to the venue. Chef Young previously worked as head chef at Chinoiserie and Bristow as a barista at neighbouring cafe L'oeuf, while Duncan helped out at both and did a stint at Coco's Cantina.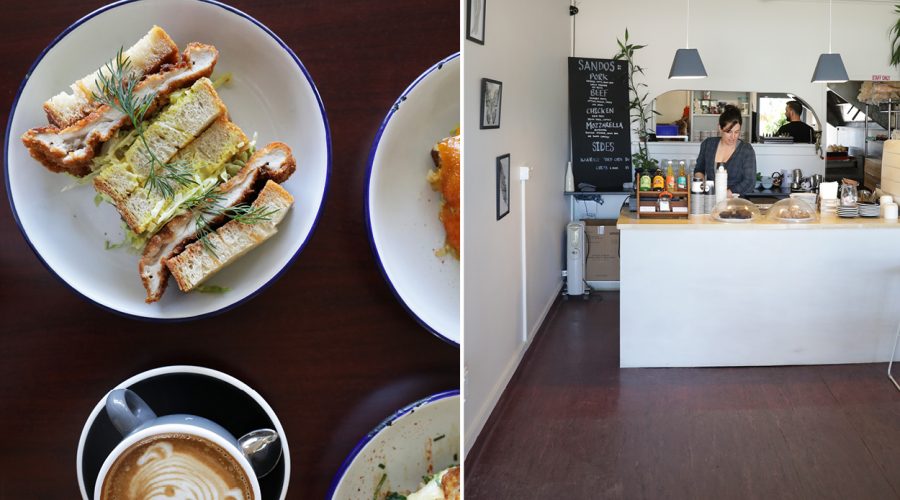 "Young George is about starting out small and growing with the community," explains Bristow. A humble operation with a fit-out by the owners themselves using mostly upcycled, secondhand furniture and even cooking ware, the interior of the cafe fits with the team's values of reusing and recycling where possible. It's something they'd like to extend to things like more outdoor furniture, a cup-swap system (negating the need for disposable takeaway cups) and eventually a commercial composting system.
The food offering is succinct but delicious, with a current focus on the sando — traditionally a Japanese street food — remixed in Young's inventive style (he is also the brains behind ghost restaurant Young Sandos, sold on Ubereats during lockdown). The chicken sando is unmissable, comprising juicy crumbed free range chicken slathered on one side with tonkotsu sauce and the other in a deliciously tangy mayo — reminiscent of Big Mac sauce or something similar — with iceberg, sandwiched between ultra-soft Japanese milk bread, toasted for a bit of crunch.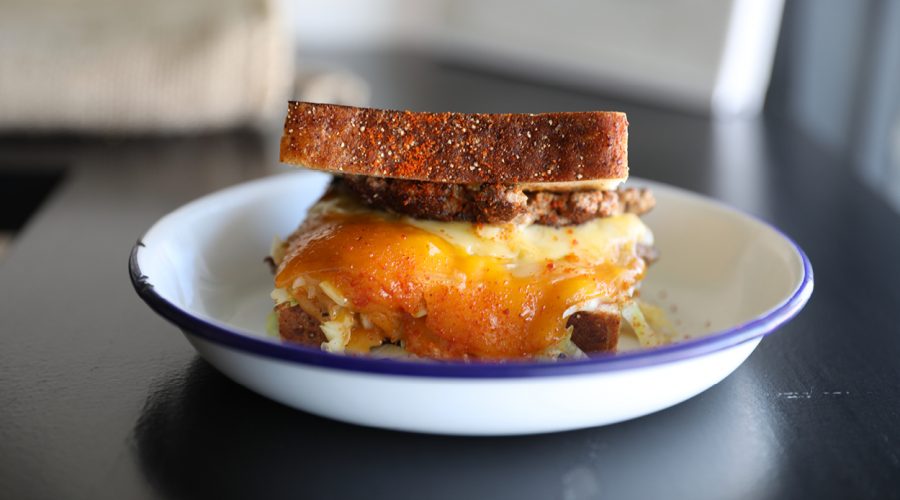 The beef sando will satisfy anyone with a craving to indulge; essentially a burger in a sandwich, beef patties are slathered in melted cheese with a subtle hint of chilli heat that lingers on the tongue. The mozzarella sando hits the spot between decadent and wholesome with housemade, melted mozzarella oozing over sauteed spinach and a potato rosti, finished with tomato relish. We also tried the karaage chicken, and can confirm it's delicous.
The team's aim is to provide a positive, welcoming space for the community to come together, to sit in the sun outside while their kids draw on the pavements with chalk. In this way, food and the places that serve it can be about so much more than just eating, and with Young George embracing this holistic philosophy, we think that's well worth supporting.
Opening hours:
Monday to Sunday: 7am – 3pm
Ed's note: There will be intense construction taking place in Mt Albert from the end of October, resulting in road closures surrounding Young George for several weeks. Follow their Facebook page for updates on how to access the cafe.
Young George
86A Hendon Avenue,
Mount Albert