Having just opened its doors this week in Parnell, Va Bene is bringing its own, elevated take on the friendly charm of Parisian and Italian wine bars to the neighbourhood.
Helmed by friends Paul Patterson, Esmeralda Kasmara and Brent Newdick, who all bring their global experience to the venture, Va Bene has set up shop in the corner site previously occupied by Kopio. An interior refresh is breathing new life into the space with a long, shared table that takes centre stage.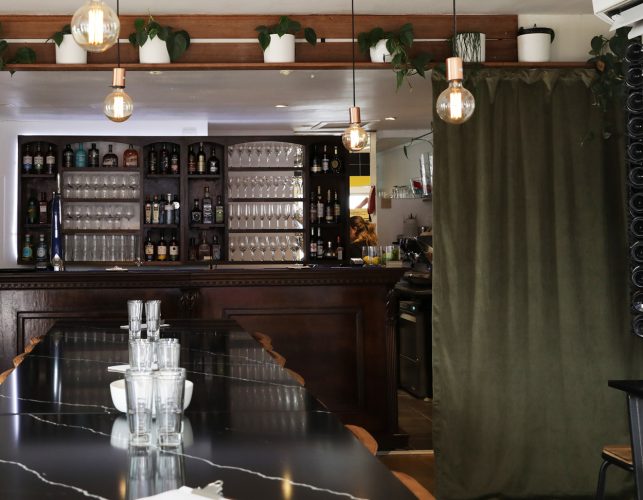 The trio brings a wealth of combined hospitality nous to the table; Kasmara was the renowned maître d' at Non Solo Pizza for years before opening modern Indonesian restaurant Bandung last year — nearby at 119 Parnell Road — while Newdick (the Olympic decathlete) owns Aperitivo cafe next door.
Chef and co-owner Patterson is in charge of the culinary side, having travelled back and forth overseas for years and worked with restaurants both here and in Australia, Paris and wider France. Head Chef Leo Hendra is also bringing his talents to the kitchen — he has recently arrived in the country with a CV that boasts experience at Michelin Star restaurants like Pollen Street Social in Mayfair, London.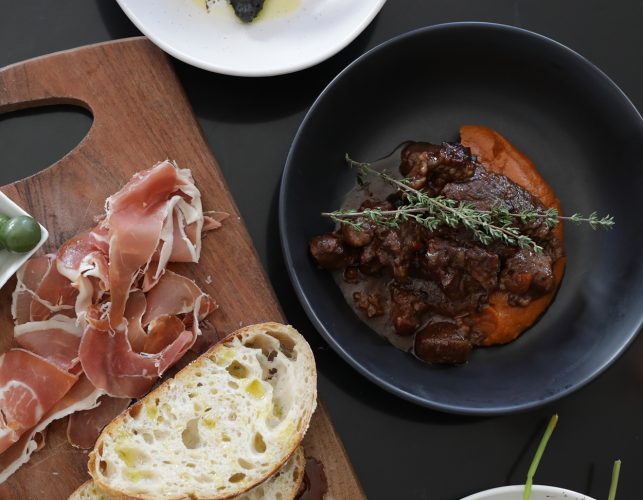 Va Bene's offering is inspired by both Patterson and Newdick's travels — as well as Patterson's overseas experience, Newdick spent a hefty amount of time training in Italy.
The darkly-marbled, shared table aims to encourage the camaraderie of bustling wine bars and aperitivo spots in both the European destinations, which the team is hoping will invite people to get to know their dining companions even if they didn't arrive together. There are also smaller, high tables around the edge of the room (the restaurant seats around 45) for those who prefer their own, controlled environment when dining out.
Food-wise, the menu centres on sharing dishes that can be ordered as either small or more substantial plates. "Big flavours, but really simple," is how it was described to me. Nothing is overly fussy, but it's high-quality, seasonal fare that delivers a substantial and satiating payoff.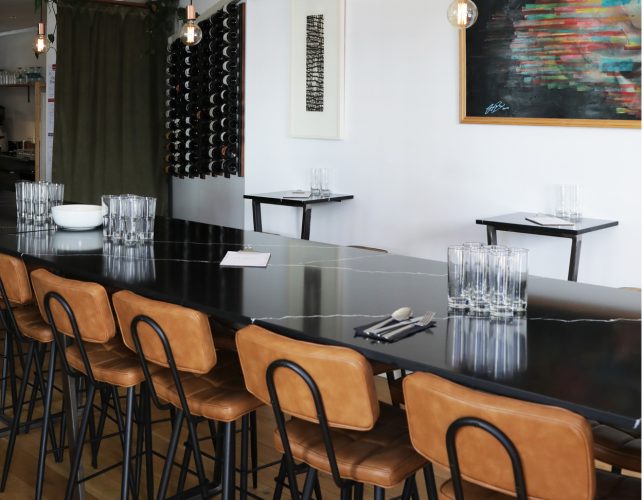 One of the first pieces of kit to be installed in the kitchen was a smoker, to be utilised for all manner of ongoing gastronomical experiments. It adds an unreal depth of flavour to an already delicious beef bourguignon, served with silky kumara purée. Wagyu beef bavette is expertly seared and served with a moreish burnt eggplant purée, while grilled halloumi joins a medley of smoked garlic and thyme; and parma ham sings with a fennel bulb, cherry tomato and citrus salad.
In terms of the drinks offering, Va Bene has enlisted the help of friends at acclaimed Parisian cocktail bar Le Syndicat, who have created a unique and boundary-pushing cocktail list for the Parnell venue. A comprehensive Champagne selection is also a focus, along with a varied offering of both local and international wines and beers.
Whether you're in for a glass of something good and a tasting platter, or a full meal of mouth-watering sharing plates, we're sure Va Bene's polished yet welcoming sensibility will see you in very good stead indeed.
Opening Hours:
Tuesday to Saturday: 12PM — 11:30PM
Sunday: 12PM — 4:30PM
Monday: Closed
Va Bene
131 Parnell Road,
Parnell