Despite the hardships of this year, it must be said we have been blown away by the calibre of eateries that have newly opened in our special town. With other major international cities back in lockdown or experiencing renewed challenges, we feel nothing but lucky to have such a plethora of incredible culinary choices on offer, and joining the ranks is a newcomer to get very excited about.
Conceptualised by top international chef Sean Connolly, who has recently returned from Sydney, Esther is bringing the beguiling flavours of the Mediterranean to Viaduct Harbour as QT Auckland's signature restaurant.
Open from today, the sophisticated European-style bistro serves breakfast, lunch and dinner, focusing on simple, approachable food that's bursting with flavour and cooked to perfection. Inspired by Connolly's overseas travels to sun-soaked locales, diners will find flavours derived from Sicily to Southern France to Morocco.
Beautifully fresh produce and daily-caught seafood are core tenets of the offering, with a substantial menu that caters to all manners of tastes. Breakfast spans the healthy and wholesome, to the substantial and satisfying. Start the day with a breakfast bowl with avocado, greens, roasted chickpeas, beetroot and barley; or a wood-fired breakfast flatbread filled with eggs, feta, mozzarella and ricotta.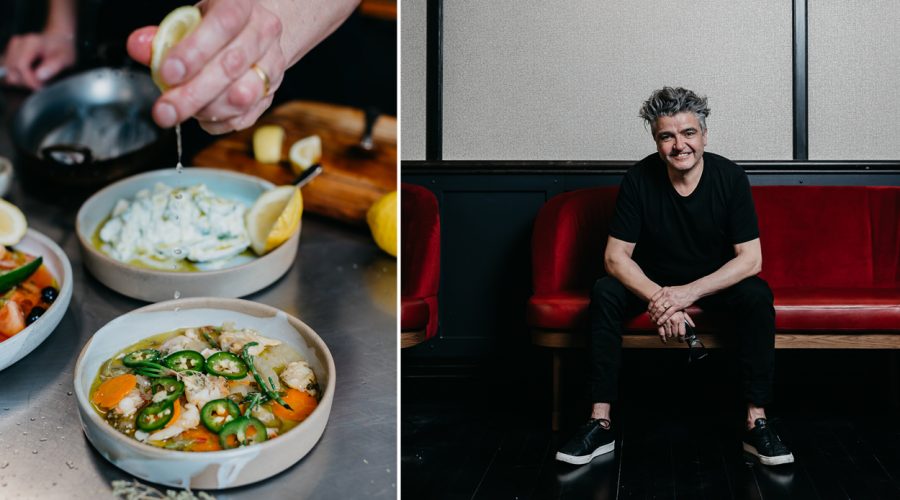 Lunch and dinner sees everything from snacks, stand-alone dishes and larger sharing meals well-deployed, with Esther's Mediterranean flavours weaving their mouth-watering spell throughout the menu. Start with hot puff bread from the oven, taramasalata, fire-roasted padron peppers, and stracciatella with salted egg yolk. Seafood like Pacific rock oysters, scampi crudo, and Cloudy Bay clams joins interesting small plates like baked sagnaki, a Greek fried cheese dish, served with honey and chilli, and classics like Sean's signature steak tartare with shoestring fries. 
There are enticing options for those craving pasta, and larger dishes encompass yet more delicious seafood, plus spatchcock chicken with harissa; aged grass-fed rib-eye and lamb tomahawk chops.
Alongside Esther's opening, QT Auckland also welcomes Rooftop at QT, boasting panoramic views across the harbour and an extensive cocktail menu. Sitting down for a flavourful feast at Esther, then slipping up to take in the prime outlook on the roof for a cocktail or nightcap, sounds like a pretty perfect meal to us.
Opening hours:
Breakfast: Monday to Friday: 6.30am – 10.30am;
Saturday & Sunday: 7am – 11am
Lunch: Monday to Friday: 12pm – 3pm
Dinner: 7 days, 5.30pm till late
Esther
QT Auckland
4 Viaduct Harbour Avenue