Anyone who's had the pleasure of staying at a QT Hotels & Resorts property in New Zealand or Australia knows what a unique and enjoyable experience it is. Now, those visiting Auckland can get familiar with the hotel brand's particular flavour of quirky luxury, as QT Auckland is now open and welcoming guests.
Joining its popular Queenstown and Wellington locations, QT Auckland is situated in the Viaduct Harbour, and builds on the company's philosophy of 'expect the unexpected', celebrating its city surrounds and reflecting the prime waterfront location.
With 150 rooms and suites, several public spaces and meeting rooms, plus a restaurant and rooftop bar, the design harnesses custom furniture and found objects to bestow a signature individuality to each of the hotel's spaces. We caught up with the man responsible for the fitout, designer Nic Graham, to hear about his inspirations for QT Auckland's interiors.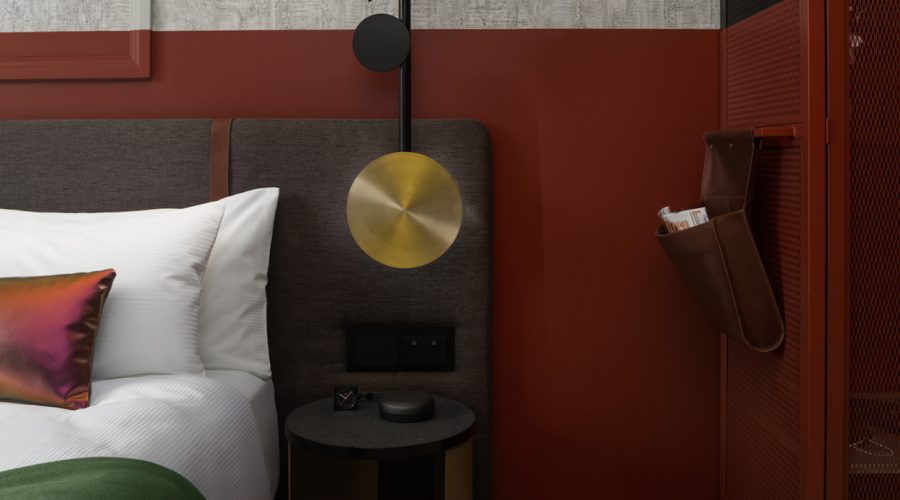 How did you go about setting QT Auckland apart from the Wellington and Queenstown locations?
Building the DNA of QT hotels started eight years ago in Australia's Gold Coast, where we combined vintage quirk with a modern twist and a strong sense of locality. We always try to deliver a contemporary story that has vintage influences across building design, graphic design, accessories, art and furniture.
We interpret this differently for each property, reflecting their local surrounds. QT Queenstown brings to life après-ski and the year-long outdoor sports scene, bringing bold ski jacket and active wear patterns to aspects of the interior, and QT Wellington has an iconic art gallery theme as a nod to the creative capital. QT Auckland aptly celebrates its harbourside setting — while not far from the Viaduct and the yachts, we didn't want a nautical theme, but rather something more interesting and complex. While each QT carries a common design-led thread, every hotel is certainly a character in its own right.
You were interestingly inspired by the form of an oyster for QT Auckland — can you expand on this?
On my first trip to Auckland, it was a freezing cold day, the ocean was a deep green-grey and the site of the soon-to-be hotel was a fairly nondescript office building waiting to be converted into something uniquely QT. After two martinis and a dozen of Auckland's finest oysters, it was revealed to me how treasured the oyster is in New Zealand, and rightly so. The idea of the rough outside and seductive polish of the inside was a nice metaphor for a repurposed inner city building and hotel conversion — a shell hiding the luxury that lies within.
The oyster narrative is a loose one, but extends to some interior components that we used such as wall textures, bold polished colours, bespoke rugs and carpets and graphics and artworks that celebrate Auckland's DNA and the mythical sea surrounding the land of the long white cloud.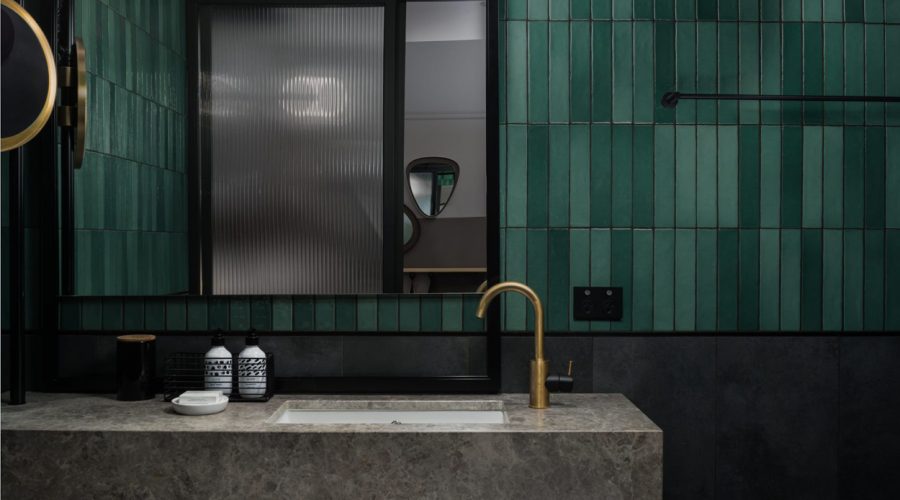 What do you love about mixing in bespoke, commissioned and found objects to the rooms?
In a building such as this with guest rooms of many shapes and sizes — some with curved walls — there are many different room and suite types that demand attention. Oyster carpets, concrete wall features and bold use of colour, coupled with a nice mix of chair styles, all point to a cocoon-like room experience. We've used colour blocking in the guest rooms as a way to bring the light in.
We especially love the guest room bathrooms with the marble floor tiles and deep green sea wall tiles. The vintage-look ribbed glass and metal screens keep the bathroom connected to your living and sleeping space, and modern light fittings by the beds add nice height and drama to the wall — inspired by the way New Zealand green lip mussels are grown from vertical ropes in the sea.
The oak floor boards contrast with bespoke carpets and rugs made of New Zealand wool. You'll find metal wardrobes inspired by oyster cages, plus leather strap details reminiscent of fishmongers' aprons. Custom oyster-shaped mirrors were made locally, and iconic roly poly chairs are draped in dyed New Zealand sheepskins.
Two standout local elements are stunning blown-glass lamps and bathroom accessories made for us by Lava Glass, which I found on a holiday in Taupo, and resin soap dishes by Auckland-based Chan Andreassend.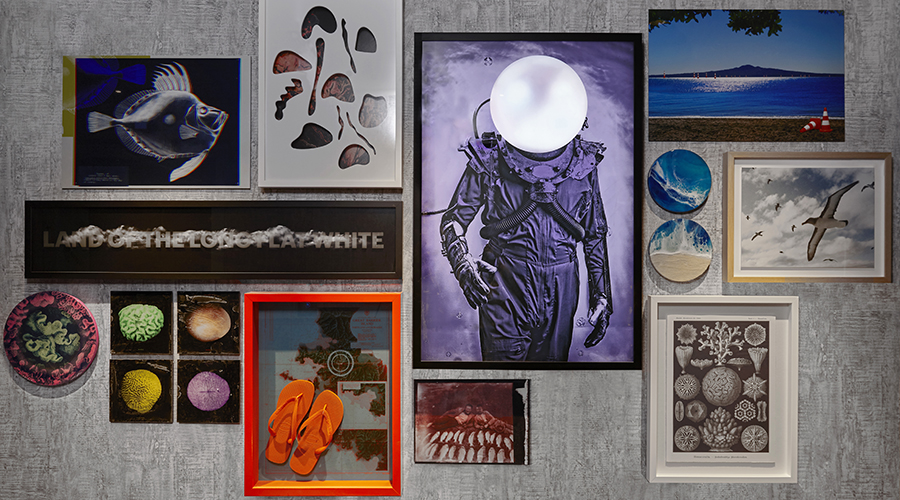 You have worked with local and international artists throughout the hotel, can you tell us who they are and highlight some key pieces of art?
We collaborated with a wonderful local creative agency Misterwolf to create a collection of quirky and unexpected custom 'salon hang' artworks in the lift lobbies. This resulted in 90 individual bespoke works delivered in the iconic QT style, a mismatch of customised prints and artworks inspired by local history and culture.
Each element in the collection was created using a wide variety of source material, bespoke crafting and locally commissioned artists and photographers to deliver beauty and humour — often combined in unexpected ways, such as the 'Pearl Diver' lightbox; cheeky interpretations like the 'City of Cones', a nod to the city's never-ending roadworks, and the 'Land of the Long Flat White ' which points to New Zealand's obsession with barista-made coffee.
Works by other local artists such as Ilya Volykhine, Louise McCrae and Max Patte are featured in public spaces throughout the hotel. A collection of hanging objects in a lobby niche by New South Wales artist Minka Gillian marries well with lift car and bathroom walls graphics by our graphic collaborators Toben. They tell further visual stories of the mythical sea. A beautiful composition by NYC digital artist Jennifer Steinkamp plays slowly on the LED screen wall in the lobby, as we always try to include digital art into our projects.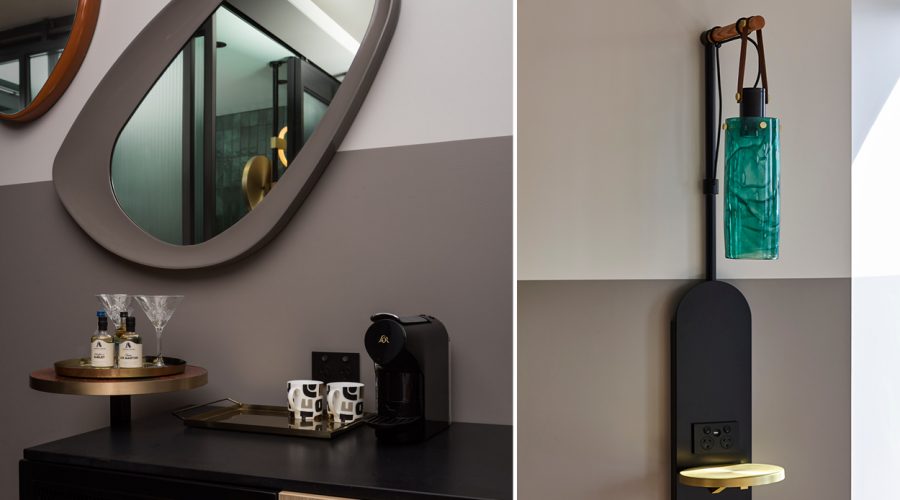 How do you go about infusing individuality but still making sure the rooms are timeless?
Timeless is an interesting concept in the current world we live in. What does timeless mean? Something that doesn't age or remains classic forever? QT Auckland is a design-driven hotel that produces some very memorable interior moments that become inspirational and iconic to guests.
We've created a series of spaces that have a sense of warmth and sometimes nostalgia, cocooned in the shell of a repurposed building. You notice the colours and textures that aren't timeless, but they are proudly more of the moment, using a very tasteful palette of well-considered furniture, lighting and objects that build a rich, multi-faceted story of a modern inner-city hotel. It's not one note. It's not minimalist, industrial or bougie. QT Auckland has a character of its own, and is unlike anything in the city. This was a deliberate design decision.
To celebrate the opening of QT Auckland, we have an exciting experience to give away. Enter to be in to win 1 night's stay at QT Auckland for two people, in a QT Deluxe Corner Room.
This includes breakfast for two in signature restaurant by chef Sean Connolly, Esther, and late checkout until 12pm.
This competition has now closed.
Terms and conditions: Subject to availability & excludes event dates. Maximum two people. Valid for six months from competition close date