In this decidedly cute new cafe, located on Khyber Pass Road (with another entrance from the base of the SKHY Apartment complex) incredibly fluffy bread and expertly-roasted coffee take centre stage. Started by partners Kayla Nong and Michael Nguyen, Fluff is the result of a passion project that grew out of the former's penchant for baking uniquely soft, fluffy bread over lockdown and the latter's years of experience in hospitality as a barista. Opening a cafe had long been on the cards for the duo, and now felt like the perfect time.
As you have probably already guessed, Fluff's name was conceived to reflect its food offering. "I wanted to focus the menu around our special, fluffy bread," Kayla tells me, which she explains, is the opposite of the classic sourdough we're used to. "It's soft like a pillow," she says, "like a mixture between Japanese bread and brioche, so you have a bit of that sweetness, similar to a brioche, but it never feels too much and it works as perfectly with savoury dishes as it does with sweet."
Fluff's menu is a tasty, daytime affair (thanks to experienced Chef Jason Meng) where classic, Kiwi brunch dishes meet Asian-fusion flavours in a delicious mix of sweet and savoury. The Smashing, for instance, is an interesting twist on traditional smashed avocado, with edamame, free-range egg, tomato, coriander and lime juice on (you guessed it) fluffy bread. In fact, most of Fluff's dishes are served as tasty mixtures of meats and/or vegetables on thick slices of the good stuff.
The Gogi is a highlight, where Korean bulgogi beef is served with kimchi, mixed slaw and candied sesame; as is the Chick Flick, with fried chicken, sriracha mayo, radish and fried basil. And for anyone with a penchant for sweet, we're predicting that the Frenchie, with fluffy French toast, lemon curd, seasonal fruit, hokey pokey and maple syrup (and bacon if you're feeling particularly naughty) will be an instant hit. Those with dietary restrictions should also note that despite Fluff's bread-centric menu and meat-based dishes, there are still plenty of gluten-free and vegetarian options available.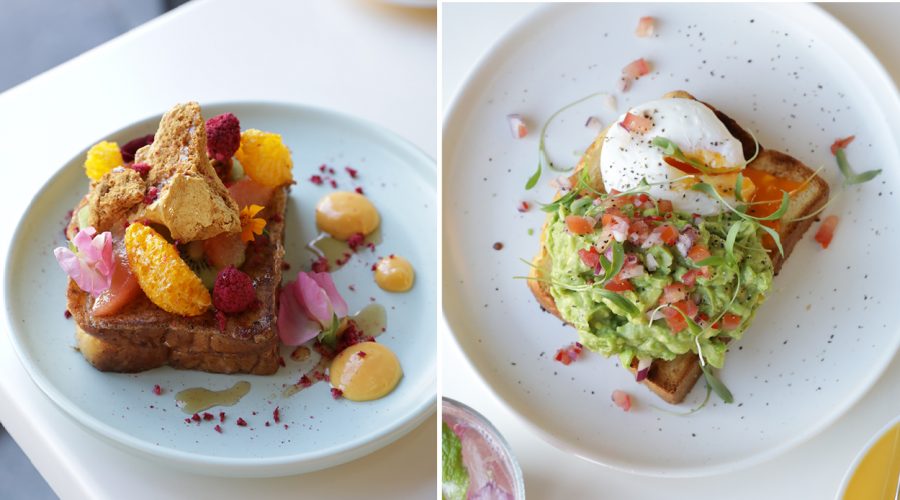 Alongside the food, Fluff is offering a range of specialty coffee from the beans of Kayla and Michael's own roastery — Sorted. "Michael is very precise about our coffees and how they're made," Kayla tells me, "our long blacks, for example, are all brewed from single-origin beans, which taste totally different from a normal blend… they produce this very fruity, juicy flavour." Cold-brew and batch-brew options made using Sorted beans are also available, as are a variety of non-coffee options, including pressed juices, smoothies, housemade sodas and teas, ensuring that there really is something to quench every kind of thirst.
Stepping into Fluff, it becomes clear that the name relates to more than just the bread alone. With pops of yellow, pink and blue and an eye-catching neon sign to offset the exposed concrete, the interiors of this cafe (which were finished with the help of Spaceworks and The Fitout Company) embody the light-hearted ethos of its food.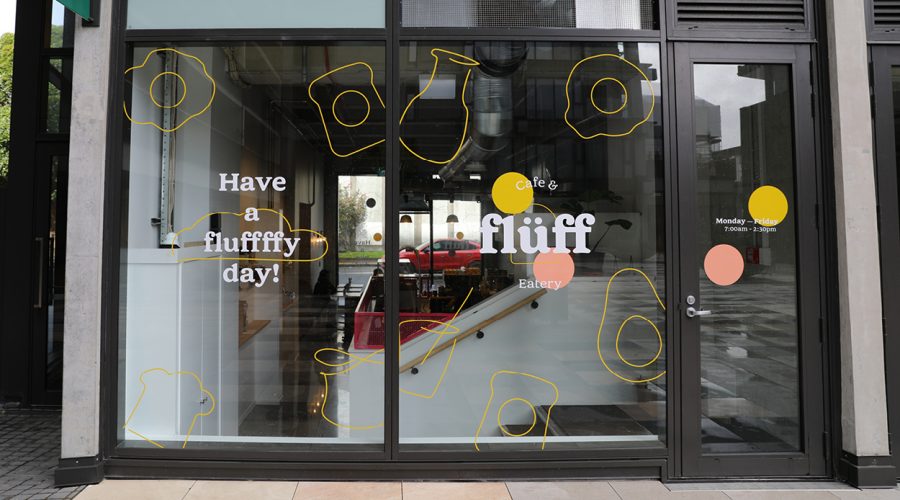 "One day we would love to have a production kitchen so that we can sell our bread wholesale," Kayla tells me, "and we also want to grow our roastery and maybe open a few mini espresso bars around town where the focus would be on our coffee." For now, however, Fluff is open from today and will stay open every week, from Monday until Friday, 7am until 2:30pm (with the possibility of weekend hours in the near future). Whether you're looking for a tasty bite or a delicious coffee to kick off your day, Fluff is a great place to start.
Opening hours:
Monday to Friday: 7AM — 2:30PM
Fluff Cafe
Unit 7G
38 Khyber Pass Road
Grafton