"It's been a long process to get here," says Ruben Maurice, breathing a sigh of relief. The owner/operator of Mount Albert's newest watering hole, Bar Martin, has had to weather a number of uncertainties thrown up by Covid and the Council at different times over the last year, just to get the front doors of his new establishment open. But it has finally happened, and thank God for that.
Bar Martin is the latest in what seems to be a trend towards neighbourhood spots that really emphasise and encourage community. A result, perhaps, of the way this pandemic has ushered in a new perspective around supporting local. The bar itself is intimate without feeling claustrophobic, its front window (through which the afternoon sun streams) offering an inviting tableau of small tables, set against a simple palette of dark timber, crisp white and tones of blue. The vibe is welcoming and inclusive, as ideal for friends catching up as it is for young families wanting a relaxed place to enjoy some food and a drink in the afternoon. (Maurice tells me that it is both "kid and dog friendly").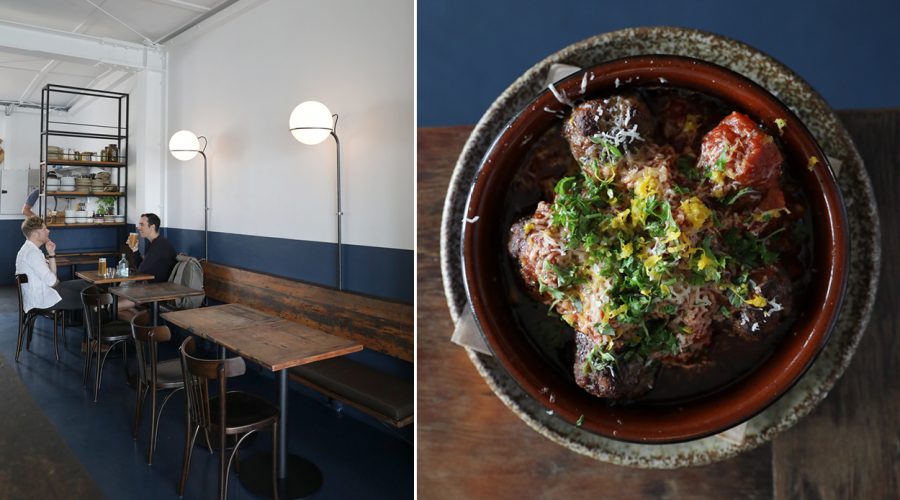 Out the back, a courtyard with communal tables offers the perfect spot to make the most of long, summer evenings. "We are also opening a small shop in the bar soon where people can get takeaway beers and wines as well as re-fills from the bar's taps," says Maurice, explaining how he plans to make use of Bar Martin's off-license.
On the menu, a number of simple, tasty bites, serve to perfectly complement Bar Martin's interesting selection of wines (a mix of both conventional and low-intervention). The coppa stagionata (cured pork shoulder) with roast hazelnuts is a definite highlight, as is the sardines with Kōpiko sourdough, seaweed butter and lemon, and the meatballs are not to be passed up.
Above and beyond its food and wine offering and tastefully-appointed fit-out, Bar Martin really has captured the kind of charm you might expect from a beloved neighbourhood spot — one that has been there for years. As Maurice tells me, a focus has been placed on working with and supporting local producers and suppliers, stemming from a desire to support fellow owner/operators, and the whole vibe of the place is sure to draw in local punters who feel the same way.
Opening hours:
Tuesday to Thursday: 3pm — 10pm
Friday & Saturday: 3pm — 11pm
Sunday: 3pm — 9pm
Closed Mondays
Bar Martin
43 Martin Avenue,
Mount Albert