For those seeking a caffeine hit in the warmer months, a refreshing iced coffee is hard to beat. And now, serving up a chilled brew has never been easier (or tastier), thanks to Nespresso's range of iced coffee flavours. The 'Barista Creations for Ice' coffees have been crafted especially for preparation over ice, so whether you are an Americano fan or a latte lover, you can expect an exceptionally smooth drinking experience.
This year, the range has been given a tropical twist with the new Limited Edition Coconut Flavour over Ice for Original and Limited Edition Tropical Coconut Flavour over Ice for Vertuo systems. Coffee lovers are seeking out more experimental and unique tastes with their caffeine hit — and these capsules are sure to hit the spot this summer.
For those with more classic tastes, the original Freddo Delicato and Freddo Intenso iced coffee blends have returned — the former roasted lightly and ground specifically for delicate, bright and fruity notes, while the latter is for those who are looking for a deeper roasted taste.
Here, we share two delicious signature recipes, courtesy of Nespresso, to upgrade your iced coffee, whether you're after an at-home happy hour or a morning pick-me-up.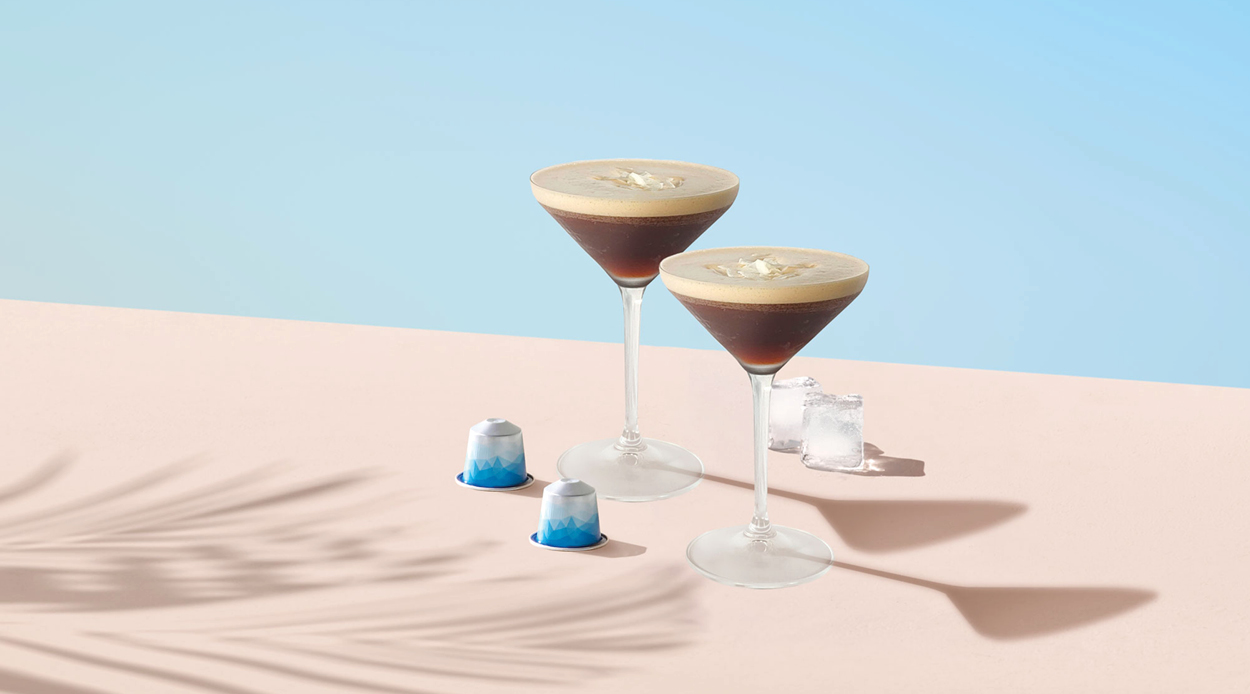 Freddo Intenso Espresso Martini recipe for the Original system
Makes two
Ingredients:
8 ice cubes
60ml coffee liqueur
120ml vodka
20ml maple or sugar cane syrup
2 capsules of Freddo Intenso
Toasted coconut flakes to garnish

Method:
1. Add 8 ice cubes (240g) into a cocktail shaker.​
2. Add the coffee liqueur, vodka, and maple or sugar cane syrup. ​
3. Extract the two capsules of Freddo Intenso directly into shaker. ​
4. Place lid on shaker and shake for 20-30 seconds or until ice forms on outside of shaker. ​
5. Strain between two martini glasses and garnish with toasted coconut flakes.
Tropical Coconut Flavour Iced Coffee recipe for the Vertuo system
Makes one
Ingredients:
Ice cubes
1 Limited Edition Tropical Coconut over Ice capsule
80ml milk of your choice

Method:
1. Add the ice cubes into your mug or glass.
2. Extract Tropical Coconut Flavour over Ice directly into the vessel.
3. Top with your choice of milk and stir to combine.