Taking over the space of what used to be Bedford Soda & Liquor is a newly opened eatery, Mortar & Pestle. From Sundays to Tuesdays, the cafe opens until the afternoon and from Wednesdays to Saturdays, the doors stay open until the late hours of the night, making Mortar & Pestle more than just a brunch spot. Whether you're after a daytime meal or a late-night cocktail, this eatery has it all, and it's set to be the new go-to spot for the locals of Takapuna.

The space boasts an industrial design and seats approximately 140 patrons, but the wide and open layout keeps the eatery from feeling cluttered and cramped. Owners, Gagandeep Singh and Vineet Arora, wanted a menu that featured a variety of classic brunch fare that catered to a range of palates but also showcases a bit of their own Indian culture through the items, such as the butter chicken with cumin rice.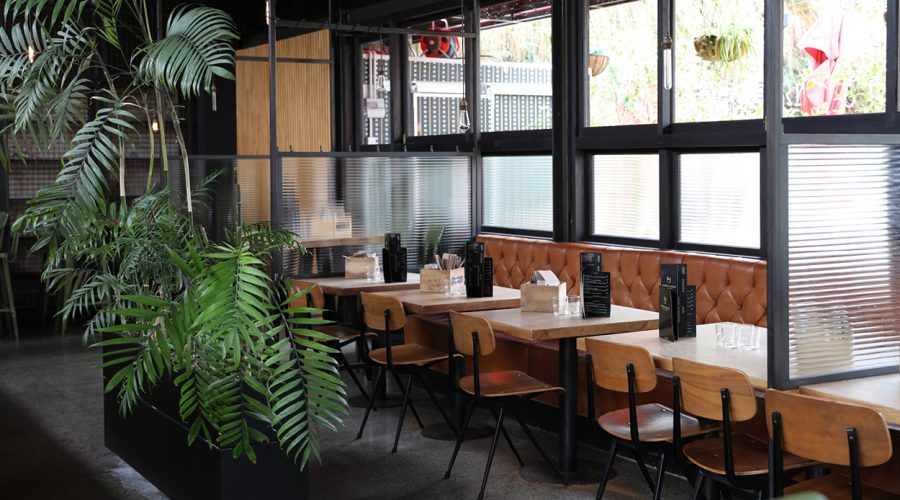 Denizen's Digital Editor, Clara and I ordered two different savoury dishes to share and a sweet treat to finish — the same ordering tactic as always to allow more variety in one meal. Clara and I have quite contrasting preferences in food, she prefers more natural wholefoods while I like the greasy, processed and beige dishes, but we both have an equal love for sugar. We work well together as we balance each other out and get to taste a range of the eatery's offerings. The mac and cheese stuffed croissant was calling my name, while Clara opted for something greener — crushed avocado and peas on toast.

The mac and cheese stuffed croissant was not what was expected as the Chef Arora stuffed the pastry with deep-fried mac and cheese balls instead of just the pasta, lending a subtle crisp and extra indulgence. The croissant was warm and soft and the inside was slathered in a Neapolitan sauce, which had a pungent and tangy tomato flavour. Inside also saw a poached egg that ran through the tomato sauce to lend some creaminess and made the decadent meal seem more breakfast-appropriate. The croissant was topped with a sprinkle of parmesan cheese that melted onto the buttery pastry and was served with a side of rocket salad and prosciutto to add some freshness to the plate.

You can't go wrong with smashed avocado, especially when it's paired with other elements such as peas and our favourite, creamy whipped feta that was spread onto rye sourdough. The avocado and peas were fresh and the texture of the avocado was perfectly ripe — not too soft and not too chunky. It was sprinkled with chilli flakes and garnished with dill and fresh mint leaves to add some herbiness and depth to the avocado and they definitely enhanced the clean flavours. We were given the option to add either bacon or salmon and we opted for salmon which not only gave the plate a pop of colour but added a succulent saltiness to the dish without overwhelming its natural flavours.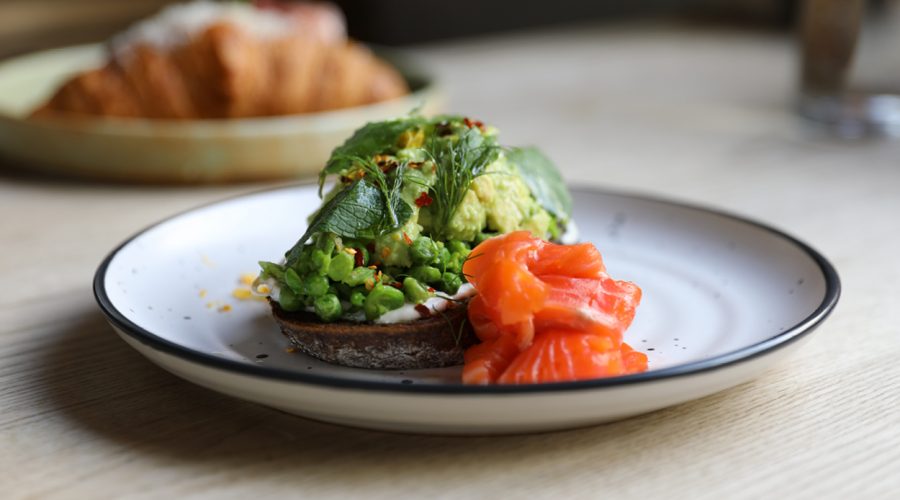 Last but not least was dessert and it was the definite highlight of the morning. Deciding on which dish to order was not an easy process as all the sweet dishes sounded absolutely divine but as we're still in the colder seasons, we went for something warmer and comforting — the Calvados apple and rhubarb crumble. The slices of glazed apples boasted the ideal level of softness that achieved a slight bite back while still being soft. It was complemented by a sweet dulce de leche mousse, sour roasted rhubarb and oat crumble for crunch. The warm crumble was topped with a scoop of vanilla ice cream and sweet apple curd that was dotted all around the dessert.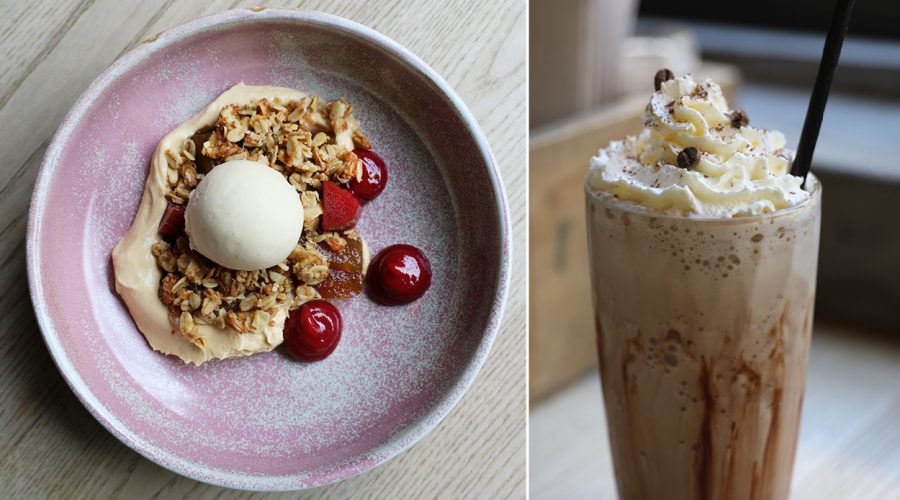 The nighttime menu looked as equally enticing, with small plates such as whole baked camembert, patatas bravas and larger main meals which include steak and fries, chicken burger and wild mushroom pappardelle, to name a few. It's not a common occurrence for Takapuna to have a new opening nowadays and it's pleasing to see one with so much potential — safe to say we're excited for what's ahead for Mortar & Pestle.
Opening hours:
Sunday — Tuesday: 8am until 4pm
Wednesday — Saturday: 8am until late
Mortar & Pestle
21 Hurstmere Road,
Takapuna