A feast for the eyes as well as the stomach, these beer-battered eggplant bao buns hit all the right flavour notes. Fresh and umami, soft and crunchy, tangy and creamy, they're a moreish meal for any night of the week — no meat required. Amelia Ferrier of Melie's Kitchen shares her recipe below.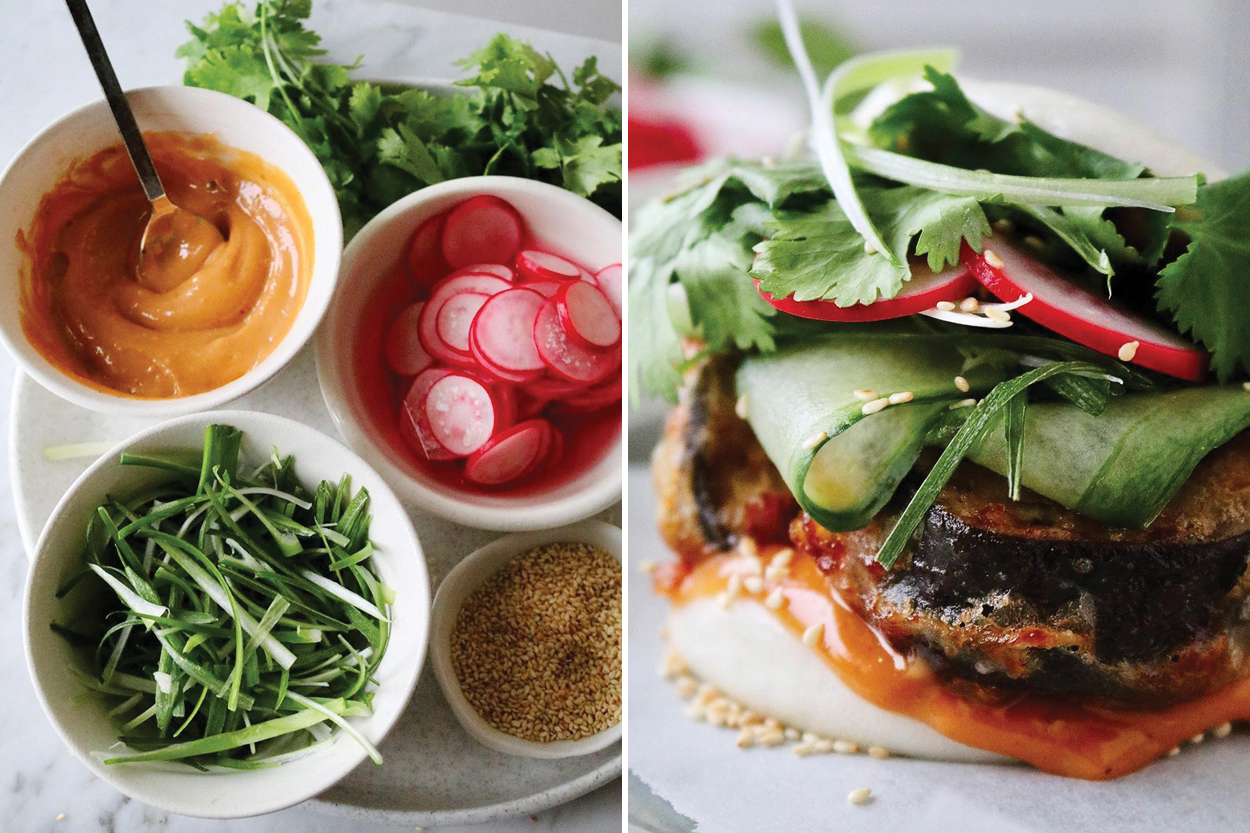 Melie's Kitchen Crispy 5-Spice Eggplant Bao Buns with Peanut Chilli Mayo, Hoisin & Pickled Radish
Makes 8 to 10 buns.
Ingredients:

Peanut Chilli Mayo
1/4 cup mayonnaise (I used Best Foods, Kewpie would be great)
1 Tbsp smooth peanut butter
1 tsp sriracha chilli sauce (add more to taste)
1/2 tsp soy sauce
1/2 tsp maple syrup or honey
1 tsp chilli oil (optional)

Pickled Radish
4-5 radishes, thinly sliced into rounds
Pinch of sugar
Pinch of salt
2 Tbsp rice wine vinegar

Crispy Eggplant
2 medium eggplants
Salt for seasoning
4 cup Fogdog beer batter mix
About 3/4 cup beer
1/2 tsp Chinese 5-spice
Canola oil, for frying (about 1 litre)
4 Tbsp Lee Kum Kee hoisin sauce (+ extra to serve)

To serve
8-10 bao buns
1 cucumber, peeled into ribbons
Coriander, spring onion & toasted sesame seeds
Method:
Make chilli peanut mayo
1. Combine all peanut chilli mayo ingredients together in a bowl and set aside to serve.
Make pickled radish & prep garnishes
1. Thinly slice radish and toss in a bowl with rice vinegar and a big pinch of sugar and salt. Set aside to serve.
2. Peel cucumber into ribbons and thinly slice spring onion. Set aside to serve.
Prep & cook eggplant
1. Cut eggplants in half lengthwise, then cut into half-moons roughly 1cm thick. Add to a large heat-proof bowl and season well with salt. Cover bowl with a plate. Microwave on high in 2-minute intervals, giving the eggplant a toss after each interval, for 5-6 minutes in total. The eggplant should be softened, but not completely tender (it will finish cooking when fried).
2. Combine Fogdog beer batter mix, beer and Chinese 5-spice together in a medium bowl with a pinch of salt. The batter should be quite runny, similar to the consistency of double cream. You may need to add a little more beer, 1 Tbsp at a time, to get the right consistency.
3. Heat canola oil in a large frying pan with high sides on medium-high heat (the oil should be about 2cm high, I used about 4 cups). Test the oil is hot enough by drizzling in a little bit of the batter — if it bubbles up immediately, it should be ready to go.
4. Working in batches, toss eggplant pieces in the batter then fry in the oil for about 1 minute each side, until golden (I did mine in about 3 batches). Adjust the heat as needed while frying. It should be quite hot so the batter cooks in about 2 minutes — if the oil is not hot enough, they will take longer to cook and soak up more oil.
5. Transfer fried eggplant to a wire cooling rack between batches. This will allow any excess oil to drip off, and also prevents them from steaming and losing their crispiness.
6. Just before serving, add fried eggplant to a large bowl, drizzle over hoisin sauce and toss gently to coat.
7. Steam bao buns according to packet instructions. I heat mine in the microwave, you only need about 30 seconds for one bun (unless they are frozen).
Serve the bao buns spread with peanut chilli mayo and a little extra hoisin sauce. Top with eggplant, cucumber, pickled radish, spring onion and coriander. Sprinkle with sesame seeds, if desired.