When Pici's cacio e pepe was voted Auckland's best dish earlier this year, it really came as no surprise. Since the St Kevin's Arcade restaurant opened two years ago, it has become a beloved addition to the city's burgeoning Italian culinary scene. Founded by Jono Thevenard, Kazuya Suzuki and Gemma Hareb, the concept of Pici was somewhere that served simple, humble and delicious food — and at its core, the concept of their new restaurant is much the same.
Last year Fraser Childs joined the Pici team, and while his talents most certainly include pasta, his first love (of 10 years) was authentic woodfired pizzas. It was a concept that the collective was only too happy to explore. Today they officially open the doors to their new Dominion Road restaurant, Ooh-Fa, a neighbourhood pizzeria specialising in unspeakably delicious fermented sourdough pizzas and exquisite wines.
"Pizza is often perceived as fast food," Hareb tells me. "However, there is a long process involved that people don't often consider. Fermentation of our sourdough will be at least 72 hours, so making sourdough pizzas becomes an art. There is a connection between the maker and the dough, a living organism."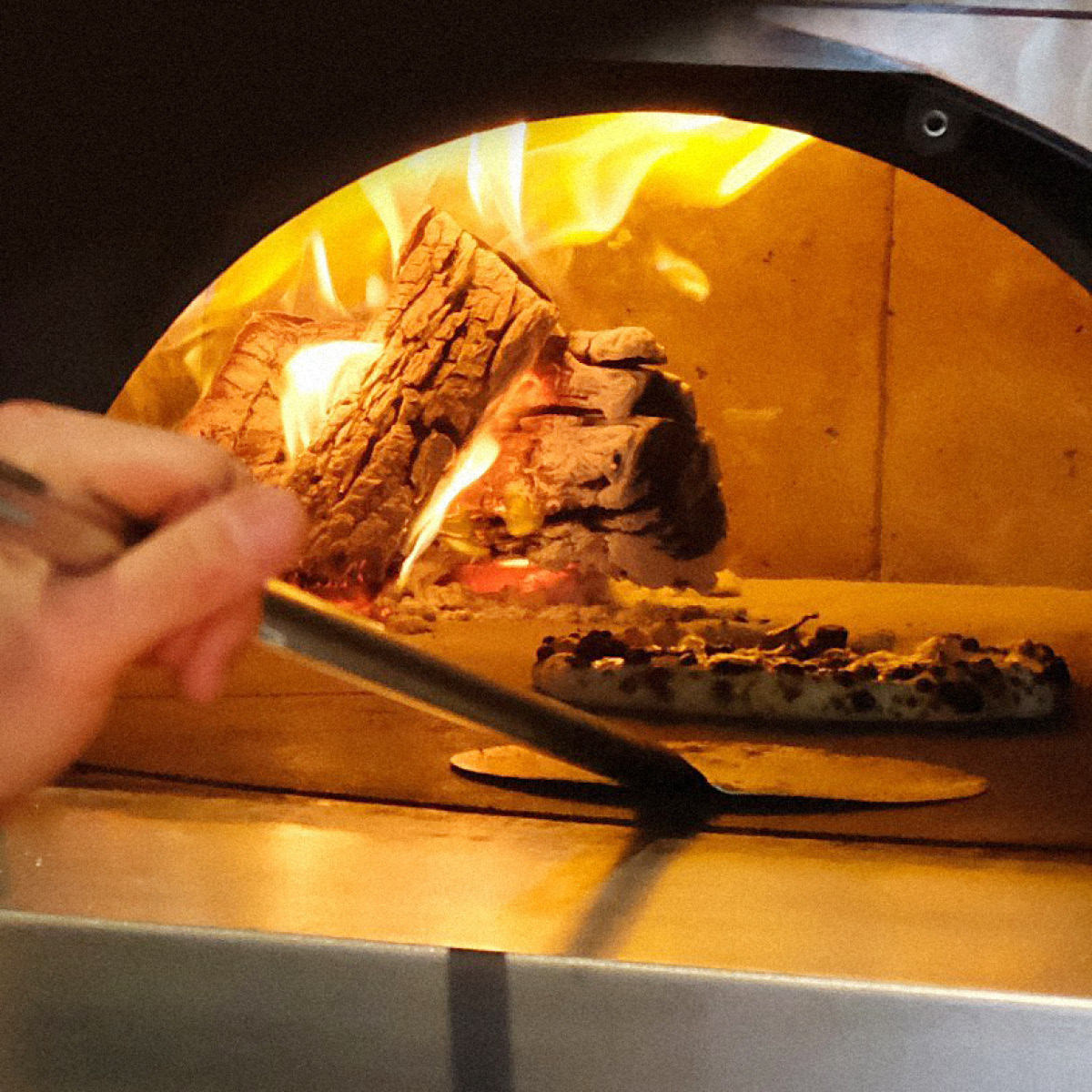 Perhaps, for this reason, the attention to detail, Ooh-Fa feels like a step up from the pizza joints we are used to. With a comfortable, warm atmosphere, thanks to its woodfire oven and a local feel, the 22-seater restaurant is the perfect neighbourhood spot to drop into and catch up with friends over a slice or two and some delectable wine.
"We are really focused on keeping this an intimate wine bar and restaurant," explains Hareb. "While there are many spots to get pizza in Tāmaki Makaurau, there aren't many really focused on a wine bar setting. We want this space to be a welcoming neighbourhood vibe — one you'd go for a no-fuss pizza and a glass of wine, or you can go all out for a special evening."
Bringing in the essence of traditional flavours, Ooh-Fa's offerings are far from the norm. The focus on fermentation also goes beyond the bases alone, with small snacks available like pickled cauliflower, carrots, beetroot and onion served with bagna gauda.
Hero pizzas include those we would expect, like the marinara (with tomato, garlic, and oregano plus added stracciatella) or a seasonally-inspired cavolo nero with Italian sausage, mozzarella and oregano. An unlikely crowd favourite? The woodfired carrots with whipped ricotta and pistachios — a simple side that everyone needs to try.
And to further distance its offering from the traditional pizza experience, Ooh-Fa won't be doing takeaways. The owners agree their pizzas are best enjoyed straight out of the oven, in the restaurant's cosy, hospitable surrounds — with the Front of House led with inimitable care and grace by Sha Singh (a former Hero Sandwich House star).
Ooh-Fa's playful approach to ferments also extends to its drinks menu, where a curation of wines perfectly complement the kitchen's offerings. Selected by James Pain of Pici notoriety (a familiar face also from this year's Hospo Heroes), the list is entirely comprised of natural wines, with a focus on New Zealand and Italian grape varietals. And to round out any meal here perfectly, the kitchen is making its own gelato — the best ending to a night of pizza and wine.
With snaps of the soft opening making waves across social media over the last week, today marks the official opening day with a party to celebrate tonight. The first official night of service will be Wednesday the 10th of August, and the restaurant will be operating at a 50% booking, 50% walk-in capacity. If you ask us, this celebration marks the beginning of a legacy destination, and a new go-to for the best pizza in the city.
Ooh-Fa
357 Dominion Road,
Mount Eden, Auckland