A common addition to your morning coffee, the base for smoothies, vegan ice cream and even beauty products, oat milk is staking its claim everywhere. And while in New Zealand, there's no denying that our love for dairy runs deep, an increasing number of people are opting for oat milk as a plant-based alternative.
Auckland-based entrepreneur Morgan Maw founded Boring, the country's first 100 percent New Zealand-made oat milk to be sold on supermarket shelves. According to her, the uptake so far (which has been "overwhelmingly good") is just a drop in the creamy ocean of potential for the beverage category. "I want New Zealand to become as synonymous with oat milk as we are with dairy," she says. "We have good land and incredible scientists, and I think we have an opportunity to be a leader in this plant-based space."
Boring was launched on the 19th of August, 2021, two days after Auckland was plunged into its longest lockdown to date. The timing, however, hasn't hindered the brand's success; now stocked in supermarkets and cafés nationwide, the response has been so ardent that the company experienced supply shortages after selling more than double their expectations.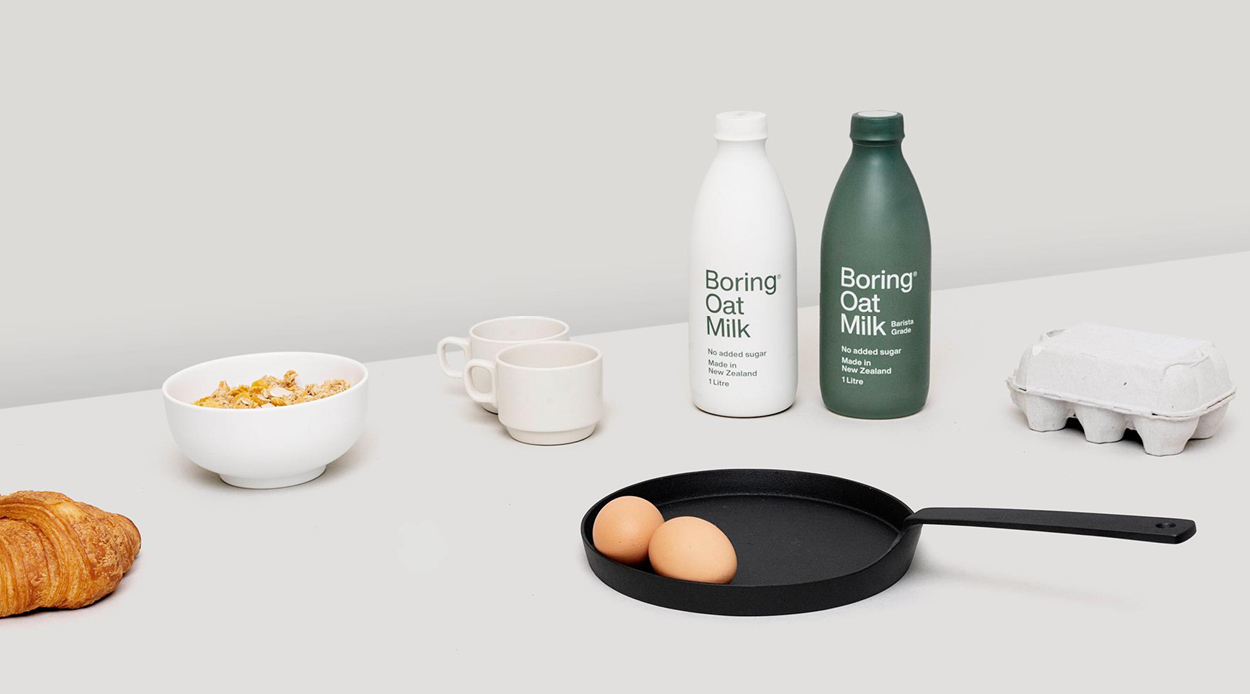 While there are several oat milk brands to be found on shelves, none are both grown and manufactured here. Boring's grain comes from Otago-based oat processor Harraways, and is then processed by Hawke's Bay juice company The Apple Press. It is packaged in recyclable PET plastic bottles rather than Tetra Pak and, crucially, can be stored at room temperature before opening, which reduces waste and expands its shelf life.
Also crucial, is that it's deliciously creamy and thick enough to ensure it's a versatile accompaniment that doesn't split when frothed for coffee or poured into tea. As for the Boring branding, Maw worked with Kelvin Soh of DDMMYY agency to create an identity that would stand apart from the rest. Eschewing cutesy cartoons and cliché images, the name is a nod to the fact that milk shouldn't be the extrovert of the meal or beverage — it should be the trusty backup singer, not the lead.
Maw has long cultivated a love for oats and, more broadly, sustainable growing and farming practices. Having grown up in New Plymouth, she would help out on her Aunt's dairy farm, doing riparian planting along the waterways to prevent run-off. "That sparked my interest in, and appreciation for, farmers and growers, and having a good understanding for what they do and how much they love the land," she says.
Moving to Wellington to do a business course at Victoria University, Maw got a job in Coffee Supreme's roastery. "That was when I really started to learn about a small business that could have a great impact — a business that creates a really good community. I knew that one day, that's what I wanted to create."


It was during a stint living in Scotland that Maw started noticing the widespread use of oats in the U.K., and recognized that Aotearoa could embrace this clever crop. "We grow oats super well in New Zealand. They're such a sustainable grain, they're good for you — why can't we be using them for things other than just porridge and cereal?"
Back here, she founded and ran oatcake cracker brand Bonnie Goods, but wanted to expand into doing something more environmentally impactful. Seeing how well Scandinavian company Oatly was doing in America and the U.K., Maw travelled to Sweden to learn as much as she could about the process. On returning home, she received a Callaghan Innovation R&D grant and, along with excellent beverage technologist Jacqui Rota, began the journey of creating her own oat milk.
The process of developing and perfecting Boring took three years, a timeframe that even the most dedicated and tenacious would surely find trying. "There were many times where I was like 'am I crazy? No one's done this…'" Maw reminisces. "I knew it could be done, but it was just about really how long I was going to stick at it for."
Working with the factories to implement all-new methods of creating excellent milk from oats was a challenging process. "There were a lot of failures. Every step was a failure, and we'd learn from that and do something different — then that wouldn't work, and we'd learn something new again".
At the time, when she wasn't on the factory floor Maw was working out of Coffee Supreme's shared office space. Each time she had new formulations, she'd bring them into the office to go through stress-testing on the machines, seeing how well (or not) the milk paired with the coffee.
"They were really great with what they thought, and brutally honest as well," says Maw of the Supreme team. "Some times were just absolute failures and we'd be like 'okay, back to the drawing board'."
Eventually, the wins outweighed the fails and they had something they were very happy to release.
The beloved coffee company is a big fan of Boring as a premium oat milk option and even stocks it on its website. According to Coffee Supreme Auckland Manager Nat Guest, the recipe for a great cuppa lies in a pairing of the absolute best ingredients.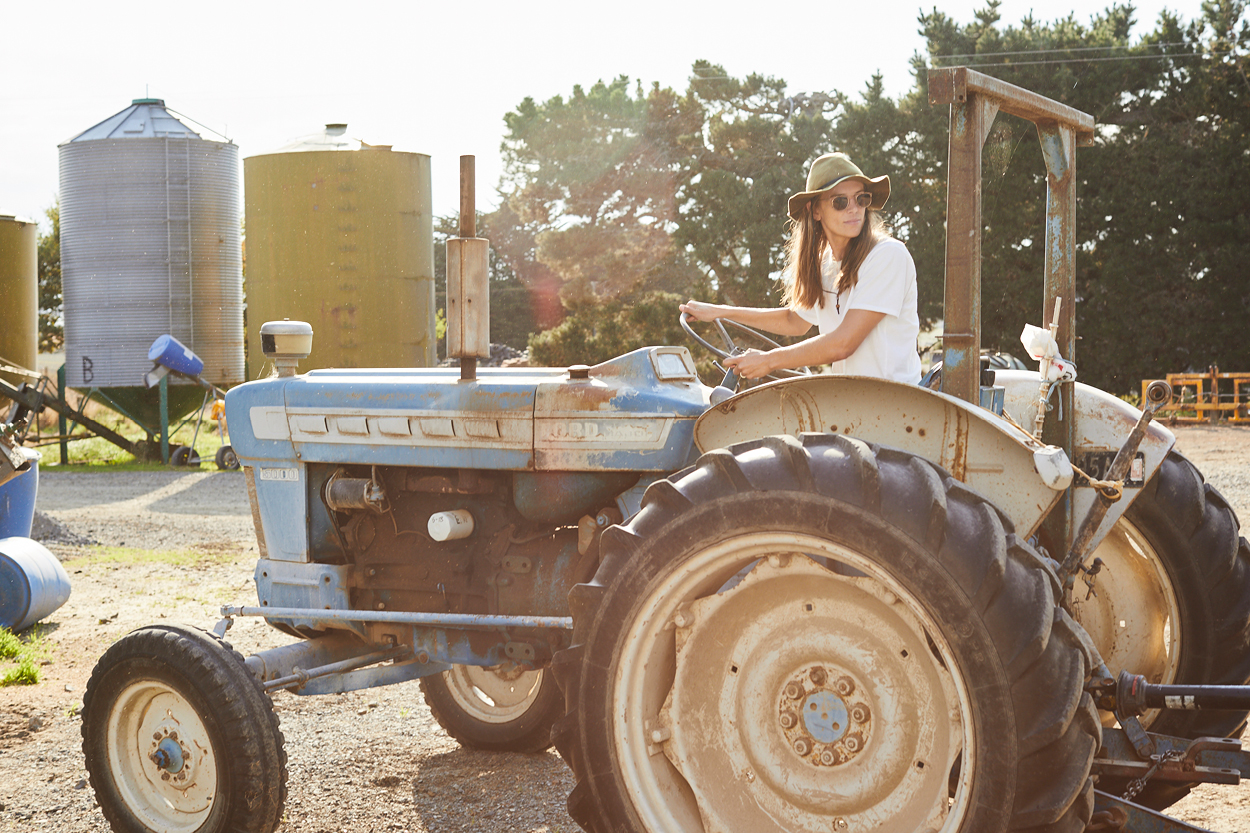 "Naturally, anything else that goes into a cup with our coffee has to be of the same great quality. Boring has got it all going for it — it's delicious, pairs perfectly with Supreme Coffee and we love that it's made right here in NZ."
According to upcoming plant-based beverage manufacturer New Zealand Functional Foods, our country's oat milk sales grew 230 percent in the Fast Moving Consumer Goods category, quarter on quarter as of August 2021.
Having successfully tapped into this growing market, Maw is only just getting started. "Complacency is the enemy of good brands in business, so I'm always looking to what's next," she says.
This year, rather than jump straight into trendy flavoured milk or overseas exporting (a challenge right now with Covid), she's focusing on building awareness around sustainability in farming. She's keen to be a driver in creating more biodiversity on the land, in ways that will also be commercially viable for local farmers.
It's big-picture stuff but, as she's demonstrated so far, Maw is more than adept at milking every opportunity for good — and we'll be eagerly watching her progress as she continues to do so.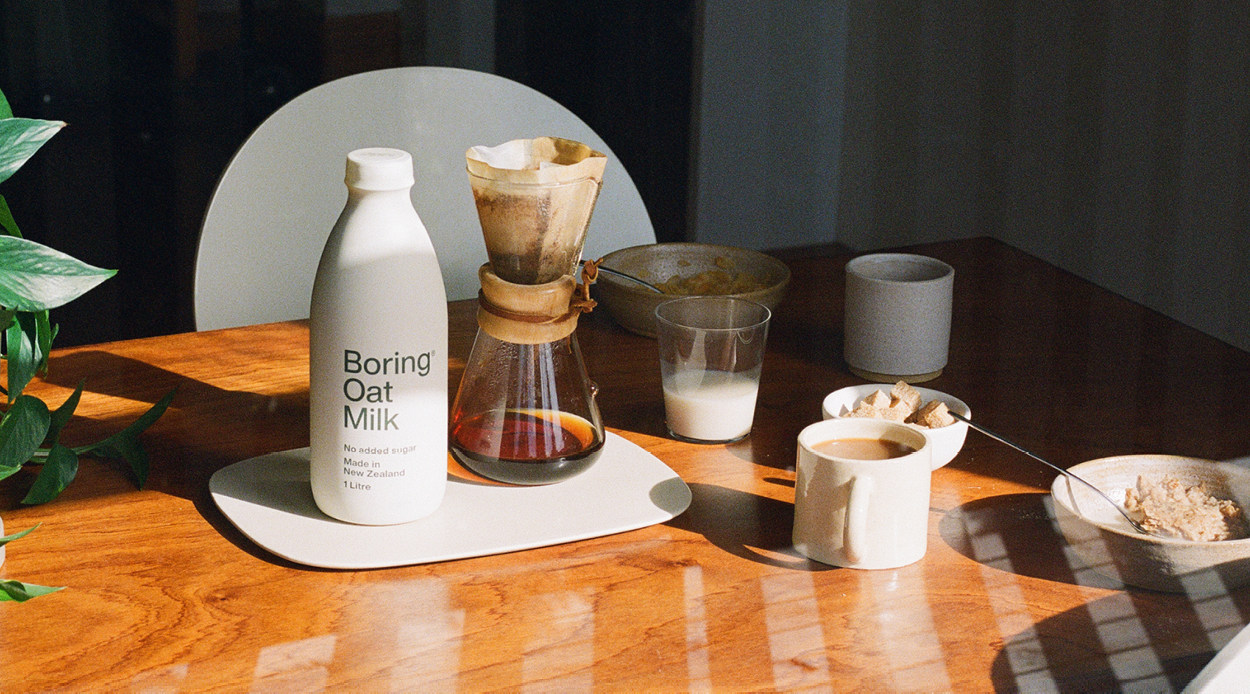 Craving a cuppa after reading this? We are delighted to be giving away an entire year's worth of Coffee Supreme coffee and Boring oat milk, to be delivered to the home of one very lucky winner.
Head to our Instagram and follow the directions to enter the draw. Remember, we only have one legitimate Instagram account, and we will never ask you for your credit card details in conjunction with a giveaway.