I think it would be safe to say that yum cha holds a universally appealing place within our dining culture. The concept of gathering the troops, whether it's friends, family or both, for a weekend dining experience that is, for some of us culturally different, and others warmly familiar, is exciting.
Combining our love for both yum cha and Japanese cuisine, Masu has just launched its Sunday yum cha brunch. The new addition is the brainchild of executive chef Nic Watt, who says "I have so many fond memories of yum cha with my kids and my family. There is just something fun about it."
On Sunday my family and I were lucky enough to try the first service of this weekly Sunday offering. With my young children in tow, both suffering from what can only be described as a Halloween hangover, the idea of sushi and yum cha combined, seemed like the perfect antidote. Because, let's be honest, we all know how well traditional yum cha goes down on a hangover.
The service starts with a roaming trolley piled high with a delectable array of artfully created sushi, from classic salmon and avocado, to more exotic variants like crab with spicy sauce. What caught my ever-roving eye however, were the bottles of Perrier-Jouët perfectly lined up at the end of the cart. What a great idea! Nothing goes down better with the freshest sashimi than a delectable drop of French Champagne, especially on a Sunday.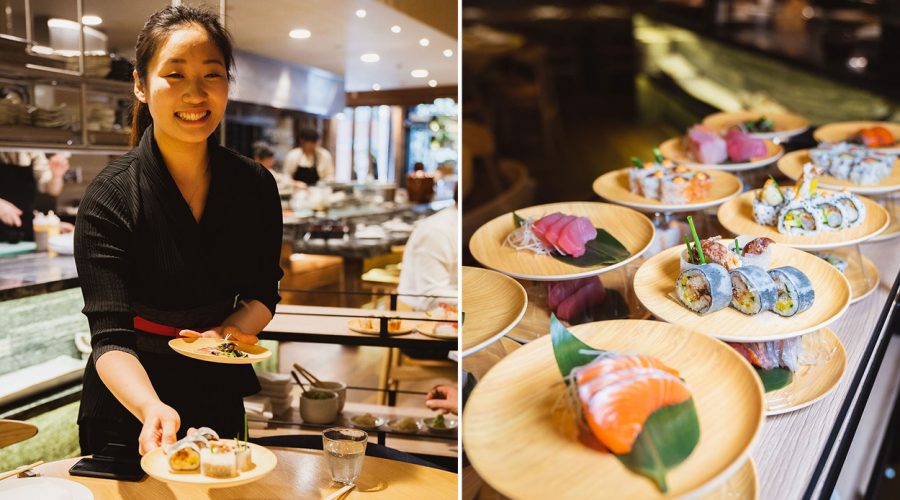 The cart service features an array of cold dishes; sushi, nigiri, and sashimi with each dish presented on traditional Kaiten sushi plates. A separate menu of specially created hot dishes does not disappoint either. The restaurant's signature miso black cod features, along with their delicious lamb cutlets, both at a more palatable price than the evening menu, in-keeping with the yum cha concept of cheap and cheerful. Also on offer is a range of quintessential Japanese family dishes such as the Okonomiyaki pancake, chicken yakisoba noodles, and a firm favourite within my family: black cod croquettes.
As usual with yum cha, it's hard to not get carried away, snatching plates at every opportunity, but there's also something inherently light and refreshing about starting with sushi and sashimi that doesn't leave you feeling overwhelmed. Which was very good news as we spotted the dessert cart heading in our direction, complete with a range of desserts including a fruit custard and an utterly delicious matcha crêpe cake.
Masu's new brunch experience is available every Sunday from 11am.